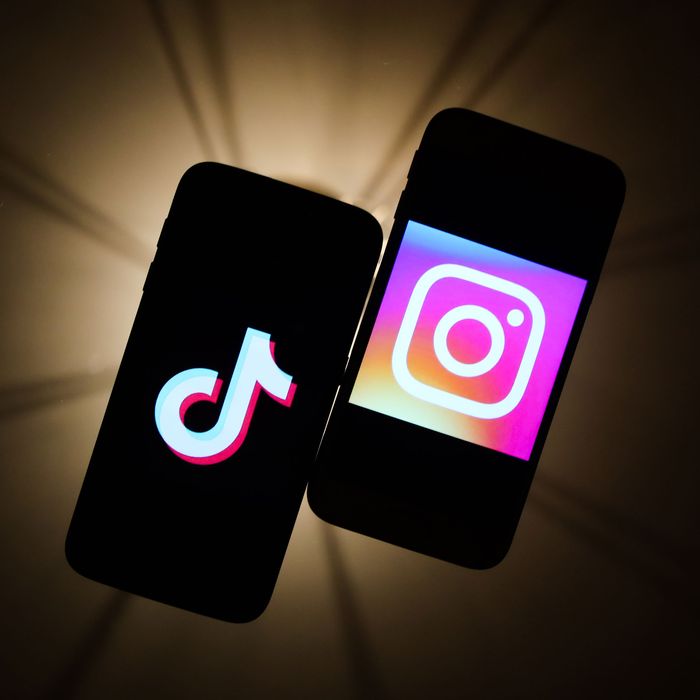 Photo: NurPhoto/NurPhoto via Getty Images
A new 15-second video platform is in town, and it's just like the other 15-second video platform you know about. Yes, Instagram has rolled out its own version of TikTok, and it's called "Reels."
This is tough news, obviously. If you're like me you may have just started to warm up to TikTok. Perhaps you tried out a couple of dances, or made fun of Lin-Manuel Miranda. You kept hearing it was "an app for teenagers," but it wasn't so hard to use. You might even have a few followers.
But TikTok, which is owned by the Chinese AI company ByteDance, is in hot water over privacy concerns, and its fate as one of the most popular social-media apps in the U.S. is unclear. And, of course, it means that Instagram has probably been ready with a replacement for a while now. Just as 2016's Stories was a Snapchat knockoff, Reels is a near clone of TikTok: "an editing tool that allows users to craft 15-second clips set to music with options to add timed effects." (Reels launched today across 50 countries, so it should be in your Instagram app ready to go right now.)
But one of the things that ostensibly made TikTok so successful, and so addictive for users, is that when you open the app, you're fed a loop of videos, which TikTok algorithms continue to curate for you as you use it. Instagram is trying to replicate that too: The Reels launch involves a major revamp of Explore, which now includes a "For You" page that, in the style of TikTok, involves an endless scroll of vertical Reels videos. The biggest difference is that people can send Reels to friends in the Instagram app, and can use the filters and tools that already exist within it. Reels also won't have the "duet" feature that's popular on TikTok (allowing two users to collab on a video), and people can't upload songs directly onto Reels. For now.
As Robby Stein, Instagram's product director, told the Verge: "We're going big with entertainment and [making Explore] the permanent place for you to go lean back, relax, and be inspired every day," which sounds exactly like the type of thing someone who has never tried to do a TikTok dance would say.