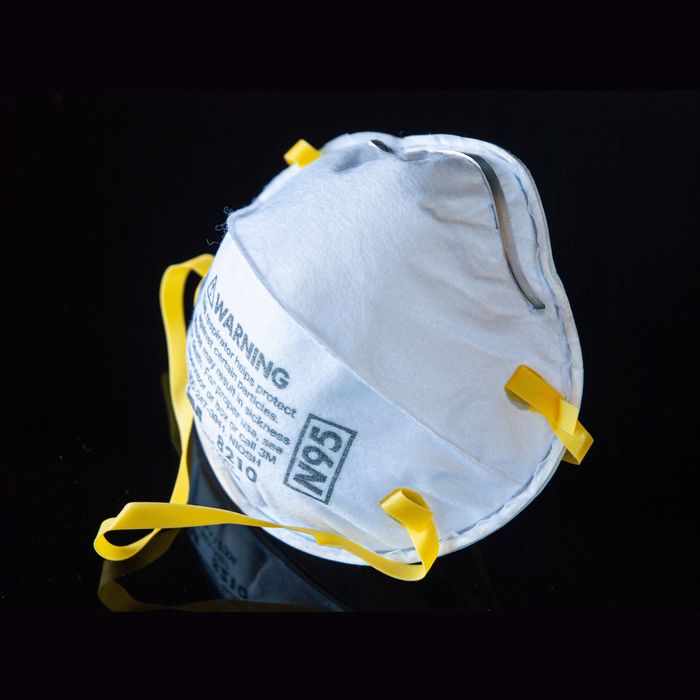 Obviously, it's the N95.
Photo: Gregi69/Getty Images/iStockphoto
We're committed to keeping our readers informed. 
We've removed our paywall from essential coronavirus news stories. Become a subscriber to support our journalists. Subscribe now.
By now, the consensus among medical experts seems clear, or at the very least, much clearer than many COVID-related queries: Masks are medically useful. Masks prevent at least some of the droplets we sneeze and spit and scream into the ether from spreading, and with those droplets, possibly also the coronavirus. If we would all just cover our dang faces, authorities including the CDC have said, then we might stand a chance of getting a handle on this thing. And while the research continues to support the idea that masks are good and useful tools, advisable accessories in most any social setting, a new study suggests that some masks are indeed better than others. In fact, one style of face covering may actually be counterproductive.
So: Which masks are the best masks? Let's look at what we know.
To be clear: We should all wear masks.
As the coronavirus pandemic kicked off in March, public-health officials advised those of us who were not essential workers, or at elevated risk of infection, against wearing masks. But by April, the CDC changed its tune, recommending masks for situations where social distancing was not possible. Facial coverings appeared effective at containing respiratory droplets, the agency said, and could therefore help limit asymptomatic spread of the virus.
The early (and active) warnings that the general public should not wear masks were intended, at least according to Dr. Anthony Fauci — the nation's leading infectious-disease specialist and the primary face of our coronavirus response — to dissuade us from buying up all the masks while essential workers and hospital staff faced a dire shortage. But there is ample clinical evidence (demonstrating that the cloth blocks particles from dispersing into the air) and anecdotal evidence (the fact that widespread, mostly masked protests for racial justice did not create spikes in local case counts, for example) to indicate that masks are effective, and we should all be wearing them — particularly in closed settings where quarters are close and ventilation is poor.
While we're here, plastic face shields are not considered a substitute for, but a complement to, masks. Unless you cannot wear masks for one of these specific, CDC-approved reasons, experts advise that face shields should be worn over masks for an added layer of protection, if that makes you feel more comfortable in high-risk situations.
Some masks are more effective than others.
Since the dawn of the novel coronavirus, valveless N95 respirators have been a hot commodity, prized for their close fit and efficient filtration of particles (95 percent, thus the name) floating through the air. This mask model undergoes testing for fluid resistance, particle filtration, and bacterial filtration, and surgical N95s were already in use in hospital settings. But again, these have been (and still are) in short supply, and remain recommended for health-care workers.
Some early research suggested that certain materials were more effective than others at limiting particle flow. A study published in April posited that cotton masks may even be on par with surgical masks. Even bandanas were offered up as workable, in a pinch; whatever could cover the nose and mouth.
Now, however, researchers at Duke University have ranked 14 common mask types based on their performance in a lab-simulated disease-spread situation, in which participants spoke into a box lit with lasers. See the experiment in action here:
In a study published in Science Advances on August 7, the researchers explained their results: Most effective was the N95, no surprises here, followed by the tri-layer surgical mask. Behind those came masks containing polypropylene, a double-layer option, and a cotton blend. Slightly less effective than those were some double- and single-layer pleated cotton masks, and while the options became somewhat specific from there — styles made in Durham, North Carolina, for example — some masks returned troubling results.
Which masks are the worst masks?
According to this study, knitted masks may not do as much as some other commercially available styles, which makes intuitive sense, as a loose weave is going to be a porous barrier. N95 masks with valves, somewhat surprisingly, did not perform well: While they successfully blocked particles from coming in, they did little to impede the wearer's droplets from escaping into the air.
"Those relief valves are fantastic if what you want to do is protect yourself from the outside world because air doesn't come in through them," Warren S. Warren, a professor of physics, chemistry, radiology and biomedical engineering at Duke, told the Washington Post. "If what you're trying to do in this pandemic is protect the outside world from you, it completely defeats the purpose." Revised mask guidance from the CDC backs up that idea: On August 7, the agency added a caution against valved and vented masks, because they "allow air to be exhaled through a hole in the material, which can result in expelled respiratory droplets that can reach others," and therefore makes them counterproductive.
Worse still, however, are bandanas and — at the very bottom of the researchers' list — neck gaiters, those polyester-spandex snoods runners often wear in cold weather. For many, Warren told the Post, these proved a convenient solution when the face-covering obligation kicked in, but researchers found that their material breaks down particles into an even finer mist that hangs more easily in the air. The study's authors emphasized that their research is not conclusive, but for now, it appears there are much more effective — and accessible — mask options than gaiters, bandanas, valve models, and knits out there. Runners, we have you covered.
"It's not the case that any mask is better than nothing," Warren said. "There are some masks that actually hurt rather than do good."
Well, but this is just one study, right?
Yes, and there has been some pushback from science journalists since it published. Over at Slate, Susan Matthews wrote that the research basically just confirmed "that the testing method worked in principle," but limitations — including the heavy reliance on one speaker for so many of the particle samples — mean the conclusions should be swallowed with a few grains of salt. It's eminently possible, Matthews argued, that the gaiter simply didn't fit this guy particularly well, accounting for the high level of spray in the experiment. And then, runners don't typically talk while they run, so if you plan on wearing gaiters specifically for your outdoor jogs, you may not need to worry so much.
While it is just one study, and a small one at that, it's worth noting that its results do line up with some other research on mask performance: This Smart Air test, which mimicked a 2013 mask study performed at the University of Cambridge, also found that bandanas and polyester neck warmers performed worst against Ebola-sized particles. But then again, research from the University of Wisconsin, published in June, found that neck gaiters can actually be quite useful — provided they include elastic and a nose piece to tighten the fit.
So what should I look for in a mask?
A good mask should fit close to your face, meaning over your nose and mouth, without large gaps. It should also be comfortable enough that you're going to wear it consistently, but that doesn't mean flimsy, even in hot weather. "If you can see through it when you put it up to a light and you can blow through it easily, it probably is not protecting anybody," Warren told the Post. To that end, multiple layers, one of which may ideally be nonwoven propylene, are best. "But the broad take-home picture — that masks do work in cutting down transmission and that some masks that you can easily get are better than others — potentially has value in protecting everybody and getting us out of this awful situation."