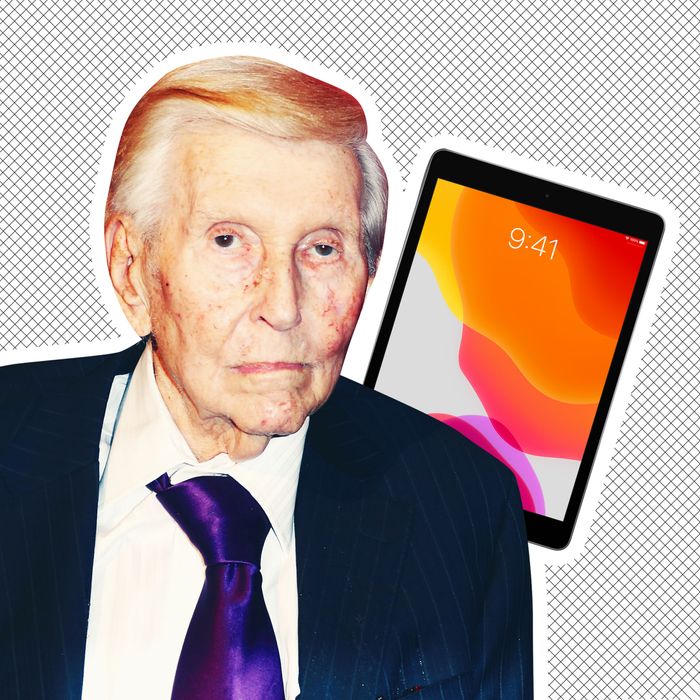 Sumner Redstone and iPad.
Photo: Getty Images
On Tuesday, billionaire media mogul Sumner Redstone died at the age of 97.
Redstone took control of his family's chain of drive-in movie theaters in the 1950s, and, over the course of the next half-century, built a sprawling media empire that included holdings in television, film, and publishing companies. In his later years, as the New York Times notes, he controlled about 80 percent of the voting stock in Viacom and CBS, before his once-estranged daughter, Shari Redstone, took over the two entities in 2018, and oversaw their massive merger in 2019.
While Redstone's major legacy will undoubtedly be how he shaped — for better or worse — the modern media landscape, he also offered, in recent years, a small but valuable contribution to the saturated field of billionaire life hacks: programming your iPad to say "fuck you" to people.
As CNBC media and tech reporter Alex Sherman noted on Twitter on Tuesday, an April 2018 Wall Street Journal story on the state of the CBS-Viacom merger reported that, as speech became difficult for Redstone in later years, he began to use an iPad to communicate with those around him. Per the WSJ:
To help him communicate, some people who recently have met with him say that he has an iPad loaded with snippets of his voice, connected to buttons for words or phrases including "yes," "no" and "f—you."
Wow. Finally, a useful tip from a billionaire.
Is it worth considering, before you record yourself yelling insults into your nearest tablet device, that Redstone famously had fraught personal relationships with his family, and was, according to the WSJ, "so hard on wait staff that he was barred from some restaurants"? I mean, sure. But also, think of how funny it will be when your roommate walks into the living room and asks you to take out the trash, and — wordlessly, without breaking eye contact — you press a button on your iPad that's programmed to say "fuck you."
Just like the billionaires do.