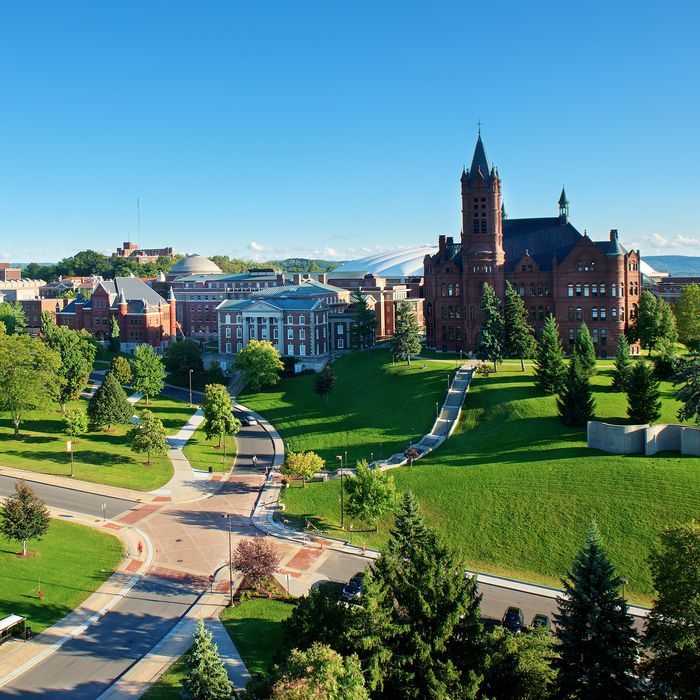 Syracuse University campus.
Photo: Tony Shi Photography/Getty Images
As in-person classes resume at colleges and universities across the country, several institutions have suspended large numbers of students for violating their social-distancing policies.
According to CNN, Syracuse University has suspended 23 students who took part in a large gathering on the campus's quad last Wednesday. In a campuswide letter sent the day after the party, J. Michael Haynie, the vice-chancellor for strategic initiatives and innovation, called the students' behavior "selfish and unsettling." Haynie wrote that the university would launch a full investigation into the incident and would be reviewing security-camera footage to identify the students involved.
"The students who gathered on the Quad last night may have done damage enough to shut down campus, including residence halls and in-person learning, before the academic semester even begins," Haynie warned.
So far, it is unclear whether Wednesday's party resulted in any new COVID-19 cases. As of Monday, Syracuse's first official day of the fall semester, the school reported only one new student case and one new employee case. Whether the university will be able to stay open and continue with in-person classes remains to be seen. In a statement to the campus community on Monday, Syracuse University chancellor Kent Syverud warned: "If you choose not to social distance; if you choose not to wear a mask; if you choose to gather in large groups, then sooner than you imagine, we all will be sent home."
Syracuse was far from the only school to penalize its students in this way. Montclair State University, in New Jersey, suspended 11 students for attending large social gatherings before classes started on Tuesday. "If you are suspended or expelled from on-campus housing, there are no refunds. So, it's a very costly mistake," Dr. Karen Pennington, Montclair's vice-president of student development told CBS News.
Marist College in Poughkeepsie, New York, also suspended over a dozen students who were at an off-campus party last week. And even before in-person classes started on Tuesday, the Ohio State University had temporarily suspended a whopping 228 students, according to CNN.
It is unclear, in each of these cases, if and how these students will be able to resume classes.
Campuses everywhere are struggling with how to reopen. Earlier this month, schools like University of North Carolina at Chapel Hill and the University of Notre Dame both announced that they would be shifting to remote-learning plans after their campuses saw spikes in COVID-19 cases as students returned for classes.
Other schools have continued with their plans for in-person classes but have quarantined large numbers of students and staff who have tested positive for the virus. At Oklahoma State University, for example, an entire off-campus sorority house was placed under quarantine this month after 23 of its sisters tested positive for the coronavirus. And last week, CNN reported that all 155 students in one dorm at Colorado College were forced to quarantine after a student in the dorm tested positive for COVID-19 and did not practice social distancing. According to the same report, roughly 10 percent of the student body at Northeast Mississippi Community College is in quarantine.
And while many universities are quick to condemn the reckless behavior of the teens and young adults who are returning to their campuses, one has to wonder: What exactly did they expect?
As the editorial board of UNC's Daily Tar Heel wrote in an op-ed last week: "University leadership should have expected students, many of whom are now living on their own for the first time, to be reckless. Reports of parties throughout the weekend come as no surprise. Though these students are not faultless, it was the University's responsibility to disincentivize such gatherings by reconsidering its plans to operate in-person earlier on."
This post has been updated.