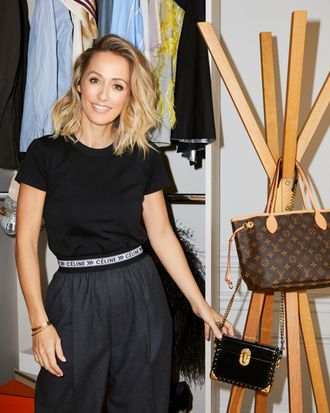 Photo: Courtesy of Vestiaire Collective
Resale might be the future of how we buy clothes. But when that happens, Paris-based Vestiaire Collective will have been ahead of the pack. Founded in 2009 by Fanny Moizant and Sophie Hersan, the online consignment retailer has grown into a community of over 9 million members across 50 countries looking to give their luxury items a new home.
The founders launched the business out of their apartments as a necessity during the recession of the late 2000s. "I noticed that a lot of fashion girls were starting to sell designer pieces from their wardrobe on their blogs because there weren't any sites that had both trust and curation," Moizant told the Cut. "It seemed like such a waste, so we created Vestiaire Collective to combine trust, inspiration, and circularity." The site gives its highly engaged users a place to interact, share a common love for designer fashion, and refresh their wardrobes sustainably. We spoke with Moizant about the color black, #oldCeline, and overconsumption.
How do you thank someone for a gift?
I always like to call someone. It feels more personal. In a world where most communication is through email, WhatsApp, or Instagram, taking the time to properly connect is important.
What would you never wear?
Something I wouldn't feel comfortable in. I refuse the concept of trends for trends' sake. Elegance comes through self-confidence and comfort. Wearing pieces that suit your body and your mind is the best way not to make a fashion faux pas.
What's your dream vacation?
My family, some sun, and a lot of diving. Diving forces you to slow down and disconnect from your everyday life. Being 30 meters deep and surrounded by beauty and incredible marine life is such a powerful experience.
What's a good book on your coffee table right now?
Soulages, a book on my favorite French painter, Pierre Soulages. His work has all been about the color black — black and its solemnity, radicality, obviousness, and its power of contrast. The magic in Soulages's work is that he manages to make light arise from black.
Last show you binge-watched?
Pose! Love the looks, dances, incredible actors, and the gender-nonconforming culture of the 1980s ballroom scene.
Secret to hosting a good party?
Great friends, good food, and a lot of organic French wine. I love cooking, but I rarely have the time these days, so I enjoy hosting drinks with friends. I'll prepare simple but tasty finger food. I always keep things relaxed, so there are no formalities or dress codes (we live barefoot at home in Hong Kong). I love spending time moving from the outside terrace to the inside living room with a cold glass of wine.
What is a trend that you like right now?
The fact that the consumer mindset is starting to change to a more conscious approach to fashion consumption, with millennials and Gen Z leading the way. Renting, selling, and buying resale should become part of everyone's wardrobe habits. I hope this shift is here to stay and that it will contribute to a more sustainable way to enjoy fashion.
One you don't understand?
Overconsumption. How many tops, jeans, and jackets do we need? I've always enjoyed having a very edited wardrobe and found huge pleasure in rotating it. My policy is one in, one out, so I always sell something before buying anything new. My wardrobe is primarily composed of essential staples such as #oldCeline, perfectly fitted blazers, and other basics. They're all pieces that I will keep for a long time. I then add more-trendy pieces that I'll wear for a season or two before reselling. Sticking to this system means I can enjoy wearing the pieces I love while having a conscious approach to how I consume fashion.
Shoes you wear most often?
I pretty much live in my Veja sneakers. Love the classic, white leather ones and also the Rick Owens collab.
What's your favorite …
Pajamas?
Because our headquarters are in Paris and I'm currently working from Hong Kong, I do have to fly to Europe a few times a year. I love the Cathay Pacific first-class pajamas when I occasionally get upgraded.
Candle?
Le Labo Santal 26.
Scent?
I had a big love affair with Red Roses from Jo Malone while living in London. Now I'm still looking for my next big love. Trying anything Hermès at the moment.
Socks?
Uniqlo's no-show socks to wear with my Veja sneakers are the best!
T-shirt?
Always a Uniqlo U (by Christophe Lemaire) crew neck or a Breton T-shirt.
What are three photos that define your style?
This is a photo of me wearing one of my favorite Saint James Breton tops and my Hermès Medor cuff that I hunted for on Vestiaire Collective for ages. It's taken in my Hong Kong home in front of some of my favorite black-and-white pictures, including my Pierre Soulages Eau-Forte, which I received for my 40th birthday from my husband. This photo says who I am and what makes me happy.
I'm wearing my favorite #oldCeline trousers found on Vestiaire Collective, a simple white T-Shirt, and Converse sneakers. It's my own take on comfort and elegance.
Again, in the one #oldCeline trousers and Hermès cuff I picked up on Vestiaire Collective as well as my favorite Uniqlo T-Shirt and my Vans. It's my feel-good outfit.
What's your favorite place in your home/office/studio?
This is the view from my sofa in the living room. I love the mix of pictures, books, and objects. The map is very special to me. All French kids from my generation used to learn geography and science on these maps. Having one on my wall reminds me of happy childhood memories. Same for all the other pieces on or under this vintage bench. They all represent something I love: fashion, photography, London, Paris, and nature.
Shop the Story
Photo: Courtesy of the Retailer
If you buy something through our links, New York may earn an affiliate commission.