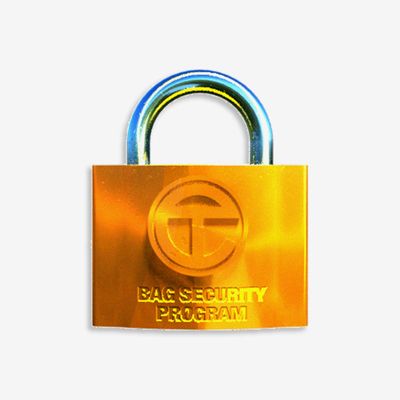 Telfar describes its signature Shopping Bag as an "Everyday bag for Everyone." Retailing from $150 to $257, the "Bushwick Birkin," as it's now ironically called, is significantly more affordable than its French nicknamesake. Recently, though, it's become so popular that only a lucky few can get their hands on one.
On July 23, the bag's online restock was so heavily trafficked that Telfar's website crashed. There was talk of bots being to blame — Telfar was a trending topic on U.S. Twitter that day, and the bag was reportedly listed on resale sites like eBay and Grailed for up to $700 — but the brand claims that with thousands of genuine orders coming in, everything would have sold out in seconds, anyway.
"It is actually the craziest paradox: When something is so accessible that no one can get it," designer Telfar Clemens told the Cut. Most fashion brands would relish this sort of high demand, and the air of exclusivity that comes with it, but it goes against everything Telfar stands for, which is fashion for the people, regardless of gender or budget. To ensure a more democratic drop, the brand is taking a radical, new approach: the Telfar "Bag Security Program" — a one-day-only, 24-hour online event starting at 9 a.m. ET on Wednesday, August 19 that will allow anyone who wants a Telfar bag to preorder any color, any style, and any quantity their heart desires, for guaranteed delivery between December 15 and January 15, 2021. [Queue Oprah: "And you get a bag! And you get a bag! And you get a bag!"]
It's a long time to wait — manufacturing can take up to four to six months, and the pandemic affected the brand's supply chain — but there will also be drops in the meantime, and it's better than the alternative, which is not having a Telfar bag.
Clemens isn't worried about oversaturation — that if more people have the bag, it will become less desirable. As the nickname "Bushwick Birkin" implies, the sort of status that the bag embodies is one of belonging. It's not about having something other people don't, but rather being a part of a community, and the more, the merrier. "The whole vision was that its accessibility was part of its DNA, and it would grow," Clemens explained. Since the bag was first created in 2014, celebrities have contributed to its hype, but much of its popularity has been gained through word of mouth. Even on social media, although the restocks have inspired an incredible number of memes, the brand also makes a point of sharing customers wearing the bag on its page — something most luxury brands don't do.
"The vapors helped," Clemens said of the recent frenzy. "But the bag is real. The person who gets it, gets it."
The Shopping Bag is just one part of Telfar's operation, and helps to fund other aspects of its business, from clothes to music to film. As Clemens iterated after the Gap collaboration fell through this summer, everything the brand does is in service of its continued independence. "We want to be talking about the Telfar industry instead of the fashion industry," he said.