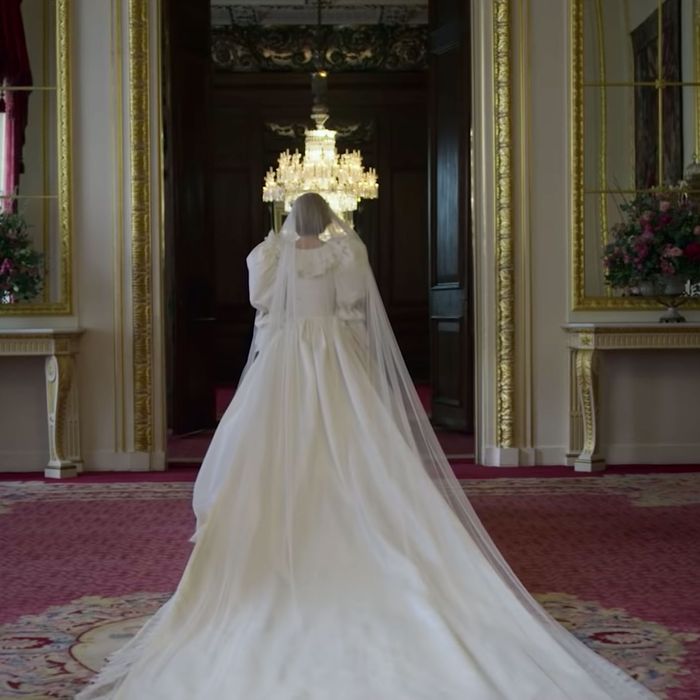 Netflix dropped the season-four trailer of The Crown today. The drama — which is set to premiere on November 15 — will feature Emma Corrin as Lady Diana Spencer, and will follow the royal family from the late 1970s up until the early '90s. It's unclear what events the season will cover (although, some leaked set photos might provide hints); what we do know is that back in 2016 the show's creator, Peter Morgan, told People that seasons four and five will be "heavily" focused on Diana.
In short, it will be exciting. Don't get me wrong, I am a great lover of period dramas and a fan of this show. That said, there are times when it drags, which is saying something given its recent cast has included both Olivia Colman and Helena Bonham Carter. But the new trailer — which is indeed Diana-heavy — promises more suspense than previous seasons. Set to ominous violin music, scary shots of Gillian Anderson as Margaret Thatcher and her wig are interspersed with scenes of Diana: her profile in shadow, taking deep breaths in a dirty mirror, facing swarms of fans and paparazzi that almost look apocalyptic.
The trailer's final shot is of Diana's wedding dress, which brings me to the exciting fact that Princess Diana could dress. Really dress, which means that if this season is going to be reliable for anything it will be for fashion — hopefully, the fuzzy hat trend had passed by now.