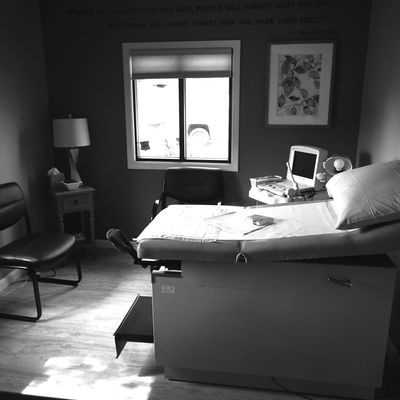 Photo: Scott Olson/Getty Images
In late March, Texas temporarily banned abortion, using the coronavirus pandemic as a thin excuse. The decision caused intense confusion and distress among doctors and patients when it was announced, in a state where safe and legal abortion is already essentially inaccessible for so many. Now we have a fuller picture of the damage done by the one month in which abortions were outlawed in the state, and it is terrifying.
Texas governor Greg Abbott signed the emergency order calling for a halt to abortion procedures on March 22, arguing that it was a "medically unnecessary procedure" and thus had to be put on hold while the pandemic raged. (This made Texas the second state to attempt to do so; four others would follow.) The ban came with no exceptions, save for a threat to the life of the mother, and threatened any provider who didn't comply with fines and jail time. Clinics were forced to suddenly turn away patients with urgent appointments. It made already stringent time constraints around abortion in Texas, only legal up to 20 weeks, even more stressful and harrowing. After a prolonged legal battle, clinics were allowed to resume abortions exactly a month after the ban began, on April 22.
NBC News reveals that as soon as the ban was lifted, clinics immediately saw an influx of patients seeking abortions later in their pregnancies because they had been forced to wait for care. Southwestern Women's Surgery Center in Dallas reported a 57 percent jump in second-trimester abortions in the month after April 22; at Planned Parenthood Center for Choice in Houston, there was a 28 percent increase in abortions after ten weeks, with 51 weekly patients after the ban compared to about 40 patients per week before; Whole Woman's Health in Austin saw the number of surgical abortions nearly double in the three weeks after it was able to resume operations.
Many of the patients, clinics said, had intended to receive a nonsurgical medication abortion, allowed only in the first ten weeks of pregnancy in the state, and missed the opportunity. "At the first visit, folks had expressed wanting to do a medication abortion, but then so many people weren't able to come back for several weeks, which put them out of the window when they would have been able to access that care," Dr. Bhavik Kumar, a medical director at Planned Parenthood Gulf Coast, told NBC. "We were ready, capable, and able to do what we needed to do to take care of our patients, but we legally weren't able to do that."
Surgical abortion is an overwhelmingly safe and relatively minor procedure, but it gets more dangerous the later it occurs during pregnancy. In addition to putting patients' physical health at risk by delaying procedures, the significant uptick in later abortions also indicates emotional and psychological costs. "The idea of having an in-clinic procedure was more daunting for them than having a medication abortion in the safety of their home with their partner," said one clinic director of her patients. A 21-year-old who had to travel to New Mexico for her abortion because she couldn't wait said she "felt like I was being punished in some way for getting pregnant … I felt like I was on an emotional and physical roller coaster." And the data doesn't even show how many patients who attempted unsafe, illegal at-home abortions, or who endured forced childbirth because they could not afford to travel for care.
In a statement sent to the Cut, Planned Parenthood said that Abbott "exploited the pandemic and inserted politics into personal medical decisions by temporarily banning abortion in his state." What resulted is a sobering glimpse into the post-Roe America GOP legislators want to usher in by chipping away at access wherever they can. It's horrifying to imagine the effects of just one month of total loss of abortion care in one state magnified across more places, and for longer periods of time.