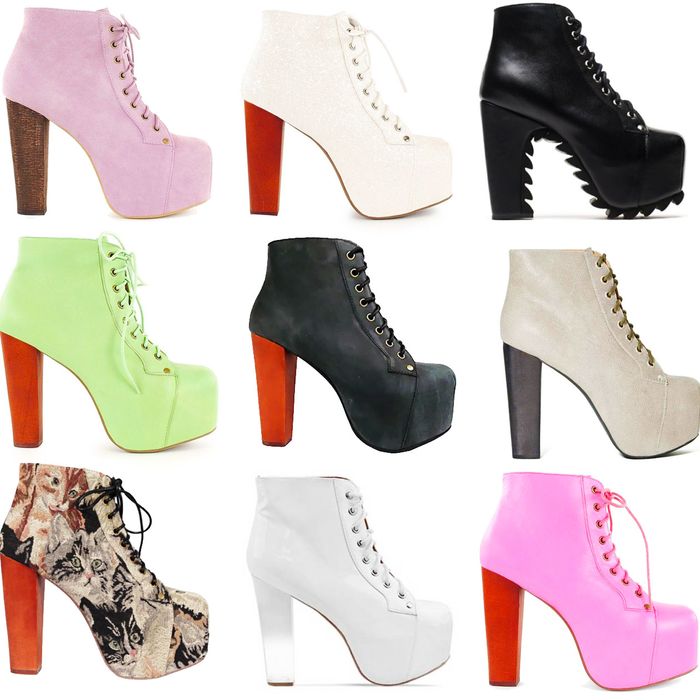 Photo-Illustration: The Cut
When it comes to ugly shoes, we often think of the unholy trinity of Uggs, Crocs, and Tevas. But there's one controversial footwear choice that is very specific to the 2010s: the Jeffrey Campbell Lita. When the Lita entered our consciousness exactly ten years ago, it became a trend that people either loved or hated, and, according to the response I've gotten from tweeting about its anniversary, it seems like that duality hasn't changed.
The Lita is an obscenely chunky lace-up ankle boot with a two-inch platform and a five-inch heel. It's instantly recognizable even on a tiny screen, and it happened to emerge at a moment when showing off one's personal style online was becoming the norm. The summer of 2010 was the golden age of fashion blogging, and street-style photography and fashion social networks like Chictopia and Lookbook.nu were also huge, allowing the shoe's visibility to be even more widespread. As more and more people added the $160 shoe to their wardrobe (and Polyvore sets), it became a key component of the formula for the stereotypical style blogger. If someone were to crack open a fashion time capsule from that time, a Lita would certainly come tumbling out.
Sharon Blackburn, a former employee at Jeffrey Campbell who had the job of naming products back then, dubbed the shoe the Lita after the Runaways' Lita Ford. She says it took a few months for the shoe to gain traction among consumers, but once bloggers like Rumi Neely and Wendy Lam began pairing them with leggings, moto jackets, miniskirts, and thigh-high tights, it took off. "Lita came along when bloggers were coming on the fashion scene as well as online retailers, such as Solestruck and Nasty Gal," she says. "That combination propelled JC Shoes and the Lita into the spotlight!" Soon, college kids and celebs alike were seduced by Lita's charms. Demi Lovato, Ashley Tisdale, Jessica Alba, Camila Cabello, and Ashley Benson were all photographed in them. Lindsay Lohan wore them to Coachella one year. Even David Hasselhoff was seen in a pair at one point.
The Lita wasn't necessarily a groundbreaking design — platform boots aren't anything new, of course, and many have pointed to Natacha Marro's "Dungeon" boots (which were seen on Charles Anastase's fall 2009 runway) as the original inspiration. Still, it was versatile enough to attract a horde of fans, regardless of their sartorial preferences. A Lita boot could work with everything from skinny jeans to skater dresses, and came in every type of color, print, and fabric. At the time of this 2013 Daily Beast article, Litas had been produced in 164 different colors and 65 different versions, including a sandal and a knee-high boot. "Every season, new materials or heel treatments were added," says Blackburn. "We had versions in lace, glitter, leopard, snake, clear vinyl, paint splattered, neon, glow-in-the-dark, fur, plaid, patchwork, laser-cut daisies, and punched-out stars."
There was a Lita for every subculture, vibe, and occasion: The spiked and skull-adorned Litas for the goths, a unicorn print for the twee, a cosmic pattern for the Tumblr girls, an American flag–inspired design for patriots, and a vintage cat or dog tapestry–style for pet lovers. In 2013, the brand released a wedding line of Litas called "Cold Feet" made from lace, brocade, and blue velvet (for a bride's "something blue"). There were Litas — plenty of them — for all 12 signs of the zodiac.
Aside from its deep well of pattern and color options, the Lita was also surprisingly comfortable. Helena Levin, 31, got her first pair of Litas in 2012 after being given a gift certificate for Nordstrom. She had always liked the shoes, but figured they didn't go with her Über-femme style. "What happened was, they were so comfortable that I started planning outfits around them because I would never wear flats," she explains. They ended up becoming her "Disneyland shoes" because she could walk in them all day. Levin, who works as a buyer for Dolls Kill in San Francisco, says she would also base her business-travel outfits around them. "If I'm going to L.A. for a market trip, I would pack my Litas because I knew I'd be on my feet all day," she says.
Celine Hakakha, 39, a former shoe designer and fashion blogger, joined the Lita bandwagon after thinking they were "ugly" at first. Like Levin, she liked them for their versatility and how comfortable they were. "They were funky and chunky and pretty aggressive," she says. "I always knew (and said) they were technically ugly shoes … but sometimes the ugly shoes are the cutest?" (Hakakha also tracked down the original inspiration, Marro's Dungeon boot, for her shoe collection.) Both Hakakha and Levin still own a few pairs, and Levin proudly wears her Litas to this day, even if they originally got some hate from her mom, who had called them "witch shoes" (a compliment if I ever heard one.)
The hatred for the Lita wasn't just limited to moms worrying about their daughters casting spells or breaking their ankles. In a 2011 blog post, Susie Lau of Style Bubble asked Litas to "please just go and drop off a cliff," while the Daily Beast gave them the title of "world's ugliest shoe," describing them as an "elephant on your foot." And one "very famous personal style blogger" anonymously expressed regret about wearing them in a 2013 BuzzFeed interview: "I hate that I'm so associated with [Jeffrey Campbell] because of my temporary lapse of judgement in 2010 with those crazy Litas." (Hello, Rumi Neely, who did not respond to a request for comment, was that you?) In 2010, I was one of those bloggers who were in the anti-Lita camp, even though I love a platform shoe, and owned (and still own) many Lita-adjacent styles. Looking back, I think it was its ubiquitousness, especially in the blogosphere, that turned me off the most.
In 2011, Holly Stair, who was a Parsons graduate and a fashion intern at the time, was inspired to start a satirical Tumblr blog called "Who Stole My Litas?" Each post featured Photoshopped pictures of celebrities like Oprah, Kate Middleton, and Jonah Hill wearing the shoes. "Many of my peers were bloggers, and it felt like the community at large was in on the joke, whether they owned a pair or not," Stair, now 31 and working in advertising, says. While the shoes were never her style, she can understand why they were so popular back then. "The Lita was a gateway into street style and a way of experimenting with personal style for so many who found inspiration online. For a lot of people, the Lita is a relic of the start of a personal style journey," she explains.
Now that it's been an entire decade since the shoe's debut, some Lita lovers are game for its return. Hakakha says she's inspired to dig them out of her closet, and the nostalgia factor has prompted some people to look them up on eBay and other resale sites (though you can still find them brand-new on the Jeffrey Campbell website), with at least two people admitting to me that they ended up purchasing some Litas secondhand. As for me, the old fashion blogger who once mocked the Lita's omnipresence by saying, "If you spill water on a Lita, it will multiply like Gremlins," I, too, am looking for the ones that feel most like "me" on Poshmark.
Yet the shoe still remains polarizing. There are plenty of haters in my mentions — comments have ranged from calling the Lita "its own pandemic" to calling them "great dane ass shoes" — but even they cannot deny its power. "So disgusting … so iconic," reads another tweet. If Tevas and Crocs can make a comeback, perhaps it's time for the Lita renaissance to begin.