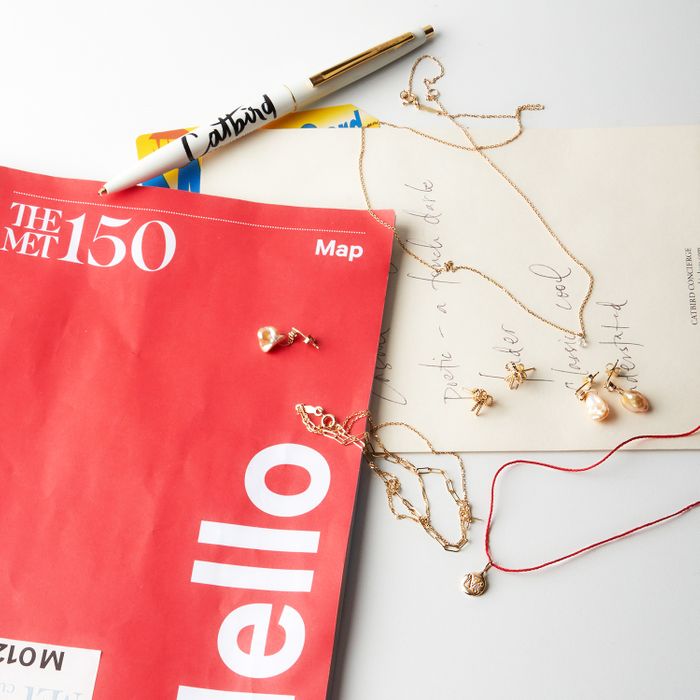 Photo: Courtesy of Catbird
The Metropolitan Museum of Art turned a whopping 150 years old in April, but celebrations were put on hold when the museum went into lockdown for five months. Finally, the Met will reopen again for a smaller number of visitors this weekend, and to mark the occasion, there is, of course, some birthday merch to be had.
In addition to a number of new items on the Met's web store, the museum has also partnered with the Brooklyn-based jewelry brand Catbird on four pieces inspired by works of women artists in its permanent collection. A pair of bow stud earrings, for example, are modeled after an Élisabeth Louise Vigée Le Brun painting in which the sitter wears a bow on her head. A diamond necklace was designed to look like a drop of water on a petal in Margareta Haverman's floral still life. And a gold chain bracelet references the gilded frame of Maria Lalor's delicate embroidery.
Catbird also took the museum's historic metal admission button, which was sadly retired in 2013, and reimagined it on a smaller scale as a 14-karat solid-gold charm and strung it on a "Met red" silk string. So even if you aren't able to visit the Met in person this year, you can still be there in spirit.
Co-creative directors Rony Vardi and Leigh Plessner both remember visiting the museum as kids, and were thrilled when the Met reached out to collaborate a little over a year ago now. "It felt like New York City itself was calling!" said Vardi.
Shop the full Catbird x The Met 150 collection, here.