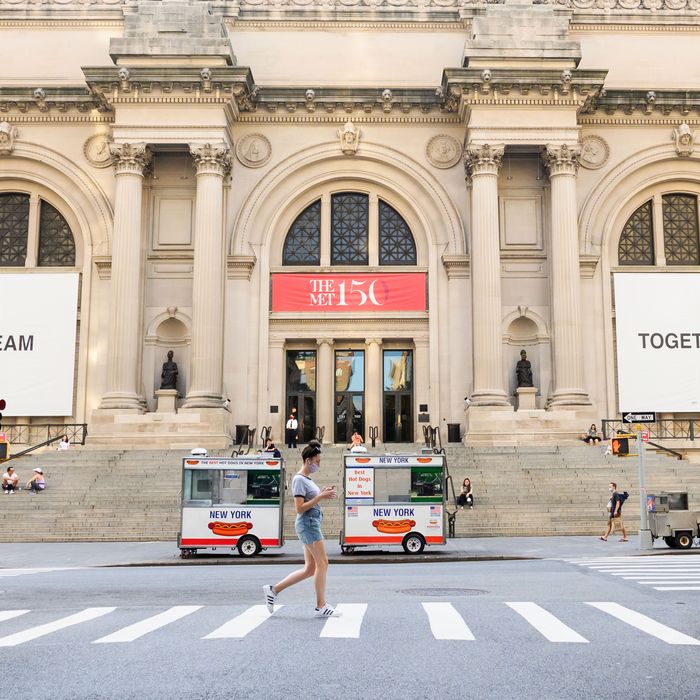 Photo: Noam Galai/Getty Images
I've always enjoyed museums, even as a child when they should have been boring. I love the quiet library atmosphere, and the feeling I get when I stand in front of certain works. It's not an intense sensation but a meditative one, sort of like when you're reading an immersive book.
Of course, this tranquil museum experience is mostly a fantasy. Going to a museum in New York — or really any famous museum in any famous city — means contending with the kind of human congestion you'd find at a theme park, or perhaps a Chainsmokers concert in the Hamptons. You lose some of the magic when you're surrounded by screaming children while trying, desperately, to contemplate Canaletto's ethereal Venetian canals.
This is why today, at the Metropolitan Museum of Art's reopening preview, I was relieved to find that for once there was a bit of room to breathe. The Met — which has never before in its 150-year history been closed for more than three days, let alone five months — is opening officially to the public this Saturday, August 29.
It's a good example of how to do it safely: Face masks are required for staff and visitors, there are hand-sanitizer dispensers in nearly every room, and social distancing is enforced (two people per elevator, and wings that are too small to allow for distancing remain closed). Timed tickets will be scanned without contact, and there will also be valet parking for bikes, since many people are avoiding mass transit. While audio guides and physical maps are out for now, you can download all of that on your phone beforehand.
The best part is that the museum will open at 25 percent capacity, which meant that I didn't get stressed out standing in front of certain paintings for a really long time while people aggressively hovered around me. And for once, I didn't have to claw and punch my way to see The Great Wave off Kanagawa (which is really tiny!), and then I stood in front of it for nearly five minutes without a single person asking me to move and take a picture of them.
The Met is also opening with three new exhibits, including "Making the Met," a retrospective of the museum's most significant acquisitions of the last 150 years. The best part of this is that it puts in one place many of the objects that you previously would have had to zigzag all over the museum's 2 million square feet to see.
So go check it out. You can even reserve your ticket online in advance to avoid the line. I'm telling you, it's totally worth it — first, because virtual museum experiences are a little depressing, and second, this might be the only time you'll be able to visit the sculpture room without competing with a bachelor party daring each other to touch the balls of a Rodin.