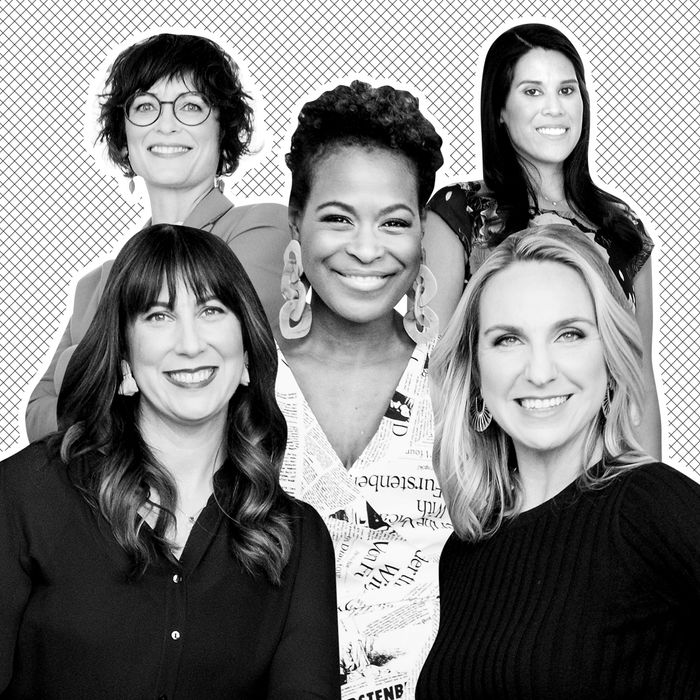 When Errin Haines first heard about Breonna Taylor's death in mid-May, she knew the story deserved more attention. At the time, there was only local media coverage on how Louisville policemen had broken into Taylor's home while she lay in bed, fired more than 20 bullets, and killed her. The family's lawyer told Haines the tragedy needed a larger audience to spark the kind of national outrage over Ahmaud Arbery, the Black man who was shot by a former police officer in February while out on a run. She agreed but needed to convince her new editor.
The 42-year-old had recently left her job as the Associated Press' national writer on race to become the editor-at-large at the 19th*, a nonprofit newsroom that officially launched on Sunday. It's named after the 19th amendment, which gave women the right to vote 100 years ago, but the asterisk acknowledges that in practice, this privilege extended mostly to white women (the punctuation was Haines's idea.) When Haines pitches a story, her editor often asks: What is the asterisk? In other words, what's the larger inequality highlighted in this piece? One newsroom mantra goes "If content is king, context is queen."
Haines immediately saw how Taylor's gender was central to the story: Black women killed by police are often ignored, and Taylor's job as an EMT highlighted the ways in which women were disproportionately affected by the COVID-19 pandemic.
With that framing in mind, Haines hunkered down in her Philadelphia-based apartment so she could publish the piece before Taylor's family appeared on the Today show the next morning ("I don't like getting beat," she said.)
Since the website hadn't officially launched yet, the article ran that night in the Washington Post, with "The 19th" beside Haines's byline. Her story prompted a conversation about gender bias in police shootings and is part of the reason "Say Her Name" is now chanted in streets throughout America.
"As soon as the story was out, it put us on the map as a newsroom," said Haines. "We told a story that wasn't being told anywhere else."
The 19th* has an ambitious goal: to be the best, most diverse newsroom in America that covers gender and politics unlike any other outlet. It plans to publish in-depth reporting on inequality without any viral lifestyle or celebrity content and to focus its political coverage on women who don't usually make headlines, because they are BIPOC, low-income, or live in flyover states. In some ways, 2020 is the perfect moment to build a newsroom from the ground up: While legacy media grapples with the fact that most employees are overwhelmingly white (77%) and male (61%) — and face pandemic-fueled hiring freezes that make those statistics hard to change — the 19th*'s staff of 22 is almost all female or gender nonbinary (only their CFO is a man) and 75% nonwhite. They are uniquely poised to cover how gender and race are at the forefront of every big news story, from COVID-19 to the protests against police brutality and the upcoming election. But it's also a daunting time to launch a publication, no matter how necessary it feels. The pandemic has forced many newsrooms to furlough or lay off journalists, and the virus aside, journalism's steady decline has swallowed up other digital upstarts like The Outline and Mic. Yet the women of the 19th* are confident there's an appetite for their work and think legacy newsrooms should be very afraid of the new competition.
Haines was at a Wendy's drive-through last spring, ordering a Baconator or "something like that" when she got a call from Emily Ramshaw, the former editor-in-chief of the Texas Tribune. They'd never met, but Ramshaw had recently DM'd her on Twitter asking if they could connect. On the phone, she explained that she was leaving the paper to start her own newsroom, led and staffed by women, that would cover politics through a gender lens. Would Haines come on board? It was a tough question. Haines had recently landed her dream job at the Associated Press, but she, like Ramshaw, had been frustrated by the sexist way in which the "male and pale" mainstream media covered female candidates, focusing on whether or not they were "electable" or "likable." She was annoyed with how Black voters were reported on as a monolithic group that supported presidential candidate Joe Biden and how gender and race were seen as specialized beats instead of the biggest themes of the 2016 and 2020 elections. Haines was open to Ramshaw's pitch, but she wanted to see how much money the 19th* could raise before seriously entertaining the idea. Ramshaw, who never backs down from a challenge and considers Haines the "best race and politics reporter in the nation," got to work.
She had already been fundraising by playing "six degrees of Kevin Bacon" within her network to find donors (before launching the 19th*, she "had never raised a single dollar"). A friend of a friend helped set up a meeting with Kathryn Murdoch, Rupert Murdoch's daughter-in-law, who agreed to invest $1 million (she told the Cut her beliefs differ from her media-mogul family members.) Craig Newmark donated $500,000 after Ramshaw sent him a cold email, and when she thought about delaying the launch by a year when her funding dropped during the pandemic, he and Murdoch threw in an extra combined half million to keep her afloat.
In roughly six months, Ramshaw and her co-founder, Amanda Zamora, the former chief audience officer at the Texas Tribune, had raised almost $2 million, a number they've since grown to $8.5 million. The women decided to use a nonprofit revenue model that would rely on a mix of philanthropic donations, digital ads, paid membership, and corporate sponsorships for live events — like an upcoming virtual summit featuring Kamala Harris, Hillary Clinton, and Meryl Streep.  Zamora says that while all media organizations struggle with long-term sustainability, the 19th*'s varied approach to raising money means its success won't be solely tied to corporations.
It also means the journalists don't have to publish the celebrity and lifestyle content most women's-focused publications rely on to meet traffic goals. While Ramshaw loves reading a mix of stories — especially on the Cut, she assures me — she wanted the site to focus exclusively on gender equity without having to chase clicks for advertisers. (Other sites like ProPublica, The Trace and The Marshall Project also follow a nonprofit model.) So far, the 19th* has published profiles of how women of color in Philadelphia, like high-school teachers and pastors, are struggling in the pandemic, a feature on the power of Black female voters, and will be running pieces on how mothers are running political campaigns during the COVID-19 outbreak and how women are impacted by the recession.
"These types of headlines are the main course, they're not a side dish," said Ramshaw. "We're giving women a one-stop shop to hone in on the politics and policy issues that most directly affect their lives."
She and Zamora wanted their workplace culture to reflect the same values as the 19th*'s journalism. They raised enough money to offer staff gold-star benefits like six months of fully paid family leave, which Ramshaw believes is a first for any newsroom, and four months of fully paid caregiver leave. "Women fall off that escalator to the top when they are in the sandwich generation of having small kids and caring for elderly parents," she said. "You shouldn't be penalized for spending the last four months of your mom or dad's life at their bedside."
Haines was 80% convinced to join the 19th* after spending a few days in Austin last summer with Ramshaw, Zamora, and a group of women they wanted to recruit. As she sat in the airport waiting to fly home, she sent Ramshaw an email titled "LeBron calling" — she loves sports references — saying she wanted to "assemble a dream team of the women I admire in this work, with the kind of careers and talent that can meet this moment in our country and in our politics. I want nothing short of the U.S. Women's Soccer Team, the Squad, Michelle Obama, Beyoncé, Cardi B and Taylor Swift." By January, she had joined the 19th* and was helping Ramshaw and Zamora recruit that dream team.
While she knew the irony of joining a diverse newsroom founded by two women with pale skin (Zamora's father is a Mexican immigrant but she presents as white), Haines felt confident they would follow through on their vision. She also knew both had pushed to hire more BIPOC staffers throughout their careers and cared deeply about inequality. "I would not have left my job for any two white women," she said.
The co-founders hired Andrea Valdez to be the editor-in-chief, a Latinx woman who previously ran the Texas Observer's newsroom, and were deliberate about filling open roles with BIPOC staffers. Ramshaw said that when an applicant pool wasn't diverse enough, they reposted the openings on message boards like the National Association of Black Journalists or the National Association of Hispanic Journalists. In addition to racial diversity, they didn't want journalists clustered in the East Coast media bubble and hired staffers based in places like Orlando, Des Moines, and New Orleans who understand their communities. Ramshaw says the site is nonpartisan and will cover conservative women as a nuanced group that cares about issues like education and childcare, rather than as a stereotype. They are planning to run a piece on the next generation of Republican women pushing to make the party more inclusive.
"I think if it's the same women on the left talking to the same women on the left all the time, we're in an echo chamber," she said. And instead of covering women as a monolith or as a "special-interest group," the 19th* will report on them as "issues voters, as rural voters, as educated voters, as blue-collar workers, as Southerners, and as Midwesterners," said Haines.
Zamora agreed to be the 19th*'s co-founder on the condition that the site would not be another "women's media property for liberal white women." While Zamora has white skin and has lived on the East Coast, she feels like her experience as a Texan and the daughter of an immigrant is not reflected in most gender-focused publications.
"We want to do better," she said, adding that everything at the 19th*–from hiring to workplace culture and journalism–will be focused on equity. "We want a diverse audience and to cultivate a diverse audience, we need to rethink how we do journalism."
Any outlet can republish a 19th* story with the literal click of a button, but they have also partnered with Univision and USA Today so that pieces will reach Spanish speakers and local markets (the USA Today network runs stories in more than 250 regional news outlets.) Ramshaw wants a woman in El Paso, Texas, traveling from one job to another to pick up the El Paso Times and read a story from the 19th*.
Though she left a big job with a prominent platform, Haines is happy with her choice. For the first time in her career, she has the luxury of focusing on her gender rather than just her race. "Feminism is the purview of white women because when you are white, you don't really have to think about being white," she said. "So it has been remarkable for me to think about gender on a regular basis." On Zoom calls, Haines is now surrounded by other BIPOC women and is watching as her white colleagues think about race and grapple with their privilege. "I can't imagine being in a newsroom right now where I am tasked with covering systemic racism and inequality, only to have to confront that in my own newsroom."
At the end of a recent two-day staff retreat over Zoom, Zamora asked everyone to share their thoughts about the upcoming launch. When it was her turn, Haines, wearing a T-shirt with the name of Fannie Lou Hamer, the Mississippi civil-rights leader, choked up, looked away from the camera and in a trembling voice, joked: "This is a mess already." She called joining the 19th* the best career decision she's ever made, adding that she'd had a "pretty good fucking run up until this point." "I'm not in a sorority, and I don't have sisters, but you all are my sisters," she said. "We are disruptors, we are game-changers, and we are bound together to literally rewrite history."