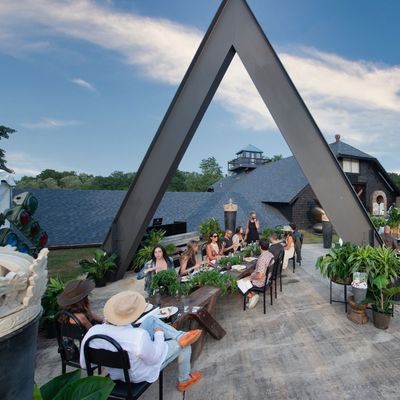 Photo: Mark Sagliocco/Getty Images for Hamptons Magazi
It's still difficult to get a COVID-19 test in New York City: Thousands of people report having to wait a week or more for their results. Good for some peace of mind down the road, provided you isolate while waiting to hear back from your doctor, but essentially futile for those who need to work outside the home or those who may need to travel for a family emergency. So it's particularly galling to read that in the Hamptons, where many wealthy New Yorkers fled to at the height of the pandemic out of sheer convenience, a much faster test awaits. Results are ready in a matter of minutes, and many of these rapid tests have been deployed just so that rich people can schmooze.
The New York Times reported on Sunday that private rapid COVID-19 testing has been cropping up in the Hamptons this summer, mainly so that people for whom money poses no obstacle can continue to attend large social gatherings. Dr. Asma Rashid, who operates an exclusive medical concierge business in the Hamptons, told the Times that she has been called in to help facilitate several large events by administering rapid coronavirus tests that cost up to $500 each and aren't covered by some insurance companies. The results from these nose-swab and finger-prick tests are ready in less than half an hour. If it's a house party, Rashid says, guests are tested in their cars before being given the green light to enter the property.
Rashid has been booked for sleepovers, barbecues, and weddings. "We've gone to these private, private, private events, where they have me sign a 'nothing you see in this house can be leaked' document," she said, adding that the Hamptons "is still a party town." Clients have also called her up after attending a crowded event, like July's "Safe & Sound" concert, a.k.a. that Chainsmokers concert where the chief executive of Goldman Sachs did a DJ set and it certainly looked like people didn't social distance properly. Rashid called the growth of her concierge service "exponential," leading her to bulk up her staff and open a new office.
Rapid testing for private events has also been attempted in California for a 90-person event. In Montauk, New York, the Surf Lodge, a hotel and restaurant that caters to celebrities, uses rapid testing to screen its staff on a weekly basis. In June, the Ravel Hotel in New York City threw a party where social-distancing measures were barely observed, and enlisted a doctor to administer rapid tests at the door for $35 to $50, depending on whether guests had health insurance.
The rapid tests differ (some test for antibodies, others for antigens), but all show results in under 30 minutes. New York City's deputy commissioner of disease control told the Times that rapid tests aren't completely accurate and are especially susceptible to false negatives, warning that additional testing is needed for results to be confirmed. Additionally, the Food and Drug Administration has discouraged the use of rapid testing for screening events, saying earlier this month that people who haven't recently been exposed to COVID-19 or experienced any symptoms should get the more sensitive PCR test instead. (Despite such warnings about the prevalence of false negatives, Donald Trump has been a huge proponent of rapid testing.)
Some local governments are slowly rolling out rapid testing throughout the country, but most places, including Suffolk County where the Hamptons are located, don't yet have the infrastructure. About a month ago, New York City launched several rapid-testing pop-up sites in areas where hospitalization rates are still relatively high, like the Bronx and Sunset Park. Health officials are urging New Yorkers who receive rapid tests to continue taking social-distancing precautions.