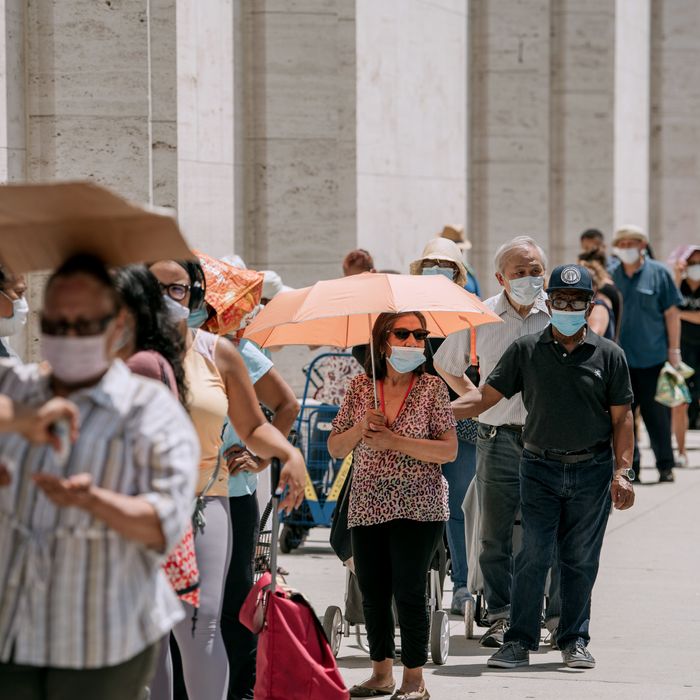 Here are three stories I read over the last three days. One: A man living in Washington, D.C., had to give up his apartment after losing his job as a bartender when his workplace shuttered as a result of D.C.'s stay-at-home order. For four months, he'd been fruitlessly applying for unemployment benefits, scraping by, not paying rent; now, with just $7 left to his name, he has to get to his father's home in Manhattan, or he'll be forced to sleep on the street. Two: This morning, the New York Times reported that one-third of New York City's small businesses — 240,000 of them — may have to close forever, with the pandemic making margins impossible even for those that can stay in operation and no rent relief in sight.
And the third: Congress still hasn't reached a deal with the White House on a fifth coronavirus stimulus package after two weeks of negotiations. Republicans want to lower federal unemployment benefits from $600 to $200 a week, even as health officials warn that the virus has entered a "new phase" and has become "extraordinarily widespread." Unemployment rates in several cities have hit 20 percent, or one in five people. Amid all of this — amid unprecedented economic devastation caused by the stay-at-home orders, which have kept millions of people involuntarily but necessarily from going to work in order to stop them from getting sick and dying — Treasury Secretary Steven Mnuchin went on cable news and said, "We can't be paying people to stay home."
As terrifying as all that may seem, this is just a glimpse of the nightmare to come. We are reaching a new crisis point in which the policies that have barely kept Americans afloat are coming to an end. Chief among them is that $600 in federal unemployment benefit, a weekly boost to state unemployment benefits for anyone who lost income due to the coronavirus. Economists agree that it prevented the economy from fully bottoming out over the last few months, but nonetheless, on July 31, it expired for 25 million people across the country. In states where unemployment benefits are unfeasibly low — like Arizona, for instance, where recipients receive just $240 a week and an average worker must earn over $3,500 per month to afford a two-bedroom apartment — it is likely that many of those without jobs will no longer be able to pay rent. Add to that the end of a federal moratorium on evictions on July 24, and the many state moratoriums that have also expired, leaving an estimated 40 million people at risk of being thrown out of their homes. The deadline for small businesses to apply for paycheck-protection loans — which allow them to continue paying their employees even as business slows or grinds to a halt — has been extended to August 8, but the restrictions for approval are narrower, and the amount of relief is smaller.
The economy shrank by 9.5 percent from April through June, "the fastest rate in modern record-keeping." Unemployment levels are nearing Great Depression levels. Things are disastrous already, even with the programs that have allowed people to barely get by. And, now, this meager safety net is being ripped away. That we will soon feel the impact of this, falling even further down off this series of cliffs, is almost impossible to grasp. "I think most people think that, when the $600 gets cut off, that if they're not unemployed, it's not going to affect them," one economist says. "But when 30 million people are no longer getting 600 extra dollars, that's going to have a multiplier effect on the whole economy." That money, even if it seems small, was flowing from out-of-work Americans to grocery stores, landlords, and retailers. With it cut off, "There's a good chance that what is now an unemployment problem becomes a foreclosure crisis and eviction crisis," another analyst predicts.
Twenty-five million people is an incomprehensible number. It is both so totalizing, indicating shared suffering on a massive scale, and also totally individualized. Every day, stories surface like the man with $7 — stories of Americans struggling with their own unique misery. The brain toggles between the wave, the mass of shared fear, and the unique tragedies happening within it. People are deciding between food and insulin. People are deciding whether to send their kids to school so they can go to work and feed them.
And then there is the nightmare of the nightmarishness itself, a pervasive dread that, despite all these numbers indicating impending doom, we still do not really get what is happening to us. A layer of numbness threatens to neutralize the terror of our predicament. Two of the places named in the article about New York's small businesses closing down are in my neighborhood, and I still struggle to imagine that this fallout could simply continue. How could it happen in the most famous city in the world? Well, we live in a country where those in charge openly depend on us growing accustomed to death and suffering, where 150,000 people can die, and the Trump administration's plan is that we all just learn to live with it. Even though the GOP knows that the $600-a-week benefit is a policy that has kept total collapse at bay, it wants to kill it anyway. Even though corporate America knows that the virus is still spiking across the country, it expects workers to risk their lives for a terribly shortsighted push toward "reopening." That hideous denialism feels terrifying, dystopian, perfectly encapsulated by cheery ads welcoming people to a masked-up Disney World. And still, we're expected to follow the same hollow mantras, to just keep working and striving as individuals, as is the American way. CNBC is airing segments telling people to follow "a pandemic budget" and to "post your skills" on social media, as if there aren't five people for every open job in America. As if this is something we can fix ourselves.