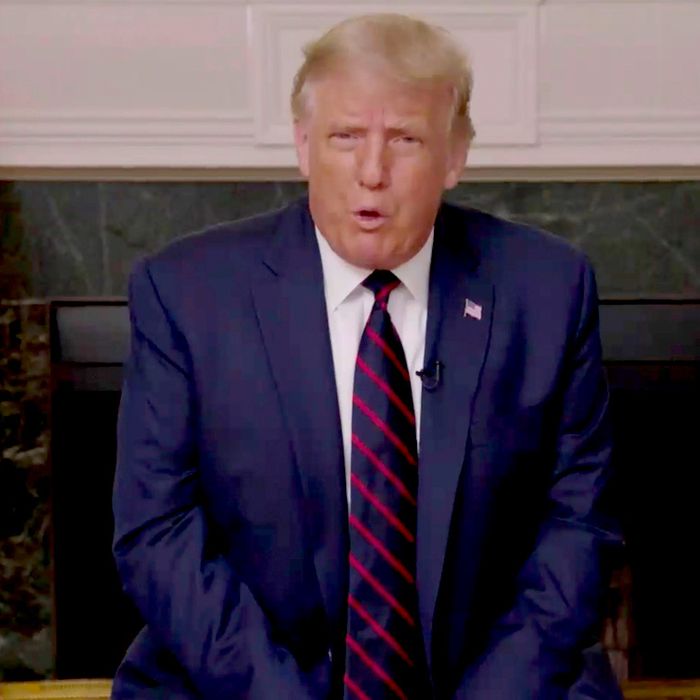 We're baaaaaack.
Photo: Handout/Photo Courtesy of the Committee
After four interminable nights, the Republican National Convention — a strange, mostly virtual affair that was heavy on fearmongering and screaming — has finally concluded. The entire event was, in one word, unhinged. But here are a few moments that stood out.
Night four:
The final countdown kicked off with a montage of converted socialists — your casual reminder that, to quote one, "You can go from being a democratic socialist to a Trump supporter, you just have to look deeper"; a former golf caddy of Trump's who excels in unrelenting eye contact; and Ultimate Fighting Championship president Dana White, who screamed about the coronavirus, of all things. It concluded with Trump"profoundly" accepting his party's nomination for the presidency, in an hour-long victory lap that touched on all the Trump campaign's far-right, xenophobic talking points. Some other moments:
Melania Trump glitched onstage.
After Ivanka Trump introduced her father, who would go on to deliver one of the longest acceptance speeches of all time, Ivanka passed in front of Melania to greet her. The acknowledgement at first seemed cordial, with Melania — who wore a neon-green Valentino dress — flashing her stepdaughter a wide, toothy grin. (Yes, many noted that the gown's color resembled a green screen; yes, there are memes.) But then, as if experiencing a brief system malfunction, Melania's expression changed rapidly into an intense, robotic stare. Is this further evidence that Ivanka and Melania don't have the rosiest of relationships? Or did Melania … glitch?
Mitch McConnell made unfounded claims about the hamburger police on the left.
Maybe because Republican men are obsessed with their meat, Senate Majority Leader Mitch McConnell conjured a grim portent during his pretaped segment. The Democrats, he said (emphasis mine), "want to tell you what kind of car you can drive; what sources of information are credible; and even how many hamburgers you can eat." He failed to repress a rascally little chuckle in delivering that last line, perhaps because he knows this claims is ridiculous. While Democratic vice-presidential candidate Kamala Harris proposed, in a town hall and not in an official capacity, that the government create nutritional guidelines that encourage less meat consumption, no one is going after the hamburgers. Mitt Romney's two favorite meat groups are so far safe.
A large, and largely unmasked, crowd gathered on the White House lawn — an apparent ethics and public health violation.
Government ethics experts and many Democrats agree that Trump's decision to hold so much of the RNC on White House grounds is a violation of the Hatch Act, which "prohibits federal employees from engaging in most political activity inside federal buildings or while on duty," per NPR. As you can see from the below photo, that policy appears to have gone out the window, and with it, most public-health recommendations designed to mitigate the spread of the coronavirus. Look at all those Trump fans, closely clustered on the White House lawn in anticipation of the president's acceptance speech. How many masks do you see? One, two maybe? Not very many masks, in any case. Not very many masks at all.
According to Maggie Haberman at the New York Times, those in "close proximity" to the president have been tested for the coronavirus, but those seated in the audience were not necessarily tested. Similarly, at Vice-President Mike Pence's address on Wednesday, maskless attendees admitted to reporters that they hadn't been tested beforehand.
Night three:
Night three opened with a frightening address from Tennessee senator Marsha Blackburn, who admitted her father was a volunteer sheriff in Mississippi in the post–World War II period, followed by Representative Dan Crenshaw in front of a massive tank.
There was also:
A montage linking women's suffrage to … the tea party?
About half an hour into the proceedings, viewers were treated to a strange newsprint montage on the women's suffrage movement. The segment kicked off with a pointed reminder: "It all started with a Tea Party." As in, the emphasis on those last two words seemed to suggest, the tea party, a subset of conservatives who coalesced against the Affordable Care Act and government bailouts in 2009. The women's suffrage movement, meanwhile, is over 100 years old, and yet the tea party link kept coming up. Elizabeth Cady Stanton and Susan B. Anthony? Hammered out the particulars of their platform OVER TEA, per the montage.
Much like the women's suffrage movement itself, the Republicans' educational interlude also sidelined the Black activists instrumental in securing women the right to vote, shunting mention of Sojourner Truth to the very end. That decision was perhaps not so surprising, but the link between women's suffrage and the tea party? Who knew?
Night two:
While less eventful than the first evening, night two did bring a few notable moments, including a Maine lobsterman; a dairy farmer touting her self-milking cows (remarkable!); and Mike Pence maybe, possibly, holding court in front of a green-screened image of Abraham Lincoln's boyhood home? (The Indiana one.)
Arguably the most arresting moment of the night came at the very end, when First Lady Melania Trump gave the keynote speech from her newly redesigned Rose Garden. The address itself was a little lifeless, and possibly eclipsed by:
Melania's heavily militarized outfit.
For a convention frequently marked by a distinct "fascist timbre," as our colleagues at Intelligencer put it, a cinched, army-green military jacket certainly seems to send a message — particularly when worn by a woman whose wardrobe often seems to speak volumes, despite her silence. This ensemble was rather sinister, given the general tone of the convention; it mostly made us think of dictator cosplay.
Night one:
In the first night of the convention, we saw Prominent Conservative Young Person Charlie Kirk speaking to us in his "personal capacity … as a 26-year-old" and describing Donald Trump as "the bodyguard of Western civilization"; a Montana woman talking about her coffee company and God; U.S. representative and self-identified "Florida man" Matt Gaetz spreading conspiracy theories, and so much more.
Some other highlights:
Trump's bizarre meeting — unmasked and in close quarters — with essential workers.
In a pretaped segment filmed (in possible violation of ethics standards) inside the White House, the president spoke with a handful of front-line workers about what he called — repeatedly, pointedly — the "China virus," a racist term that he has frequently come under fire for using. In order to underscore his party's claims that the administration's response to the pandemic has been terrific, the best (copious evidence says otherwise), Trump brought in a postal worker, a sheriff's deputy, a firefighter, a trucker, and nurses arrayed in a sort of V-formation to flank him on either side. The recommended six-foot distancing was not observed, nor was guidance on mask-wearing.
At one point, he turned to a woman who had recovered from COVID and said, "Your blood is very valuable, you know that?"
"Marijuana, opioids, and the right to die with dignity."
There was this woman: Natalie Harp, an evangelist for Right to Try, a law that lets terminally ill people access experimental treatments that haven't been approved by the FDA. Per the Washington Post, RTT has shown extremely limited success, and anyway, there's little evidence that Harp ever received RTT therapies.
But she still spent a small eternity railing against the Democrats' stance on health care — which, according to Harp, is "a right to marijuana, opioids, and the right to die with dignity." There is just something deeply unsettling about watching someone furrow their brow in front of a wall of American flags while contemptuously spitting out the words "the right to die with dignity."
The infamous St. Louis gun couple got to go on a fearmongering rant, for some reason.
In an extremely clear dog whistle to the extremely valuable voting bloc Trump believes to be suburban white voters, the St. Louis gun couple — Mark and Patricia McCloskey, who went viral for threatening a peaceful Black Lives Matter protest with firearms outside of their palatial mansion — got their moment in the spotlight.
"What you saw happen to us could just as easily happen to you who are watching from quiet neighborhoods around our country," they warned. They went on to claim that Democrats want to "abolish the suburbs altogether by ending single-family home zoning," which is not true, adding, "This forced rezoning would bring crime, lawlessness, and low-quality apartments into now thriving suburban neighborhoods." (The McCloskeys were both charged with unlawful use of a weapon after menacing the protesters in their neighborhood, which is not in the suburbs but the city of St. Louis.) The pair also falsely called Cori Bush, a BLM activist who just won her congressional primary in Missouri, a "Marxist revolutionary."
Kimberly Guilfoyle yelled her entire speech.
Kimberly Guilfoyle, girlfriend to Donald Trump Jr., dispensed many of the campaign's favorite talking points, and at a frightening volume — as Intelligencer put it, "Guilfoyle brought the fear, the fanaticism, and the convention's fascist timbre to the next level." She yelled for six minutes straight.
Don Jr. called Joe Biden the "Loch Ness monster," and appeared to cry a little.
Like his girlfriend, Trump's eldest son, Don Jr., delivered a very loud speech. His address seemed to be very moving for him: As many on Twitter noticed, the president's eldest son appeared teary-eyed at times as he defended his father's economic record and coronavirus response.
He also offered up a fantastical metaphor for Joe Biden, calling him "basically the Loch Ness monster of the swamp." How is Biden like Scotland's most elusive giant serpent? According to Don Jr.: "He sticks his head up every now and then to run for president, then he disappears and doesn't do much in between."
Between the last time Biden ran for the Oval Office (the 2008 election) and this current run, he served two terms as the vice-president of the United States.