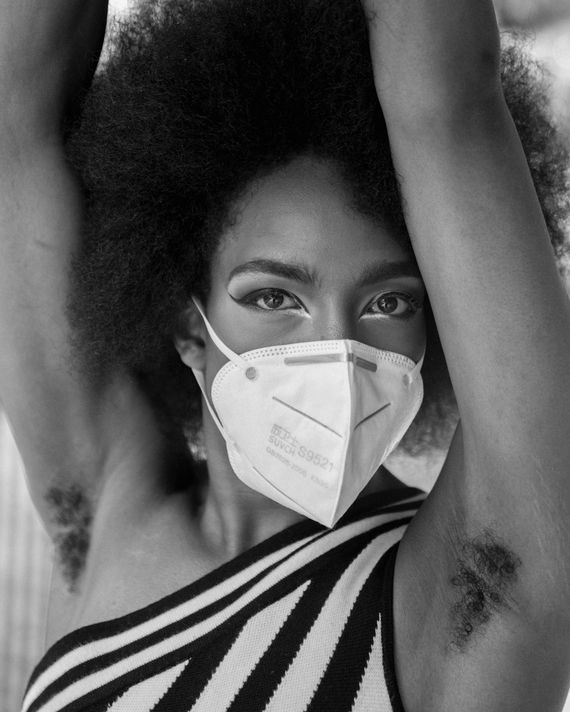 Junior Mintt's weekly Instagram videos give off the same energy as Issa Rae's mirror talks on Insecure — they'll leave you feeling empowered, educated, and, if you haven't fully recognized your privilege, maybe even read. Junior is a Brooklyn–based activist and drag artist who has made it her mission to spread a message of Black trans power through both live performance and illustration and video slides on Instagram. "Every aspect of my drag and performance is in reference to my identity and honoring the legacy of every Black trans person before me," she says.
She graduated in 2017 from a small liberal arts school in Boston, where she studied scenic and production design. Acting on the sense that she needed to make her voice heard, she moved to New York, where she was immediately drawn to drag shows. It took her about a year to build up the confidence to compete in one; she didn't win, but her career as a performer took off from there. What she loves about drag the most, she says, is that she can tailor every detail of her performance, from messaging to hairstyle: "I sew my own outfits, I make my own mixes, I direct myself, and do my own hair."
Below, Junior Mintt talks to the Cut about learning Spanish, mastering singing, and Mariah Carey's Glitter soundtrack.
What does cool mean to you?
For me, cool means shaping yourself into the image of who and what you want to be — regardless of what society dictates. That means defining cool for yourself and respecting and honoring what cool means to everyone else individually.
Which three real-life people do you find most inspiring?
My mother, who has always taught me that I am capable of anything; Toni Morrison, whose words made me feel seen and validated; and Angela Davis, who pushed me to question how society operates.
What three fictional characters do you relate to most?
Guinan from Star Trek, Blanca from Pose, and Velma from Scooby Doo.
What are the last three songs you've listened to?
"Reflections" by Mariah Carey, "How Many Ways" by Toni Braxton, and "Brown Skin Girl" by Beyoncé.
What kind of animal would you be and why?
I would definitely be a horse because they are strong, majestic, empathetic, and have AMAZING hair!
What superpower would you have and why?
The ability to speak and sign all languages, including animal languages. There's nothing I love more than communicating and connecting with people, and I would love to be able to talk to anyone and be able to connect! I've been learning Spanish for four months now, and it's only solidified that I wanna learn all of the languages, so I'm working on that superpower now.
If you could master any skill (that isn't related to your current job), what would it be and why?
I'd love to master singing! I already dance around singing to Mariah and Whitney Houston, and it would be fantastic to do it on pitch. Again, I love to express myself, and I get so much inspiration from Black singers that I'd love to be able to sing.
What does your Saturday night look like during the pandemic?
My Saturday night during the pandemic has been very therapeutic because my weeks have been busy with drag and activism! My night starts with a shower and moisturizing with some cocoa butter, then it ends with me curled up with Chinese food, Real Housewives, and weed.
Has how you dressed changed during quarantine? If so, what are you wearing now?
My dress has greatly shifted because I've realized how to style my clothes in a way that makes me feel so affirmed in my gender. I'm wearing anything that shows off my legs and accents my waist, especially cut-off high-waisted shorts and an off-the-shoulder top or colorful crop top.
Are there any causes or organizations you are supporting right now? BLACK TRANS LIVES MATTER, Okra project, Glitz inc., Marsha P. Johnson Institute, and For the Gworls.
What Black-owned local (or not) businesses are you supporting?
Junior Mintt's Patreon! Sweet Lorraine is a Brooklyn performer who styles stunning wigs, Papi Juice, Milk & Pull coffee shops, and Buy Better Foods grocery store.
What goals are you working toward at the moment?
I'm working toward two main goals right now. Creatively, I want to keep using my art to uplift my community and empower people to change their communities — and the world — for the better. Personally, I want to keep discovering and asking myself tough questions about who I am and who I want to be.
Do you have a self-care routine? If so, what does that look like?
Yes, I definitely do. My self-care routine is the only thing that gets me through sometimes! First off, I love taking care of my skin, so my skin-care routine always calms me down. But also, I wake up every morning and spend the first two hours just meditating and setting my intention for the day. Lastly, no self care routine would be complete without marijuana.
What piece of advice has had the biggest impact on you and why?
The piece of advice that impacted me the most was, "Just because you don't have the words for how you feel doesn't mean you aren't feeling what you're feeling." It impacted me because it taught me that the emotions that we don't have the words for are the ones we truly need to explore. And that piece of advice is what started my journey to discover my transness!
What is one item that has made your life better?
I recently bought the Glitter soundtrack on vinyl and it has vastly improved my life. I plan on passing down my vinyl collection to my children whenever I have some. For me to have my favorite album on vinyl brings me so much joy in the short term by listening to it, and so much in the long term by thinking about my kids in the future.