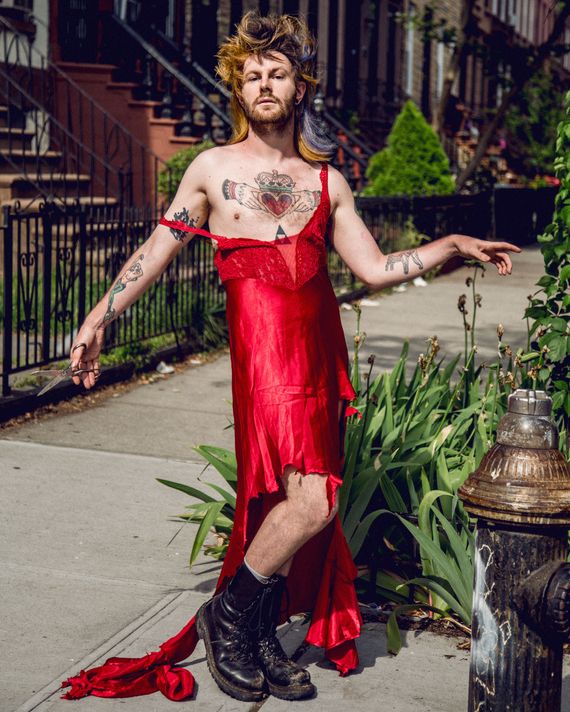 "I'm a hair bender by way of passion and trade, sowing seeds of hair spray and lacquer finish — chaotic evil under a wig cap," says hairstylist Sean Michael Bennett. He's worked with musicians like Sateen and Kim Petras and publications like Candy and Out (you may have even seen his work on the Cut's digital cover featuring chef Angela Dimayuga). The Cut spoke with him about leather daddies, Dr. Seuss, and why Brooklyn needs more Black-owned hair-supply stores.
What does cool mean to you?
It's a stench in the air you can't put your finger on. Uncomfortable silence. I'm more of a fool than cool. Can clowns be cool?
Which three creative people have had the most impact on you and why?
Dr. Seuss because of his complete absurdity and wonder. Oscar Ouk is my best friend and collaborator; he gives me confidence and is like my brother. All of the older dudes I've ever hooked up with, collectively. The older generation of gay men, leather daddies. You can learn a lot from your elders.
Which three fictional characters do you relate to most?
Eric Cartman from South Park, Bobby Hill from King of the Hill, and Peggy Bundy from Married … With Children.
What are the last three songs you've listened to?
"Pretty Baby," by Sister Sledge; "Let's Go Get Stoned," by Sublime; and "Take on Me," by A-ha.
What does your Saturday night look like during the pandemic?
Wigging out at the studio, ripping bowls, and vibing.
Has how you dressed changed during quarantine? If so, what are you wearing now? 
I just don't care. I'm either naked or in leather.
Are there any causes or organizations you are supporting right now?
G.L.I.T.S., Inc! And, as always, trans and gender-nonconforming people are always free at my salon for cuts/color/wig services. Making sure people look and feel good is really important. Also donating directly to individual artists, sex workers, and other people in need.
Which Black-owned local (or not) businesses are you supporting? 
I'm working on exclusively supporting Black-owned hair-supply stores. The Black hair economy is a hugely lucrative industry, yet Asian suppliers run the whole U.S. hair market. There is currently only one Black-owned hair-supply store in Brooklyn that I've found. This market should be in the hands of the people it serves, so it's really important to support Black-owned hair suppliers and hair-supply stores whenever possible.
What goals are you working toward at the moment?
I want a hot body and a motorcycle. I just turned 30, and I'm gonna go ahead and do my midlife crisis and get it over with. Maybe get some plastic surgery. Maybe fillers.
What do you do for self-care?
I used to go to Julius', but now I sit on the roof at my studio staring longingly at the sherbet sunset and thinking about Julius'. You can donate to help save Julius', a cultural landmark, here.
What piece of advice has had the biggest impact on you and why?   
A very prominent hairstylist I used to idolize told me once that I'd "always be a lost dog," and I kinda liked that.