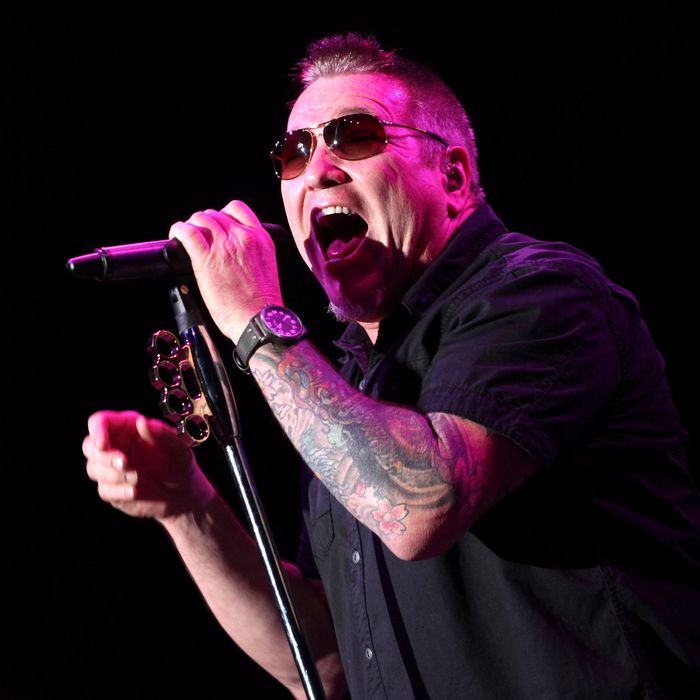 Photo: Tommaso Boddi/WireImage
There are some things you really don't want to be thinking about all the time lest you lose what's left of your mind. One of those things is that we are living through a pandemic that curtails and complicates our every social interaction. Another is the '90s rock phenomenon and most quoted band in my elementary-school yearbooks, Smash Mouth. But usually the forces that be conspire to make us confront these matters anyway, as they did when thousands of motorcycle enthusiasts showed up without masks for a Smash Mouth concert this past weekend in Sturgis, South Dakota.
In an event reminiscent of the nightmarish Chainsmokers concert that rocked the Hamptons last month, the outdoor concert, which was part of the 80th annual Sturgis Motorcycle Rally, went ahead without social-distancing measures. Video taken of the event shows people in the crowd standing close together shouting and not wearing masks.
Some 250,000 people are expected to pass through the festival during its ten-day run, which includes concerts, drag races, and competitions and usually attracts closer to half a million attendees. Smash Mouth is only one of dozens of acts featured as part of the festival, including Quiet Riot, Buckcherry, the Kenny Wayne Shepherd Band, and Fozzy.
The town of Sturgis itself is home to fewer than 7,000 people, 60 percent of whom disapproved of holding the festival this year in a recent survey. CNN reported that many of the revelers arrived from coronavirus hot spots like Florida and Texas, and, in a few days, they will presumably be returning to their homes, wherever they may be. Gary Miller, who drove for three days to attend the event, told CNN, "I'm not worried about it at all — we're from California, where you gotta wear masks everywhere you go, so it's honestly refreshing coming out and not having to worry about it." Medical experts continue to urge caution about the potential for "super-spreader" events, during which a single person can infect hundreds of others and potentially spread the virus to other communities.
Sturgis's city manager, Daniel Ainslie, told CNN on Sunday that local leadership had made preparations with regard to "garbage and sanitation" and had posted additional cops and medical workers at the event. "There are people throughout America who have been locked up for months and months," he said, referring to people respecting public-health measures to limit the outbreak. "We kept hearing from people saying it doesn't matter — they are coming to Sturgis. So with that, ultimately the council decided that it was vital for the community to be prepared for the additional people that we're going to end up having."
Throughout the pandemic, South Dakota has resisted implementing strict social-distancing measures, with Republican governor Kristi Noem advocating for a policy of "personal responsibility" over mandates and continuing to push for schools to stay open in the fall without a face-mask requirement, against the advice of the South Dakota State Medical Association. Rolling Stone reported that Noem supported the festival, where vendors are selling Trump apparel alongside biker gear.