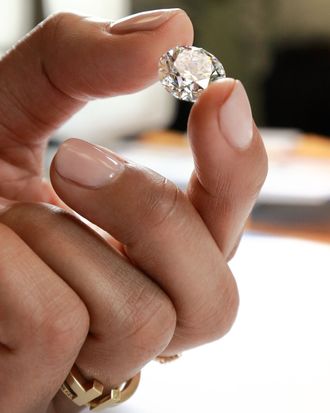 White diamond, Tiffany diamond workshop in Antwerp.
Photo: Courtesy Tiffany & Co.
There is a skit in the show Portlandia where a couple, played by Fred Armisen and Carrie Brownstein, goes to a restaurant and asks the waitress to "tell them a little bit more" about the chicken on the menu. Their conversation quickly devolves into an FBI–level background check on the life of the chicken. What was his name? (Colin.) How big was his home? (Four acres.) Was he popular? (Can't speak to that.) The waitress pulls out the chicken's official dossier, which includes a photo, but in the end, it's still not enough for the inquisitive couple. They decide to leave the restaurant and go to the farm themselves.
Now imagine this scenario, only replace the chicken with a diamond, and the Portland couple with someone who has just purchased a Tiffany & Co. engagement ring. Jokes aside, these days educated consumers want to know more about the stuff they buy and where it comes from — whether we're talking about an .18-carat gem or a literal carrot — and Tiffany & Co.'s new Diamond Craft Journey initiative aims to illuminate every step of the process.
Starting this October, Tiffany customers purchasing individually registered diamonds that are .18 carats or larger can learn the region or country their diamond hails from, where it was cut and polished, graded, and quality assured, and where it was set in jewelry.
In 2019, Tiffany paved the way for this initiative when it announced that it would become the first global luxury jeweler to provide customers with the provenances of individually registered diamonds. "Today we advance our commitment to diamond traceability one step further," said Tiffany & Co.'s chief sustainability officer, Anisa Kamadoli Costa, in a statement. "Our customers deserve to know that a Tiffany diamond was sourced with the highest standards, not only in quality but also in social and environmental responsibility. We believe that diamond traceability is the best means to ensure both."
Because Tiffany owns its own diamond workshops in Belgium, Mauritius, Botswana, Vietnam, and Cambodia, as well as a Tiffany Gemological Laboratory in New York, and five jewelry manufacturing workshops in the North America, the company has intimate knowledge of its supply chain. It is able to account for every step of the jewelry-production process — from where the diamonds are sourced to how they end up in their little blue boxes.
Now that it's engagement season, a lot of questions are being popped. And, hopefully, Tiffany can provide answers for inquisitive brides and grooms. Below, a look at the company's upcoming fall releases, which illustrate the final step of the full craftsmanship journey.