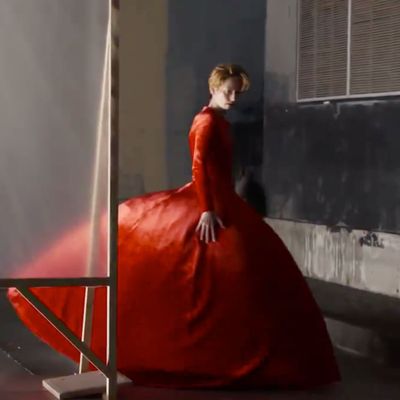 Photo: @LostInFilm/Twitter
In a year of bad news it does one well to remember that Tilda Swinton is out there, existing.
I've no idea what she's up to in her free time, but one thing we know for sure is that she's still working, and has a ton of films coming up. One of these is Three Thousand Years of Longing, which — and you might need to sit down for this one — is an epic love story starring Swinton and Idris Elba.
And today, a clip for another one of her projects was released, a preview of Pedro Almodóvar's La Voz Humana (The Human Voice). The short film (Almodovar's English-language debut) stars only Swinton, and a dog. And as if this wasn't enough, in the preview she's wearing a blood-red Balenciaga gown, featuring an incredible hoop skirt:
It's the  same enormous velvet masterpiece that stole the show at Balenciaga's divisive spring 2020 collection last September.  As the Cut's fashion critic Cathy Horyn put at the time, the velvet was "so smooth and flawless over the crinoline that [the models] looked like three-dimensional Disney-princess memes."
But there is nothing Disney princess about this dress on Swinton. In the clip, she slowly walks through what looks like an empty warehouse, the scarlet dress bobbing in ominous time with her steps.  The skirt is so unbelievably voluminous that it threatens to take flight of its own accord. The most incredible part? She sits in it. On a teeny tiny stool! This is the same dress that reportedly required two grown men to carefully move it inside like a piece of furniture when Balenciaga's in-house stylist, Lotta Volkova, ordered one in gold.
As for the film, it's based on a one act play by Jack Cocteau, and centers on a woman's final phone call with her long-time lover the day before he marries another woman. The call sends the heroine into a depressive spiral; and while this clip feels like more than enough melodrama, I simply cannot wait to see Swinton have an entire breakdown in a hoop skirt.