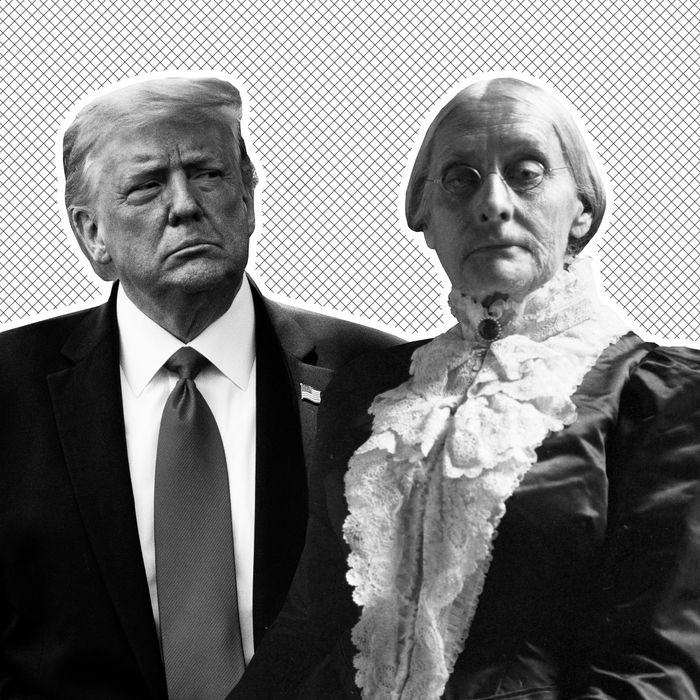 Donald Trump and Susan B. Anthony.
Photo-Illustration: Getty Images
Yesterday, aboard Air Force Once, President Trump disclosed that he had plans to pardon someone "very, very important" the following day. While he declined to offer much more insight, he did eliminate a few obvious predictions: No, it would not be whistleblower Edward Snowden, nor would it be former national security adviser Michael Flynn.
It turns out his pick was someone who, I feel confident assuming, was prophesied by absolutely no one. This morning, Trump announced that he would pardon Susan B. Anthony, a leading suffragist who has not responded to the honor, as she has been dead for over 100 years. According to the New York Times, Anthony was arrested and charged a $100 fine after voting illegally in 1872, and put on trial the following year, where she was found guilty by an all-male jury. Now, nearly 150 years later, her actions have been forgiven.
The posthumous pardon falls on the 100th anniversary of the 19th Amendment, which granted women — though, in effect, only white women — the right to vote. As the Times notes, Trump is suffering from a "historically large gender gap" among voters that puts him behind presumptive Democratic presidential nominee Joe Biden. Still, Trump's choice of pardon is confounding, considering that he could've easily pardoned a living woman who has been criminalized for attempting to exercise her right to vote. Instead, he chose to extend a patronizing and largely meaningless posthumous pardon to a woman whose legacy has come under increased scrutiny for sidelining Black women in the women's suffrage movement. Meanwhile, the anti-abortion movement has attempted to co-opt Anthony as a face for their movement, arguing that she was fervently anti-abortion and would side with them today, despite there being almost no evidence to support this claim.
In the same breath in which he pardoned Anthony, Trump disparaged Michelle Obama as being "in over her head," referencing Obama's searing and widely applauded keynote speech at the Democratic National Convention last night, in which she condemned the Trump administration and emphasized "standing fierce against hatred while remembering that we are one nation." Time will tell whose tactics are more successful at winning over voters.