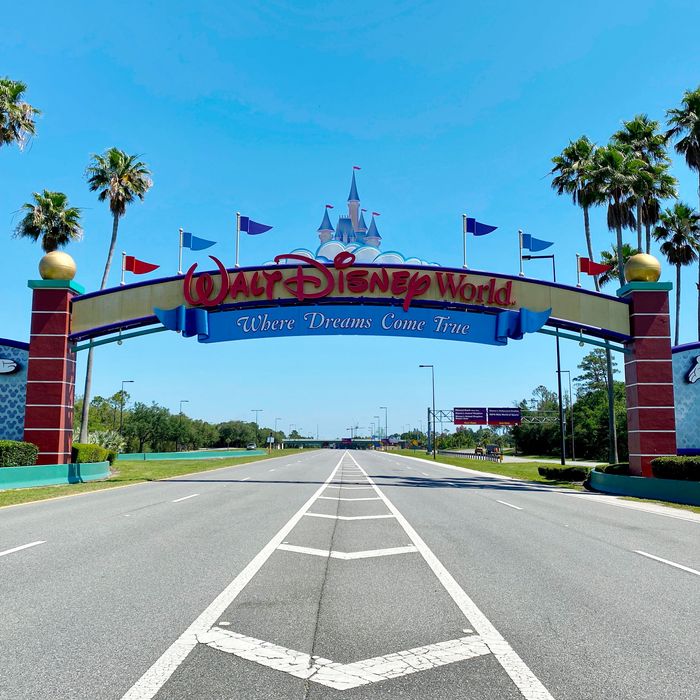 Photo: DANIEL SLIM/AFP via Getty Images
After a controversial decision to reopen Disney World in mid-July, amid a surge in coronavirus cases in Florida, Disney executives have said fewer people have visited the park than they hoped.
On a call with analysts, Disney CEO Bob Chapek noted that Disney World had experienced higher numbers of cancellations than expected, perhaps as would-be visitors took note of near-inescapable evidence that COVID-19 presents an ongoing risk whether businesses open or not. The United States has recorded over 1,000 coronavirus-related deaths every day since late July, and a CDC forecast expects this rate to continue. Of this daily death toll, President Trump has said, "It is what it is."
Disney's disappointment betrays a similar, dispassionate acceptance of the pandemic's toll — as countless scientists and public-health officials have pointed out, just because the American economy is more open doesn't mean it's any safer for those who elect (or are forced) to participate in it. And most Americans know that. Polls suggest that only a third of Americans say they currently feel safe going out to eat; roughly a quarter say they'd feel comfortable going on vacation or going to the movies. Nineteen percent say they'd feel safe going to an amusement park, like Disney World.
It's unclear why CEOs like Chapek think anyone can afford Disney World at the moment anyway. National unemployment was above 11 percent as of June (and 20 percent in some cities), and the weekly $600 unemployment stimulus, which provided a lifeline for so many working-class Americans, lapsed at the end of July. Congress has yet to pass a second, desperately needed relief package; our elected representatives and senators are scheduled to recess this month. Without money to eat at restaurants, or go to theme parks, people who might otherwise take the risk won't do it, because they can't. This really shouldn't be a surprise.