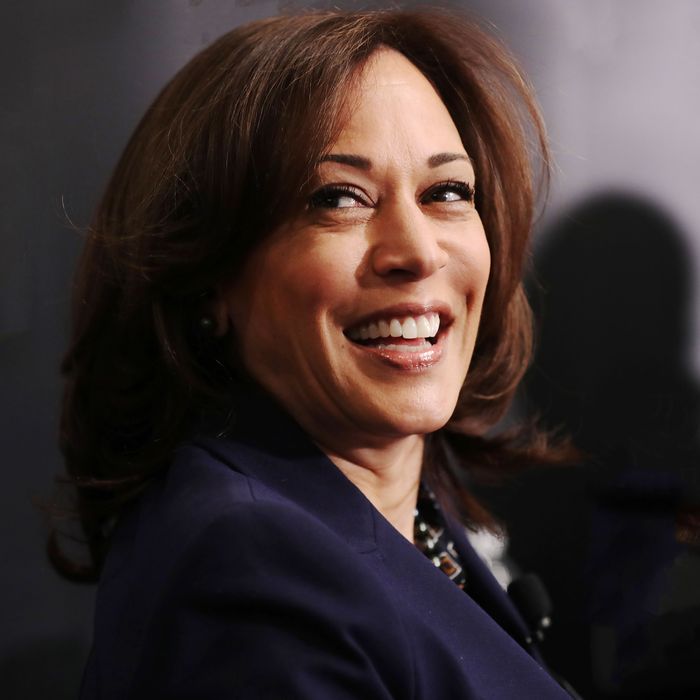 Kamala Harris
Photo: Chip Somodevilla/Getty Images
On Tuesday, after weeks spent drawing out speculation and building suspense (some would say unnecessarily), Democratic presidential candidate Joe Biden finally announced his pick for vice-president: former prosecutor and current California senator Kamala Harris.
"Joe Biden here," the candidate said in a message to supporters. "Big news: I've chosen Kamala Harris as my running mate. Together, with you, we're going to beat Trump."
Before he shared his "big news," Biden had made it clear that he would be choosing "a woman." Beyond that limited criterion, he shared frustratingly few insights into what exactly he was looking for in a VP, outside of availability to step into the presidency on day one if need be. In any case, the pool reportedly included Tammy Duckworth, Massachusetts senator Elizabeth Warren, California representative Karen Bass, Stacey Abrams, and former national-security adviser Susan Rice.
Harris is a historic selection: With a Jamaican-born father and an Indian-born mother, Harris is both the first Black woman and first South Asian woman to receive a national nomination from a major political party. Her professional background in law enforcement, however, makes her something of a divisive choice, even on the left. Harris has served as California's attorney general and as a district attorney; she has described herself as both a "top cop" and a "progressive prosecutor." Amid growing momentum for movements to defund police forces nationwide, Harris's track record has proved polarizing.
The consensus holds that the next few months — possibly even years — could be very fruitful for Maya Rudolph, SNL's resident (and Emmy-nominated) Harris impersonator.
For what it's worth, Rudolph's reaction to the news was reportedly "Oh shit," followed by "That's spicy." The comedian told Entertainment Weekly, "I love going to the show any excuse I can get," making today's selection welcome news for her probably!
It is also welcome news for the K-Hive of Kamala supporters; less so for those of you who don't know what that means.
In any case, former president Barack Obama is happy:
The current president, Donald Trump, is not, having already labeled Harris "phony Kamala." Meanwhile, many Twitter users are eagerly awaiting the roasting of Vice-President Mike Pence at the candidates' first debate. Pence will have to engage directly in conversation with a woman, without Mother on hand to supervise. It should get interesting.