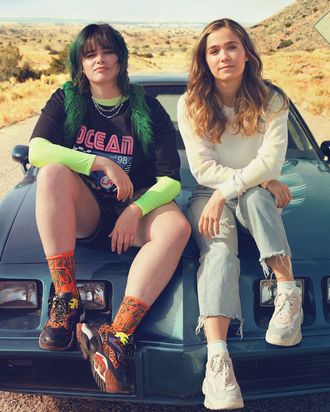 In an interminably looooong list of bummer abortion movies — with some great exceptions like Obvious Child, Saint Frances, and Grandma — it's still not all that often that a terminated pregnancy is anything other than the dark center of an upsetting story line. So, when a movie that depicts abortion as not only essential but ordinary — perhaps even comedic — I breathe a sigh of relief.
Needless to say I am thrilled about HBO Max's Unpregnant, which is one part road-movie, one-part buddy comedy, where the protagonist needs to terminate her pregnancy (but that fact is a part of the broader story arc of her character and not just her One Thing.)
The film, directed by Rachel Lee Goldenberg, is adapted from Ted Caplan and Jenni Hendriks's novel of the same name. It stars Haley Lu Richardson as Veronica, a straight-A high-school senior who's all set to pursue her Ivy League dreams until she gets pregnant. Veronica must turn to Bailey (Barbie Ferreira), her grungy ex-best friend, to drive her to the closest clinic, which is nearly 1,000 miles away.
Of course, for many women, terminating a pregnancy is not only an issue of access and a bureaucratic pain in the ass, but a complicated emotional and physical decision. But onscreen, abortions have not only been portrayed gloomily, but unrealistically. In a census of fictional TV and film that looked at representations of abortion onscreen in the last 100 years, Gretchen Sisson, a professor at University of California–San Fransisco, found that there were inaccuracies and misrepresentation of the entire process, including the procedure itself, and the motivations for getting an abortion. (For example, an alarming 9 percent of depictions showed women dying directly as a result of the procedure. Yet abortions are actually incredibly safe: the fatality rate in the U.S. per most recent data in 2015, was almost 0 percent).
Unpregnant will be available on HBO Max on September 10.