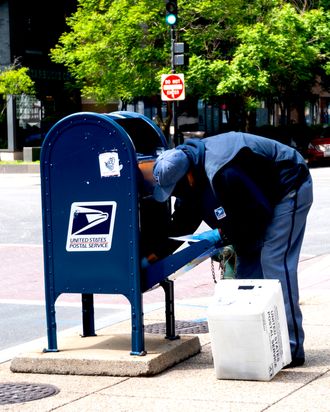 A USPS employee unloads a mailbox in Washington, D.C.
Photo: Bill Clark/CQ-Roll Call, Inc via Getty Imag
President Donald Trump loathes the idea of mail-in voting, which — in the middle of a pandemic — affords the nation the safest means of casting their ballots come November. Trump has spent months painting a perfectly legal practice as fraudulent, "bad, dishonest, and slow," and recent chaos he's sowed within the United States Postal Service has sparked speculation that he might be trying to sabotage mail-in voting. On Thursday, he seemed to confirm those theories, admitting to starving the USPS of funds to thwart Democrats' election preparation efforts.
Not long after Trump made his comments, some curious images began making the rounds on Twitter. They pictured blue, standing mailboxes being packed onto trucks in Portland and Eugene, Oregon, and driven away. Particularly given that the president chose Portland as testing ground for his "secret police," to borrow Sen. Elizabeth Warren's phrasing, you can see where the photos looked off.
Even before he candidly explained why he was denying the postal service — which has been under severe strain throughout the pandemic — the bailout it would need to accommodate widespread mail-in voting, Trump has been making trouble for the agency. Late last week, the administration reshuffled USPS leadership and consolidated authority under Postmaster General Louis DeJoy, who has seemed to actively work against the service's mail-delivering capabilities since his appointment in May. The timing of all this may not seem coincidental, but at least with respect to Oregon's disappearing mailboxes, the USPS has suggested that it is.
Confirming that 27 boxes in Eugene and four boxes in Portland were removed this week (with more to follow), USPS spokesperson Ernie Swanson told Willamette Week that the agency was only targeting sites where boxes were doubled up. In those cases, they'd take one box and leave the other standing; they were not removing lone boxes from their locations, he added.
"The reason we're doing it is because of declining mail volume," Swanson said, noting that the orders came from USPS HQ last week. "Ever since the pandemic came along, people are mailing less for some reason."
Meanwhile, another USPS spokesperson — David Rupert — told KOIN 6 that recently damaged mailboxes in Portland were being replaced with "with newer, more secure models," but "every location that had a collection box will keep a collection box." Speaking to the Oregonian, Swanson also indicated that pickup times and processing would remain unchanged. "It shouldn't affect people at all," he said.
While I am not a postmaster, I could see how — in "the nation's 1st all vote-by-mail state," where every voter receives a mail-in ballot by default, amid a pandemic that makes crowded, indoor polling sites a risky proposition — reducing the number of mailboxes on the streets might conceivably affect people a little. Oregon voters can still vote in-person if they want, or mail their ballots using designated drop boxes in their area, but as to states with less robust mail-in voting protocols already in place? Swanson reportedly indicated to Willamette Week that "boxes are likely being removed nationwide," which is just something to think about.
Update: Kim Frum, USPS senior public relations representative, tells the Cut that, "for decades," collection boxes have been installed and removed on streets "based on mail volume received in those boxes."
"When a collection box consistently receives very small amounts of mail for months on end, it costs the Postal Service money in fuel and work hours for letter carriers to drive to the mailbox and collect the mail," Frum added. In those cases, she said the boxes were typically relocated to "growth areas," or consolidated in "high traffic areas such as shopping centers, business parks, grocery stores, etc., for increased customer convenience." In areas where a number of boxes are clustered together, which Frum says was the case in Portland, the USPS may take only one box, or swap in "a larger, more centralized collection box." Frum did not comment on Trump's statements from Thursday.