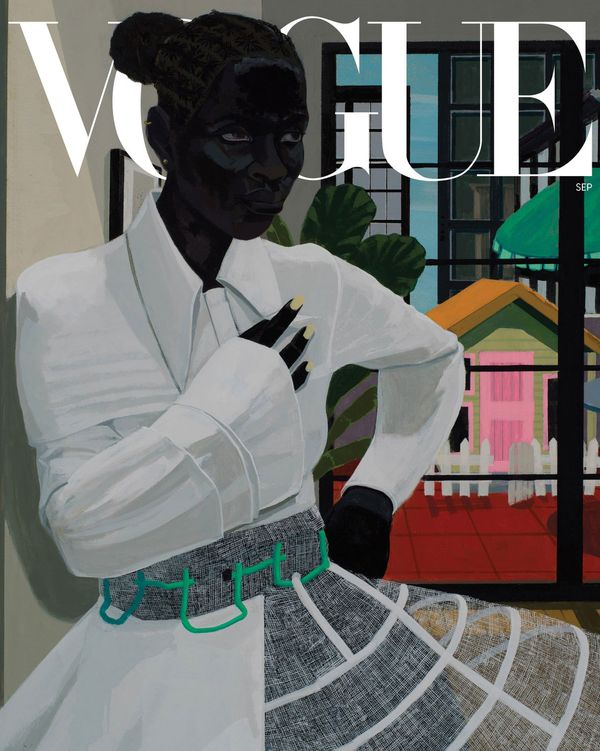 Photo: Kerry James Marshall/Vogue
On Tuesday, Vogue revealed not one but two September issue covers by two different painters: Kerry James Marshall and Jordan Casteel.
This is not the first time the magazine has tapped artists other than photographers. Salvador Dalí has been commissioned in the past, as has Marcel Duchamp (although his work was rejected), and you might recall that Jennifer Lawrence was painted "like a French girl" by John Currin for the September 2017 issue. But these images represent a new direction for the 128-year-old publication. They're certainly a departure from last year's Taylor Swift–as–Uncle Sam cover.
The September issue always sets the tone for the next year in fashion and culture, but readers have been calling for change that goes much deeper than the pages of the magazine. In June, editor-in-chief Anna Wintour sent an unusually repentant memo to Vogue staffers taking full responsibility for publishing images or stories "that have been hurtful or intolerant" in the past. She pledged to "do better," and said that this period in American history should be one of "of listening, reflection, and humility for those of us in positions of privilege and authority."
So she seems to have taken a step back. For the first time, all 26 global Vogue editions share the theme of "hope." U.S. Vogue reached out to Marshall, 64, whom the magazine describes as "one of the greatest living artists," and Casteel, 31, who is known for her portraits of family and friends and people she's observed in her Harlem community. They were given complete freedom to interpret the theme, who would be on their cover, and how that person would be portrayed (a level of control perhaps matched only by Beyoncé.) The one requirement was that they had to choose a dress by one of four Vogue–selected designers for their subject to wear.
Casteel chose to do a portrait of Brother Vellies designer Aurora James wearing a blue Pyer Moss dress while sitting on her roof in Brooklyn. James isn't wearing shoes, although one of her pumps is pictured in the foreground. Earlier this summer, she put forth the 15 Percent Pledge, a campaign to support Black-owned businesses, which Vogue has since committed to. "I believe that what Aurora is doing is hugely important in creating the long-term change that Black people deserve and this country owes us," Casteel told Vogue. She is the second designer to ever appear on the cover the magazine, following Stella McCartney in December 2019.
Marshall, meanwhile, created a fictional Black female character, dressing her in a white evening dress by Virgil Abloh's Off-White and situating her in an imagined setting. Her expression is "self-possessed," as Marshall described it, or "not dependent on the gaze of the spectator." She rests one hand on her hip and the other on her chest, and looks away from the audience with a knowing authority. In his words, she's saying: "'I'm here and you can see me, but I'm not here for you.'" She refuses to be confined by the context of the cover, or traditional fashion imagery in general.
Like Marshall's other subjects, her skin is dark — "at the edge of visibility," as he's described it. "If you say, 'Black is beautiful,' you have to show it," he told Vogue. "And what I'm doing is showing it at the extreme. Yes, it is black —very black — and it is very beautiful."