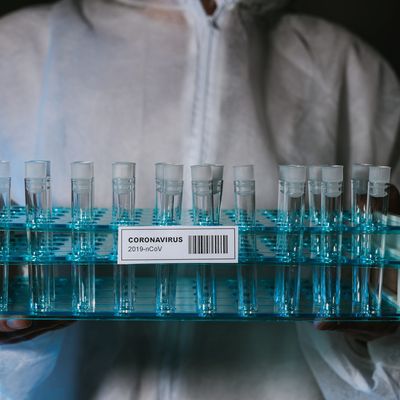 Photo: FilippoBacci/Getty Images
On Sunday, the FDA issued an emergency authorization for the use of convalescent plasma in treating COVID-19. Plasma, the liquid that binds blood cells together, has long been considered a possible treatment for COVID-19, though its approval was put on hold last week after some scientists, including Dr. Anthony Fauci, expressed concern that evidence in support of the the treatment's effectiveness was too weak. The FDA's announcement came just in time for the 2020 Republican National Convention, which airs this week. Shortly after issuing the authorization, however, FDA commissioner Stephen Hahn apologized for overstating the promise of convalescent plasma for treatment of the coronavirus.
Here is what we know about the use of convalescent plasma in treating COVID-19 so far.
What is convalescent plasma?
Convalescent means recovering, so this term refers to plasma sourced from people who've recovered from COVID-19. When someone gets sick with — and generates antibodies for — the novel coronavirus, those antibodies remain in their plasma (the liquid part of blood) for an unknown period of time. That plasma can then be "harvested" (or drawn), and doctors can isolate the antibodies for injection into other sick patients.
Is convalescent plasma effective as a treatment for COVID-19?
The existing evidence is minimal, but encouraging. A 20,000-patient Mayo Clinic study conducted in June found that seven-day mortality rates declined to 8.6 percent — down from 12 percent in a previous study of the first 5,000 patients to receive transfusions. A more recent study of 35,000 severely ill patients found that patients injected with plasma within three days of positive diagnosis had a seven-day death rate of 8.7 percent, while patients injected within four or more days had a seven-day death rate of 11.9 percent. This is a positive result. But because the study didn't include a control group, researchers can't be sure how much of that improvement is attributable to the plasma specifically. It's also unclear whether this treatment will have any benefit for moderately ill patients.
Medical experts have criticized stronger claims about the benefits of plasma treatment; on Tuesday, FDA commissioner Hahn apologized after echoing President Trump's claims that 35 more people out of every 100 would survive COVID-19 if treated with convalescent plasma. "What I should have said better is that the data show a relative risk reduction not an absolute risk reduction," he clarified.
Is convalescent plasma safe?
Like any blood or plasma transfusion, convalescent plasma transfusions can cause allergic reactions, transfusion-associated circulatory overload (TACO), and transfusion-associated acute lung injury (TRALI).
Has the FDA issued emergency-use authorizations before?
Yes — most recently, the FDA issued emergency-use authorizations (or EUAs) for remdesivir, the anti-viral that appears most effective in severe cases, and for hydroxychloroquine, an anti-malarial frequently touted by President Trump. The FDA withdrew its EUA for hydroxychloroquine in June, highlighting serious side effects.
Can I donate convalescent plasma?
Yes — since April, FDA commissioner Stephen Hahn has encouraged people who have recovered from COVID-19 to donate plasma, and the government has spent $8 million on radio and internet ads encouraging the same. The FDA's website has more information about how to donate plasma. Importantly, you need to be symptom-free for two weeks after recovering from the coronavirus before you're eligible.
This post has been updated.