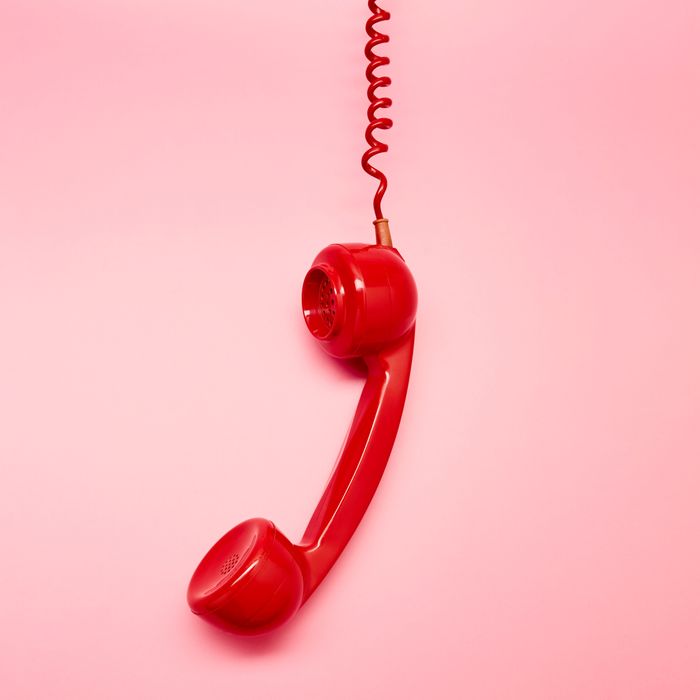 Photo: the_burtons/Getty Images
COVID-19 has been bad for sex. Stress and mortal dread are rarely good for the libido, and most single people are marooned at home. Cohabiting couples are navigating a romantic landscape stripped of go-to aphrodisiacs (dinners out, time apart, novelty, childcare), and some are buckling under the strain. Early predictions that this pandemic would spur a baby boom now seem misplaced. In the absence of schools, camps, bars, jobs, and certainty, baby-making is largely out.
Masturbation, however, is in. Sex-toy sales are surging, and tips for pleasuring oneself are flourishing in unexpected places. (New York City's Health Department: "You are your safest sex partner.") Phone sex in particular is enjoying a renaissance, and advice for long-distance eroticism is proliferating at a heated rate (Women's Health: "When in doubt, moan").
In a virtual-sex marketplace teeming with free porn, camera phones, and Tinder, professional phone sex is sometimes dismissed as a VCR in an age of streaming, but demand for paid calls is rising, too. NiteFlirt, a leading phone-sex platform, is fielding around 10 percent more calls than usual. "Perhaps we should change our tagline to 'Affection without risk of infection,'" Erin Martinez, a company spokesperson, said. But while demand ticks upwards, supply is booming: The number of women who have joined the site as phone-sex operators has grown nearly 50 percent since mid-March.
Since the job requires little more than some spare time and an internet connection, talking dirty over the phone has long been a practical option for people who are stuck at home. (Many NiteFlirt operators are rural, agoraphobic, or disabled, Martinez said.) Now that so many more people are both jobless and housebound, the ranks of phone-sex operators are swelling.
Cidney Green, a 30-year-old phone-sex operator with talonlike nails and cat-eye glasses, hopes to capitalize on the sudden flood of phone-sex hopefuls. (Her fans know her from her vivid, butt-forward Instagram account, @cgballsdeep.) As someone who has pulled in over $150,000 a year servicing the fantasies of callers (mostly through NiteFlirt), she has plenty of advice to sell through her new company, MobileMoney365.
"People think all you need is a nice voice and good moan, but that's why the turnover rate is so high," Green said. Given the quantity and high churn rate of operators, phone-sex companies don't invest in training, which means most women (and operators are mostly women; callers are mostly men) learn on the job. Although NiteFlirt has tens of thousands of active accounts, few make more than $10,000 a year. "If you don't know the art of keeping a man on the phone, you're gonna get hung up on all the time," Green said.
Green's insight is hard-earned. When she got her start nine years ago, as a theater student at Southern University and A&M College, a historically Black university in Baton Rouge, Louisiana, she was thrilled to make $90 a week. "I thought I could just huff and puff and the money would roll in," she said. She used the wrong voice, worked for the wrong companies (some take bigger cuts), and failed to pick up on the fetish hints men regularly dropped (because this intel is now for sale, she was mum on details). "There's not a mistake in the book that I haven't made," Green said.
Most phone-sex calls are around eight minutes long. Green claims hers hover at around two hours. "It's a form of therapy," she said over WhatsApp from her "beautiful, beautiful" Airbnb on a marina in Cape Town, South Africa. (Her work lets her travel most of the year. "No matter what time zone you're in," she said, "everyone wants to get their rocks off.") These days, her clients — who tend to be married, white, middle-age professionals — often want to talk about either their families or the coronavirus. "People who are stuck with their wives are doing whatever they can to talk to us," Green said. She used to think she was selling sex, but really the job is about enabling an escapist fantasy. "Phone sex is all about using your imagination," she said. "In a strip club I can see you're fat, but on the phone, you can have a six-pack. Guys love playing a character, too."
Green's company will help aspiring operators set up profiles, intuit fetishes, and diagnose caller types (there are five, apparently). She also offers phone-sex tutorials, including one that teaches women how to sound white. By way of illustration, she shed her deep, southern lilt (she grew up in Monroe, Louisiana) and slipped into a higher-pitched, upspeaking Valley patois. "When I portray white women, I do better," said Green, who is Black. "I follow the money."
Business for Green has never been so good. "They say you can lean back on a degree, and I'm sure you can," Green said. "But my degree is phone sex. It will never fail me. I will always have a cellphone and I'll always have someone who will pay me to talk on it. And I love corona, because it's put a lot of money in people's pockets, especially mine."