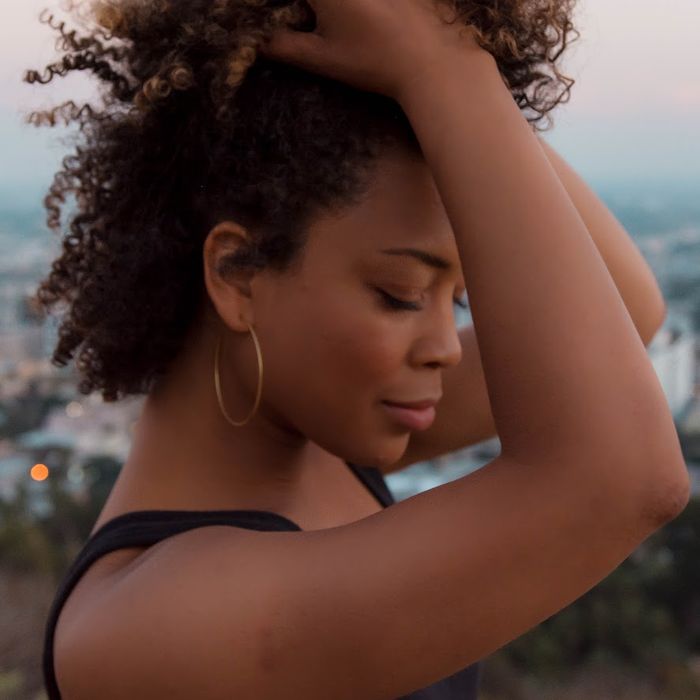 Photo: Baylee Cocagne/Courtesy of Amanda Gloria Valdes
The Cut is asking readers to share what they're doing with their money — or lack thereof — in the midst of an unprecedented crisis. This week we spoke to Amanda Gloria Valdes, a 38-year-old yoga instructor who spent eight years building her niche in New York's competitive industry. In March, she was suddenly unemployed for the first time in her life, and found herself jockeying for clients online. She spoke with the Cut about what it's like teaching from her parents' living room in New Jersey, and why the yoga studio business model was never sustainable in the first place.
It can be really tough to make it as a yoga instructor in New York. What was your career trajectory before now?
Before all this started, I was teaching 15 to 16 classes a week at different studios. I was also doing teacher training and a mentoring program for yoga teachers who were developing their careers. So I was working seven days a week — not all day, but every day. It probably wasn't the healthiest. But that's what I needed to do to afford living in New York City, unfortunately. I'm 38 and I had three roommates in Bed-Stuy. You know how these rents are; it's astronomical if you want a nice apartment. I worked really hard just to be able to pay to live, buy nutritious food, and sustain myself. And there was nothing left for savings, zero. You spend it all. And once you get used to working at that pace, you just keep doing it.
How long did it take you to get to that level, professionally?
It took a long time. I've been teaching since 2012, and I was an actor before that. It took me a good two or three years to get a strong schedule together, and about five years to get to the point where I was flat-out busy. Now that I'm in my eighth year of teaching, I'm more of a leader in teacher training. It helps that I'm not shy about marketing myself. But the way many teachers are paid, it's not a sustainable business model. That's why so many teachers are freaking out. People see us teaching online, but because payment is often a suggested donation or a sliding scale, we're not making an income. It's minimal compared to a living wage. Most of us are technically unemployed, and many of us have been displaced, including me.
What's your living situation right now?
I'm in New Jersey with my parents. To pay an exorbitant amount to live in a small space with a virus going around … Going food shopping is a struggle; doing laundry is a struggle. I was like, I'm going to leave and see how this all plays out. At first, I kept paying rent because I thought I'd be back in a few weeks. I had to give up the apartment at the end of May, which was rough. I lost my security deposit, but I worked out a situation with my landlord where I was able to leave. I was very sad, scared, and angry. New York has a bittersweet feeling to it — we put our blood, sweat, and tears into creating a life there, and then everything was gone. When I went back to get my stuff, it was like a war zone. The energy was wild. Driving away, I was bawling in the car.
What's it been like to live at home with your parents?
My parents are retired, and they are entertained by me. I've got all my stuff from Brooklyn in my childhood bedroom, and I've transformed the whole family room into a yoga space, so I'm able to shoot in there. But it is destabilizing. I felt like I was hitting my stride as a teacher, and then this happened. But it's nice to spend time with family. I also think there are new ways to find community on the internet.
When the virus first started getting serious, how did you see the wellness industry react? 
I teach at a university, as part of a program that centers BIPOC students and staff, and the school had more information than the yoga studios. They had us switch to online classes very early, right after spring break in March. At the studios, we stopped doing hands-on assists about a month before the official lockdown. Then, almost overnight, all yoga teachers were furloughed or told, "You're not working here anymore. You're on your own."
What did that mean for you, financially?
I was in shock at first. I've never been unemployed before. I was able to file for unemployment benefits, which was helpful. But it's not enough to live off of in New York City — not even close. And now that the extra $600 a week is gone, I'm making considerably less than half of what I made as a teacher. It's just very little money. But my expenses are not nearly as high because I'm living with my parents. Of course, I wish I had that apartment, but it's just not my reality right now. I might be unemployed for a few more months, or it might be longer. I'm putting my energy toward being flexible and nonattached. It's coming with more ease than it did when I was working nonstop.
I noticed that a lot of instructors started teaching online pretty quickly. How did that transition go for you? 
I was pretty quick on it. I've run social media for a brand before, so I'm pretty Instagram-savvy and I knew how to engage in that way. I did a lot of free offerings on IG Live so folks would get more familiar with taking classes in that format. And eventually I created a master-class series. People donated what they felt like, and I was surprised by their generosity. I reinvested those donations into tools that I needed to teach online. I had to get a camera to attach to my computer, sign up for a Zoom account, all of those things. At first I was teaching every day, multiple times a day, but now I've scaled back my classes to 2 or 3 per week. Instead, I want to put my energy toward creating new teacher-training curriculums that can be done online and are more inclusive and equitable. Teacher training also needs to evolve, and be sensitive to what people are going through — civil unrest, plus COVID-19, plus everyone's unemployed. We're structuring it to include a lot more check-ins, more dialogue, to hold space for each other. It's very intimate, even through Zoom. And I'm doing a lot of work behind the scenes, too, looking at the language we use when we teach. How can we make it more about cultural appreciation versus appropriation? I've been interviewing yogis from around the world to hear their different perspectives.
Do you see a way that teaching online could work just as well (if not better) than teaching in studios, long-term? Yoga studios seem like they have a lot of overhead, and cutting out the middleman could actually be good for yoga instructors, financially and otherwise.
I worked for many, many studios, and all of them have different pay structures. Smaller studios operate very differently than bigger ones. Most studios work on the 1099 format [treating instructors as freelancers]. If you have a bigger role, you might be an employee — I was a part-time employee at one studio. But at other studios where you're teaching one hour, two hours, three hours a week, it's usually a flat rate per class — not based on how many students are there. And the range of what that rate might be is huge. Luckily, I had a nice, steady schedule, but never a salary. We haven't evolved to that point, although we need to.
If I were to create a whole online platform of just my own classes, I think I could make a lot of money, but it's a lot of work, too. It's hard to work out how and what to charge. A lot of people were generous with donations at first, and I might make more in an online class than I would normally in a studio. But that's not guaranteed or consistent, and that may not always happen in the future.
Do you feel like this moment has changed your outlook on money and what your work is worth more generally? 
Right now it's a balance between being flexible with the economic state of the industry and valuing what I bring to the table. When I ask for compensation, I'm asking for compensation that will support the work and the community. Not in an exorbitant way, but acknowledging my time. But I also think that the value of stepping back and doing groundwork to change the community right now is worth more than the dollar. And there are many ways to be rewarded. Maybe it's financial. Maybe it's the way I feel when I teach. Maybe it's the community that we build. You know, money will come, and we'll be taken care of in other ways.
What does your average day look like right now?
It's a lot of sitting. I wake up, I chant. I've been enjoying the luxury of eating — of really enjoying food. Before, I was running around, eating the muffin, drinking the coffee, going to teach the class — never sitting down to have a meal. I'm trying to be aware and truthful about what I enjoy putting my time and money into, and a lot of it is about expanding my own learning and keeping myself healthy. I think I had a little bit of tunnel vision before — I was not not really looking out beyond what was immediately in front of me. I've always invested a lot in my nutrition, but now even more so. If I'm not in my tip-top mental or physical space, getting my vitamins and nutrients, I can't show up for anyone else. I'm also studying to be a doula through an online program that's based in Oakland.
How do you feel about the future right now?
I don't know that I'll ever be moving back to New York to live. The price of housing in New York doesn't add up to the kinds of jobs that a lot of us were doing before. And I'm learning that there are so many other ways to give offerings, especially with the Zoom life. Overall, I hope to work a little less because I think my pace before was problematic. And I don't know if the studio business model will ever return. I want to focus on creating spaces for LGBTQ and BIPOC communities; I want to be able to offer that through the lens of yoga. I'm also hoping to find ways to offer support to birthing people. Even more so now, with COVID-19, Black folks are more likely to die during birth. That's one of the reasons I'm taking this doula class. I've also been leading workshops on how to find joy in these times — reclaiming Black joy, and thinking about what healing looks like — and partnering with community outlets, whatever they might be. I'm optimistic. We can rebuild the yoga industry into what we've always wanted it to be. And that's true for other things in this country, too. It's just so clear that the way things were before wasn't working.