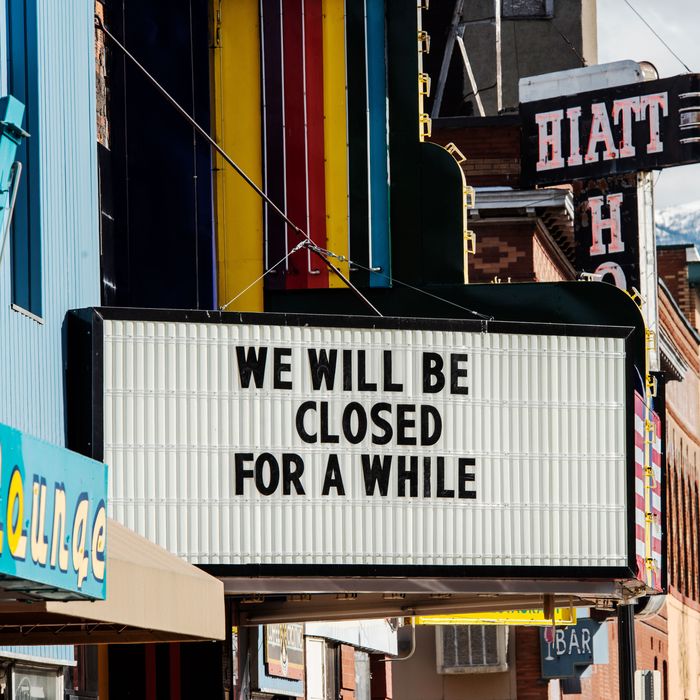 Photo: William Campbell/Corbis via Getty Images
Almost as soon as U.S. states eased restrictions put in place to slow the spread of COVID-19, they reinstated them, pausing or fully reversing plans to reopen. This pattern is prevalent worldwide; Melbourne, after a seemingly successful quarantine program, has implemented a strict second lockdown after the city saw a resurgence in cases. A second lockdown is central to the United Kingdom's contingency plan as cases climb there, too. Citizens who quickly adapted to early restrictions are, understandably, confused and frustrated — if the first lockdowns were as successful as so many politicians claimed, why aren't things improving? Why do we have to do this again, and for how long?
Here's what we know.
Why are businesses closing again after reopening?
A number of businesses, having reopened after statewide or nationally eased restrictions, have experienced a swift uptick in coronavirus cases. A Norwegian cruise ship that resumed service reported an outbreak on one of its ships; bars in Texas and Florida were forced to close after reopenings led to outbreaks; colleges planning to reopen explicitly plan to close if (and when) cases pass a certain threshold. Without a vaccine, or a viable treatment, restricting movement and interaction between people remains one of few tools governments have to slow the spread of COVID-19. When people resume gathering (particularly indoors), it's to be expected that coronavirus cases will climb.
Will things start closing down as it gets colder?
It's not yet clear what exactly will happen, but numerous public-health officials have warned that winter weather will bring a resurgence in coronavirus cases — largely because people will be forced indoors, where transmission happens more readily. Outdoor gatherings, which are mostly safe, have helped assuage many people's need for socialization and activity, but in much of the world, cold winter weather will make this option inaccessible. As Andrew Noymer, a public-health professor at UC Irvine, told The Atlantic, "People are going to want to go to bowling alleys and whatnot, and that's a recipe for disaster, honestly — particularly if they don't want to wear masks."
If, come winter, people abandon social distancing in order to socialize indoors (beyond those they live with), this may precipitate further outbreaks, and as a result, a need for added lockdown measures. Public-health figures like Michael Osterholm, director of the Center for Infectious Diseases Research and Policy at the University of Minnesota, warn that November, December, January, and February especially will be grim for much of the United States. Even with the rapid development of COVID-19 vaccines underway, health officials have repeatedly cautioned against too optimistic timelines, as well as hopes for effectiveness.
What about schools?
Like the weather, schooling tends to be seasonal, and as fall approaches, so does the traditional U.S. school year. In places where school has already reopened, like Israel, outbreaks have run rampant, and many teachers, parents, and students fear the same thing will happen here. After a photo of mostly maskless students at a Georgia high school recently went viral, students from the school told BuzzFeed News they'd been told they could be expelled for refusing to attend in person, despite reports that staff at the school had already tested positive. Some schools have published guidelines for social distancing, but these measures are all but impossible in more crowded districts, making transmission likely between students. If schools become outbreak centers, they, too, may need to shut down again.
Is there anything individuals can do?
It's easy to cast blame for the current state of the pandemic on individual behavior, particularly in the United States, where government officials have repeatedly denied responsibility. It's important to recognize that much of what's gone so wrong could have been prevented, or forestalled, by stronger public-health and education systems, as well as strong political leadership. Still, there are actions individuals can take to help reduce the transmission of COVID -19 — and public-health officials worry we've stopped trying.
Certainly, those willing to flout coronavirus-related laws are growing bolder. A recent Minnesota rodeo ignored rules limiting attendance, and in Sturgis, South Dakota, tens of thousands of mostly unmasked motorcyclists swarmed for the town's annual bike rally. It's easier to find evidence of friends and family flouting social distancing than it was even a month ago, though the pandemic has only grown more severe during that time. This factor has puzzled some officials. As Kristen Ehresmann, director of infectious disease epidemiology, prevention, and control for the Minnesota Department of Health, told STAT News, "Just this idea of, 'I just don't want to believe it so therefore it's not going to be true' — honestly, I have not really dealt with that as it relates to disease before."
This post has been updated.