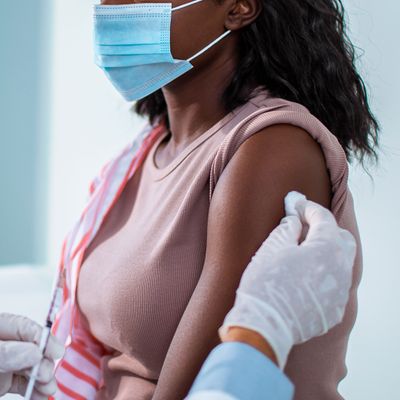 Photo: Marko Geber/Getty Images
What are you doing this weekend? Perhaps you're looking for cool and fun plans that might also help keep the global pandemic from getting even worse this fall and winter. If so, have I got the perfect activity for you: get your flu shot.
It's always important to get a flu vaccine — and to get it as early as possible ahead of flu season. Influenza kills tens of thousands of people in the United States each year, and getting your flu shot is an easy way to protect yourself and others. However, the coronavirus pandemic has made this imperative even more crucial. The unpredictable flu virus could very well spike during the typical flu season — which lasts from the fall until March or April — and send masses of people in need of respiratory care to already overwhelmed hospitals. This would likely make both the coronavirus and the influenza more deadly. Experts are calling this scenario a "twindemic."
If that sounds terrifying, don't panic! Just go get your flu shot.
It's critical to get your flu shot this year.
Listen to CDC Director Robert R. Redfield: "This fall, nothing can be more important than to try to increase the American public's decision to embrace the flu vaccine with confidence," he said recently. "This is a critical year for us to try to take flu as much off the table as we can." And also Dr. Anthony Fauci: In July, he said, "we're telling people that, when the flu vaccine becomes available, make sure you get vaccinated so that you could at least blunt the effect of one of those two potential respiratory infections."
You can probably go get it right now.
To try and avert the possibility of a twindemic as flu season approaches, health providers have made the vaccine available earlier than usual this year. Walgreens and CVS announced they will have the vaccine at their pharmacies starting this week, and the CDC has ordered an extra 9.3 million doses to distribute to uninsured adults this year. Your school, your employer, and your GP will likely also have a serious flu-shot plan this year. Maybe they have already let you know when they will be distributing vaccines — don't delete that email!
You should definitely get it before October.
Getting a flu shot as early as possible is always important. The CDC recommends getting your vaccine by October because it takes a few weeks to become effective. But if you can get one now, you probably should. Among other reasons, it will help maintain availability of both vaccines and administrators by preventing a run on flu shots when the season actually hits.
Here are a few ways to find your flu shot.
There are several kinds of flu vaccines available this year, including the standard shot, a nasal spray, and a special version for people over 65. Susan R. Bailey, president of the American Medical Association, recommends taking whatever vaccine your clinic or pharmacy has in stock — unless you have a severe allergy risk or have been advised by a doctor to get a specific type.
The CDC's vaccine-finder site locates flu-shot providers near you based on your zip code, including pharmacies and urgent care centers. Many pharmacies and clinics are asking patients to make appointments, although they are mostly still allowing walk-ins. Be sure to check your local site.
If you haven't heard from your school, employer, primary care provider, or any other place that typically provides flu shots every year, reach out. Ask when they will be getting them and how they'll be arranging vaccinations with social distancing.
Flu shots are free with most private and government insurance including Medicare and Medicaid. If you are uninsured, Vaccines.gov has a list of resources including where to get free shots for children and where states are providing free shots.