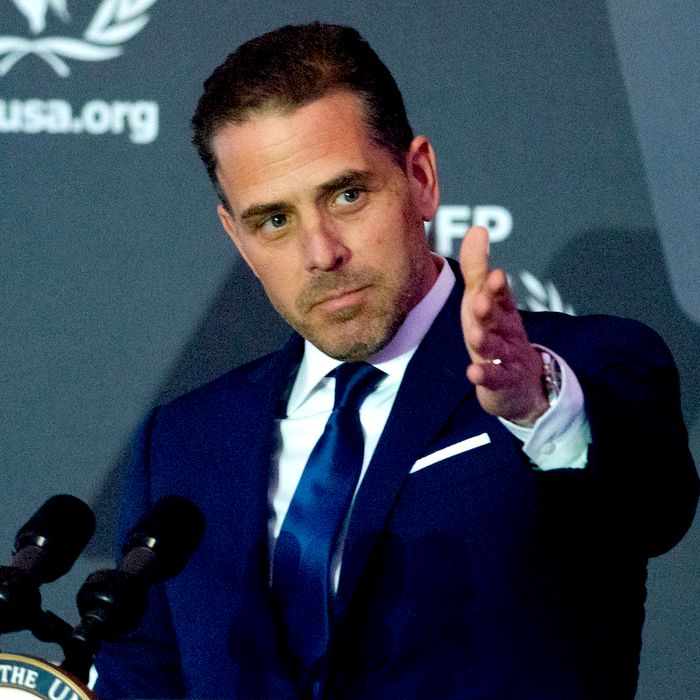 Hunter Biden.
Photo: Kris Connor/WireImage
On Thursday, hours before Joe Biden formally accepts the Democratic Party's nomination, the DNC slotted a new speaker into its lineup: Hunter Biden, the candidate's youngest son. Hunter will give an address with his half-sister, Ashley, just before dad's big speech — a bold choice, given that some Republicans (and Trump in particular) see Hunter as a torpedo they hope will sink his father's campaign. In fact, on Thursday morning, the Trump campaign debuted a new ad all about Hunter and his previous business dealings. It was an attempt to portray him as a symbol of the Biden family's alleged corruption and purported desire to profit off their political office.
Biden's senior campaign adviser, Symone Sanders, waved away the attack ad, saying it was filled with baseless "conspiracy theories," a stone thrown from inside Trump's glass house. Still, Hunter has proved a somewhat tumultuous figure, magnetizing an uncommonly high volume of controversy in his 50 years. He has also suffered a great deal of tragedy, as the entire Biden family has: In 1972, Hunter's mother, Neilia Hunter Biden, and his 13-month-old sister, Naomi, were killed in a car accident in Delaware. Hunter and his older brother, Beau, were also in the car but survived their injuries. Beau — with whom Hunter was extremely close — died of brain cancer in 2015.
During the primaries, Hunter served as a lightning rod for criticism. Now that his father is set to accept the nomination, he's sure to invite even more scrutiny. Here are the biggest scandals associated with him:
His business dealings, particularly in China and Ukraine.
Republicans have long used deals Hunter struck through his many murky partnerships to insinuate that he has exploited his position to enrich the Biden family. They cling to two examples in particular: China and Ukraine.
In October 2019, Trump told reporters: "China should start an investigation into the Bidens, because what happened in China is just about as bad as what happened with Ukraine." He went on to suggest that China paid Hunter a staggering sum to get his dad to cut the country lucrative trade deals: "That's probably why China for so many years has had a sweetheart deal where China rips off the U.S.A.," he said, claiming — with no evidence — that China had given the VP's son "a billion and a half dollars."
Trump was referring to a private-equity firm, BHR Partners, which Hunter co-founded with Devon Archer, a former Abercromie & Fitch model, and state-owned companies in China, including the Bank of China. Hunter occupied an unpaid position on the company's board, and according to The New Yorker, did not take equity in the company until after his father left office. He did meet with one of his partners in the venture while tagging along on one of his dad's official visits to China just before BHR's official registry, which didn't look particularly good. Still, no evidence has been found to suggest Hunter broke any laws.
As for "what happened with Ukraine": In a July 2019 call with Ukrainian president Volodymyr Zelensky, Trump seemed to offer hundreds of millions of dollars in aid in exchange for Zelensky's agreement to "look into" Hunter's term as the director of a Ukrainian natural gas company called Burisma. That job coincided with his dad's work against corruption, following the 2014 revolution that ousted Ukraine's pro-Russian government.
Again, no evidence has surfaced to suggest that Hunter or Joe broke any laws in Ukraine, and both men have maintained that they never discussed Hunter's dealings at Burisma. But as a former senior White House aide told The New Yorker, Hunter has a history of choosing business ventures that raised questions about "leveraging access for his benefit, which just wasn't done in that White House." The aide added, "Optics really mattered, and that seemed to be cutting it pretty close, even if nothing nefarious was going on." Even if he had no conflict of interest, as he has repeatedly maintained, some of those close to Hunter argue that he should have known better, given his father's position. As former business associate of Hunter's put it: "The appearance of a conflict of interest is good enough, at this level of politics, to keep you from doing things like that."
He was kicked out of the Navy Reserves for drug use.
In 2014, Hunter was in the Navy Reserves — he was assigned as a public-affairs officer — having gotten a commission as an ensign in May 2013. Hunter told The New Yorker that, shortly after his swearing-in, he bummed a cigarette off two men outside a bar. He said he felt "amped up" after smoking it, then "incredibly exhausted." He said he called Beau to come get him, telling his brother: "I don't know what's going on." Beau "got [him] shipshape" and returned him to his base, where he took a drug test days later. In June 2013, it came back positive for cocaine, per a report from The Wall Street Journal, leading to Hunter's dismissal in early 2014.
At the time, he said it was "the honor of my life to serve in the U.S. Navy, and I deeply regret and am embarrassed that my actions led to my administrative discharge. I respect the Navy's decision. With the love and support of my family, I'm moving forward."
Police once found cocaine in his rental car.
Hunter has been candid about his struggle with addictions and has sought inpatient and outpatient treatment for alcoholism and substance abuse. In October 2016, during a trip to Los Angeles following his brother's death, he went on a bit of a bender. Hunter recalled an unhoused man holding a gun to his head as he tried to buy crack and recalled getting into a highway accident in his rental car days later. Hunter told The New Yorker that Arizona police found a crack pipe and traces of white powder in a replacement car, although he ultimately wasn't charged for possession.
He dated his late brother's widow.
Shortly after that incident, he embarked on a relationship with his late brother's widow, Hallie Biden. Hunter told The New Yorker that, after Beau's death, "We were sharing a very specific grief. I started to think of Hallie as the only person in my life who understood my loss." In March 2017, the New York Post reported the news in tandem with news of Hunter's divorce from his first wife, Kathleen Biden. In court filings, Kathleen accused him of spending lavishly to hire sex workers and buy gifts for women with whom he had affairs. (Hunter denies ever seeing sex workers.)
In the wake of the news about Hunter and Hallie's relationship, Joe Biden issued a statement on behalf of the family, saying: "We are all lucky that Hunter and Hallie found each other as they were putting their lives together again after such sadness … They have mine and Jill's full and complete support and we are happy for them." But Hunter told The New Yorker that the public scrutiny was punishing. "All we got was shit from everybody, all the time." The couple's breakup was reported around April 2019.
While he was dating Hallie, he fathered a child with another woman.
During the time he was dating Hallie, Hunter appears to have slept with at least one other woman: Lunden Alexis Roberts, who filed a paternity suit against Hunter alleging that he was the father of her daughter, born in August 2018.
Roberts filed her suit in May 2019, around the same time Hunter married his current wife, a South African woman named Melissa Cohen, after a six-day courtship. Although Hunter initially denied the allegations, he did agree to a DNA test, which reportedly showed with "near scientific certainty" that he fathered the child. Hunter did not challenge the results and has agreed to pay child support and to cover the cost of the baby's health care, plus the cost of Roberts's legal fees.