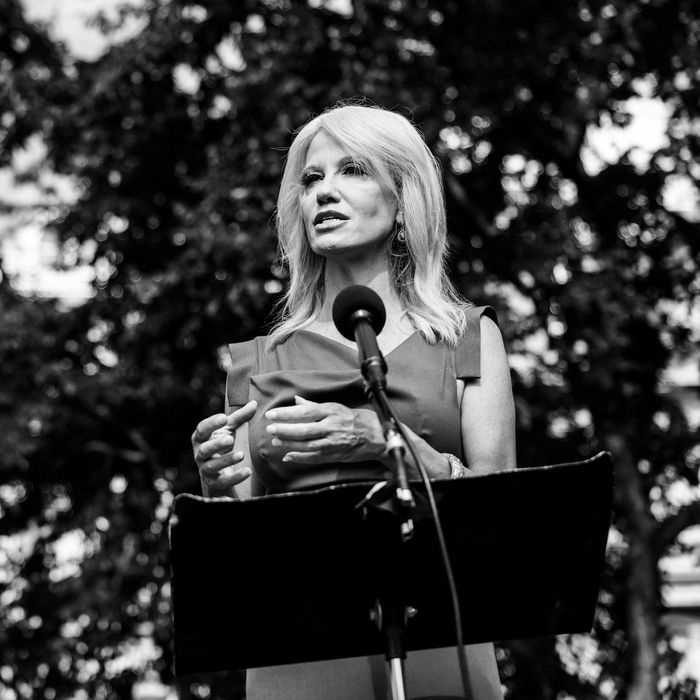 Photo: Samuel Corum/Getty Images
Kellyanne Conway, a longtime political pundit and consultant who became famous as one of Donald Trump's many campaign mangers, then as a White House staffer, announced on Sunday evening that she's quitting her job at the end of the month. Conway, who has worked as an adviser to the president since 2016, made her announcement just minutes after her husband, George Conway, said that he would also be leaving his job. The announcements come amid weeks of intense criticism from the couple's progressive 15-year-old daughter Claudia on TikTok and Twitter. On Saturday, Claudia tweeted that she was "officially pushing for emancipation."
Kellyanne became known on the campaign trail and in the White House for her mendacious tactics, particularly the brazen use of the phrase "alternative facts" in defense of falsehoods. Her husband, George, is a conservative lawyer and proud "never Trump" Republican, known for criticizing the president on his personal Twitter.
Here's what we know about what's going on with the Conways.
Kellyanne Conway is stepping down from the White House
Kellyanne announced her resignation on Sunday, saying that she and her husband "disagree about plenty" but are "united on what matters most: the kids." She said that she was leaving her job to dedicate more time to her children as they adjust to the challenges of remote education. "Our four children are teens and 'tweens starting a new academic year, in middle school and high school, remotely from home for at least a few months. As millions of parents nationwide know, kids 'doing school from home' requires a level of attention and vigilance that is as unusual as these times."
She continued: "This is completely my choice and my voice. In time, I will announce future plans. For now, and for my beloved children, it will be less drama, more mama."
Her husband, George Conway, also left his position
Minutes before Kellyanne's announcement, George tweeted that he was withdrawing from his role at the Lincoln Project, a group he helped found that's led by anti-Trump conservatives, in order to "devote time to family matters."
The couple's teen daughter Claudia Conway recently said she was "pushing for emancipation"
Though Kellyanne referred to all four of her children in her official announcement, her resignation came amid a flurry of social-media activity from her 15-year-old daughter Claudia, who for many months has been outspoken about her political disagreements with her parents.
Upon learning on Saturday night that her mother would be speaking at the Republican National Convention, Claudia tweeted, "I'm devastated that my mother is actually speaking at the RNC. like DEVASTATED beyond compare." Claudia also wrote that she was "officially pushing for emancipation" from her parents, citing "years of childhood trauma and abuse."
Similar messages appeared on TikTok, where Claudia has 600,000 followers. Claudia also tweeted on Saturday, "My mother's job ruined my life to begin with. heartbreaking that she continues to go down that path after years of watching her children suffer."
Claudia seemed to take credit for her parents' resignations on TikTok
Following her parents' resignations from their positions, Claudia posted a series of TikTok videos in which she appeared to take credit for their actions and insisted she is still seeking emancipation. In response to Kellyanne's resignation, Claudia said, "Ya'll, I know I said I was taking a break, but um … um … um … um …" She also responded to her father's announcement that he was stepping down from the Lincoln Project, writing in the caption of a video, "The power that i hold. i — they think this is gonna stop me from getting emancipated? NANSHAJAB BYE."
Later in the evening Claudia wrote to her TikTok followers, "Words are not enough to express my love for my following. you are all amazing. thank you for the support and love. may you feel my love and peace back. i am taking a break to process this recent news and to stabilize my mental health. i love you. i love you. i love you."
Claudia has been an outspoken critic of the Trump administration
In July, Claudia tweeted that her parents were forcing her to delete her social-media accounts after she'd garnered hundreds of thousands of followers with posts supporting leftist and liberal causes and very much against Republican political agendas and President Trump's White House. When she got her phone back a few weeks later, Claudia quickly got back to work, pointing out lies in Trump's tweets and at one point asking progressive Representative Alexandria Ocasio-Cortez to adopt her.
Kellyanne Conway is still set to speak at the Republican National Convention on Wednesday night.