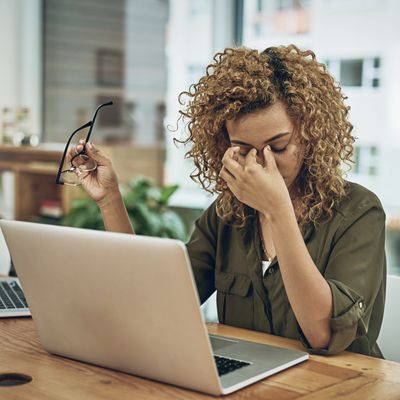 At some point in the past few months, you may have had the creeping suspicion that your already-interminable workday has somehow managed to get even longer. You're no longer making a forceful effort to peel yourself away from your computer to eat lunch; now that you're working at home, you've lost all the delightful opportunities for distraction that the office granted you. Remember eavesdropping? Communal areas? Leaving your apartment?
If the pandemic has required you to adjust to a work-from-home schedule, it's probable that your work-life balance has indeed become more elusive. According to a recent study of 3.1 million people in 16 cities around the world, conducted by Harvard Business School and New York University, the average person is laboring away an additional 48.5 minutes each day. And how we're passing those hours has also changed: Per Bloomberg, which reported the study, we're spending more time in meetings (an increase of about 13 percent) and hitting send on more emails to colleagues.
Obviously, these statistics won't resonate with everyone: Unemployment levels are approaching what they were during the Great Depression, and many workers have not been afforded the privilege to work from home as the coronavirus continues to ravage parts of the country. Additionally, the study found that workers in some cities appeared to have more success managing their workdays: Toward the end of the study's two-month time frame, the average workday length in places like Los Angeles and Chicago had returned to what it was before the coronavirus ground life to a halt. Meanwhile, people in New York City and most of Europe were still working longer hours. Workers in those cities may find that their pandemic work life is better reflected in an earlier study that found people were working a staggering three extra hours each day.
Perhaps it is time to renew the call for a four-day workweek.