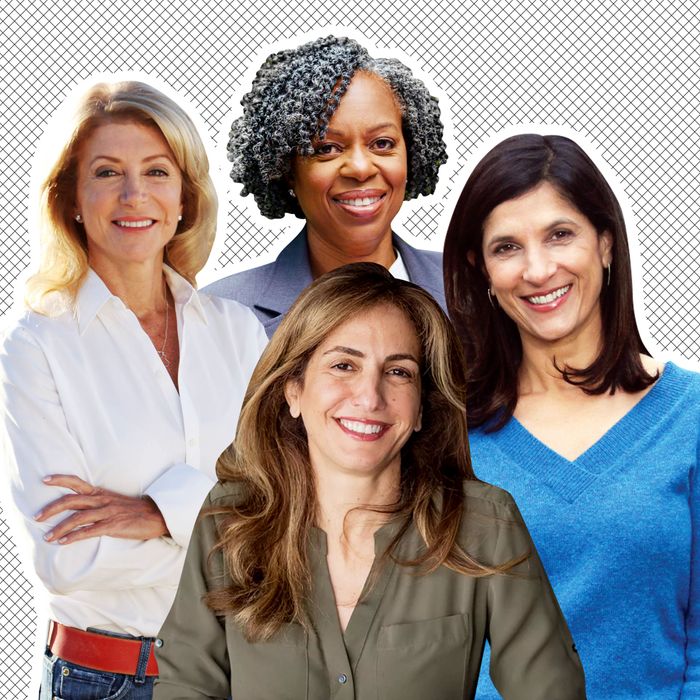 Photo: Wendy Davis for Congress, Jackie Gordon for Congress, Sara Gideon for Senate, Sima Ladjevardian for Texas
After well over a year, the 2020 presidential campaign cycle is nearly finished. The deep and diverse field of Democratic candidates has been winnowed down to Joe Biden, a 77-year-old moderate white man, and we are now headed for an election that could forever alter the shape of American democracy. But as significant as the presidential election is, it's not the only one with huge implications for the future of American politics.
Several Senate seats are up for grabs, seats that Democrats have been vying for years to flip, and some of them now seem within reach. Encouraging polling out of Texas has made the party more confident that it could actually turn the "purple" state blue (or at least "pale blue"). And there are more than a few races, building on trends from 2018, in which insurgent women of color and BIPOC candidates are poised to mount competitive challenges.
Below is a by no means exhaustive guide to the down-ballot races to watch as we inch closer to November.
Several high-profile U.S. Senate seats are in play for Democrats this year.
Maine: Sara Gideon vs. Susan Collins
So-called "moderate Republican" Collins, who notoriously cast a crucial vote approving Brett Kavanaugh to the Supreme Court in 2018, faces a very strong challenge from Gideon, the Democratic state Speaker of the House. Gideon has a decidedly liberal record, including sponsoring a bill to let more doctors perform medical abortions in Maine, and has even supported ending the filibuster in the U.S. Senate. A Quinnipiac poll just gave Gideon a lead of 12 points over Collins — her biggest yet — prompting an analyst to say, "The tide has turned on Susan Collins."
South Carolina: Jaime Harrison vs. Lindsey Graham
That same Quinnipiac poll put Graham, one of Donald Trump's closest allies in Congress and another staunch Kavanaugh defender, in a tie with Harrison, South Carolina's first Black Democratic Party chair, who endorsed Biden in April. Harrison has unveiled a Rural Health Agenda to increase health care, broadband, and access to other services in the poorest parts of the state, and he supports police reform, including ending qualified immunity.
Alabama: Doug Jones vs. Tommy Tuberville
Jones, a Democrat, is defending the seat he narrowly won in a special election in 2017 against Roy Moore. His opponent, Tuberville, is a former football coach running with the total backing of Trump. Jones's seat is considered very much in danger, and the election a referendum on the state's political identity. Tuberville has been criticized for his handling of a former player, who in 1999 was indicted on charges of second-degree rape in the assault of a 15-year-old girl: He suspended the player for five months.
Women are mounting strong challenges in many Republican-held congressional districts.
Nebraska Second District: Kara Eastman vs. Don Bacon
Eastman was endorsed by AOC's Courage to Change PAC and Justice Democrats in the primary and by Barack Obama in the general. She's a social worker and grassroots progressive who beat an Establishment challenger from her own party. She'll face Republican Bacon in the general election, and the race so far is neck and neck.
New York Second District: Jackie Gordon vs. Andrew Garbarino
With the retirement of Rep. Peter King — a Long Island Republican known for trying to create a federal program to monitor Muslim communities for terrorist plots, and for blaming Eric Garner for his own death, among other offensive, discriminatory episodes — his seat is up for grabs. Gordon is a Black veteran and educator and has outraised her opponent substantially. Even though the district flipped from Obama in 2012 to Trump in 2016, the race is considered a toss-up.
California 25th District: Christy Smith vs. Mike Garcia
Democrat Smith and Republican Garcia already faced off in a May special-election runoff for the seat left vacant by Katie Hill. Garcia, a Trumpian candidate who has called Smith a socialist, won by ten points but is now only barely edging Smith out. The district is a major focus for Democrats who were disappointed that Hill had resigned.
Several of these districts are in Texas, which could just maybe flip "pale blue."
Democrats have been organizing hard in Texas since Beto O'Rourke was narrowly defeated by Ted Cruz, even though the state hasn't voted for a Democratic president since the 1970s.
Texas 21st District: Wendy Davis vs. Chip Roy
Davis is best known for her legendary filibuster against a harsh anti-abortion law in the Texas House in 2013, during which she passionately defended reproductive rights for 11-hours in a now-famous pair of pink running sneakers. Now she's running for congress; according to internal polls, Davis is within one point of Republican incumbent Roy, who has recently been criticized for publicly downplaying the seriousness of the coronavirus.
Texas 24th District: Candace Valenzuela vs. Beth Van Duyne
If Valenzuela can best her opponent, tea-party conservative Van Duyne, who has voiced concerns about immigration bringing "Sharia law" to the U.S., the formerly homeless political outsider would be the first Afro-Latina in Congress. The race is deemed a toss-up by nonpartisan forecasters.
Texas 23rd District: Gina Ortiz Jones vs. Tony Gonzales
Ortiz Jones, an open lesbian woman and Iraq War veteran, just received an endorsement from Biden in a close race to fill a Republican seat.
Texas Second District: Sima Ladjevardian vs. Dan Crenshaw
Crenshaw, the veteran Republican rep known for his eye patch and, recently, for spreading coronavirus misinformation, could actually face a challenge from Iranian-born Ladjevardian, though this race is less close than some others in the state. The Washington Post says her victory would be "one of the most defiant repudiations of Trumpism imaginable."
California candidates are taking on the Establishment from the left.
California State Senate, 11th District: Jackie Fielder vs. Scott Wiener
Fielder, a 25-year-old democratic-socialist queer college lecturer, took one-third of the vote in the March primary against Wiener, a 50-year-old gay attorney. The two will face off in the all-Democratic general election; Fielder has criticized Wiener's work defending police officers accused of misconduct while an attorney in the San Francisco City Attorney's Office.
Los Angeles City Council, District 4: Nithya Raman vs. David Ryu
In another "showdown for the left" down south, similar dynamics are playing out between the DSA-backed Raman and the incumbent Ryu. Both have advocated for tackling the city's homelessness and housing crises, but Raman accuses Ryu of pivoting left just to compete with her. Before they both signed pledges not to accept donations from police unions, the LA Police Protective League spent almost $45,000 in independent spending on Ryu's campaign. Raman called on local politicians to disavow such donations, and Ryu has since said he plans to disavow any spending from unions in the future. Ryu, who is endorsed by the LA Democratic Party, says he has "always been a progressive."
Los Angeles District Attorney: George Gascón vs. Jackie Lacey
Lacey is the incumbent and the first Black female DA of Los Angeles County; surprisingly, Governor Gavin Newsom has endorsed her opponent, Gascón, who has run as a progressive challenger. He is a former San Francisco DA, who advocated for the end of cash bail and marijuana decriminalization. The race has become heated during protests against police brutality: Critics of Lacey accuse her of maintaining a failing and harmful "tough on crime" approach to law enforcement, and her husband pulled a gun on protesters chanting outside their home this summer, for which he was charged with three misdemeanors by the California Attorney General. Gascón has run on several reforms, including ending the death penalty and creating a civil-rights division within the DA's office.
Correction: This post previously stated that Ryu had accepted a donation from a police union, and has been updated to reflect that the money was an independent expenditure.