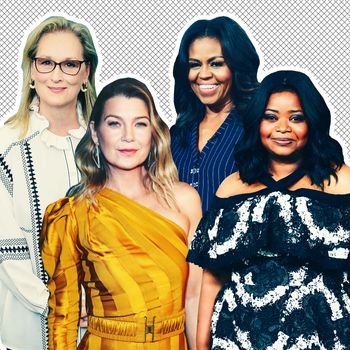 Photo-Illustration: Getty Images
Setting up a meeting with the boss to negotiate a salary bump can be a loaded, anxiety-inducing experience for anyone — even when you clearly deserve a raise. Women in the workforce already have to deal with the ugly realities of the gender pay gap, and failing to negotiate a higher salary at the onset can become a barrier years down the line. According to research from Glassdoor, 68 percent of women accepted the salary they were initially offered and did not negotiate.
Below, we culled wisdom on how to negotiate a salary from women including Meryl Streep, Ellen Pao, Sheryl Sandberg, and Lilly Ledbetter, the equal-pay activist whose lawsuit against Goodyear ultimately led to the Fair Pay Act that bears her name. Read on for their best advice.
1. Bozoma Saint John
"Give the number first. Make it high as hell because then you can't be low-balled … Do the work. Don't just call a number out of the sky. Know the range and then exceed the range because then you can negotiate down just a little bit." — CBS News, February 2018
2. Michaela Coel
On asking Netflix to let her have a percentage of the I May Destroy You copyright — and turning down its $1 million offer when it wouldn't: "There was just silence on the phone. And [the executive] said, 'It's not how we do things here. Nobody does that, it's not a big deal.' I said, 'If it's not a big deal, then I'd really like to have 5 percent of my rights' … I remember thinking, I've been going down rabbit holes in my head, like people thinking I'm paranoid, I'm acting sketchy, I'm killing off all my agents. And then [the executive] said, ['I just want you to know I'm really proud of you. You're doing the right thing'], and I finally realized — I'm not crazy. This is crazy." — Vulture, July 2020
3. Lilly Ledbetter
"I went over and interviewed with Goodyear in 1978, and I worked for Goodyear Tire Company for 19 years before I found out that the males were making 40 percent more than I was making for working the same job. Someone left me a little torn sheet of paper and tipped me off anonymously, listing my base pay and their base pay. The first thing that popped into my mind when I saw it was how much I had lost on overtime. I thought about my retirement and my 401(k) and my Social Security, because what you earn is what determines your retirement. I was just humiliated and embarrassed, to say the least, that a major corporation could do me that way. The company I worked for told me when I [was] hired there: 'If you discuss your pay, you will not have a job here.' So no one ever discussed their pay. I never knew. I had no idea how much someone else was making … After I got that tip, I filed a complaint with the Equal Employment Opportunity Commission (EEOC) and the wheels went into motion with the company." — Self, January 2016
4. Meryl Streep
On her offer for The Devil Wears Prada: "The offer was to my mind slightly, if not insulting, not perhaps reflective of my actual value to the project. There was my 'goodbye moment,' and then they doubled the offer. I was 55, and I had just learned, at a very late date, how to deal on my own behalf." — Variety, June 2016
5. Ellen Pompeo
"Now, maybe it's my Irish Catholic upbringing, but you never want to [be perceived as] too greedy. Or maybe it's just that, as women, that's our problem; a guy wouldn't have any problem asking for $600,000 an episode. And as women, we're like, 'Oh, can I ask for that? Is that okay?' I'd call Shonda and say, "Am I being greedy?" But CAA compiled a list of stats for me, and Grey's [Anatomy] has generated nearly $3 billion for Disney. When your face and your voice have been part of something that's generated $3 billion for one of the biggest corporations in the world, you start to feel like, 'Okay, maybe I do deserve a piece of this' … And I'll tell you, sitting in rooms full of Oscar-winning actresses listening to how they've been preyed upon and assaulted is frightening. And it confirmed that my path really was the right one for me, because I've chosen to financially empower myself so that I never have to be ducking predators and chasing trophies. It's not for everyone. You have to be more interested in business than you are in acting." — The Hollywood Reporter, January 2018
6. Indra Nooyi
"Women have fought long and hard for a seat at the table. My role at PepsiCo is a testament to the strides we've made. Yet as women enter the workforce in larger numbers than ever before, new challenges emerge. We need to eliminate a wage gap that has women around the world earning the same amount men did roughly a decade ago. We need to empower women by providing them with the support they need to do their jobs and care for their families — because no one should have to choose between their career aspirations and those they love. I'm fighting for gender parity because businesses thrive when we open the doors of opportunity to extraordinary women, and societies thrive whenever and wherever we can unlock the potential of all our people, women and men alike." — on Facebook, August 2017
7. Michelle Obama
"I took my last job [before my husband entered the White House] because of my boss's reaction to my family situation. I didn't have a babysitter, so I took Sasha right in there with me in her crib and her rocker. I was still nursing, so I was wearing my nursing shirt. I told my boss, 'This is what I have: two small kids. My husband is running for the U.S. Senate. I will not work part time. I need flexibility. I need a good salary. I need to be able to afford babysitting. And if you can do all that, and you're willing to be flexible with me because I will get the job done, I can work hard on a flexible schedule.' I was very clear. And he said yes to everything." — Parade, June 2014
8. Charlize Theron
On negotiating to be paid the same for The Huntsman: Winter's War as her male co-star: "'I have to give them credit because once I asked, they said yes. They did not fight it. And maybe that's the message: That we just need to put our foot down. This is a good time for us to bring this to a place of fairness, and girls need to know that being a feminist is a good thing. It doesn't mean that you hate men. It means equal rights. If you're doing the same job, you should be compensated and treated in the same way." — The Hollywood Reporter, May 2015
9. Octavia Spencer
On working with Jessica Chastain to get equal pay for an upcoming movie: "I told [Jessica] my story, and we talked numbers, and she was quiet, and she said she had no idea that that's what it was like for women of color. I love that woman because she's walking the walk and she's actually talking the talk. She said, 'Octavia we're gonna get you paid on this film. You and I are gonna be tied together. We're gonna be favored nations, and we're gonna make the same thing.' Fast forward to last week, we're making five times what we asked for. Now, I wanna go to what the men are making!" — at the Women Breaking Barriers Panel at Sundance Film Festival, January 2018
10. Jessica Chastain
On her negotiations with Octavia Spencer: "She had been underpaid for so long. When I discovered that, I realized that I could tie her deal to mine to bring up her quote. Men should start doing this with their female co-stars." — on Twitter, January 2018
11. Robin Wright
"I was like, 'I want to be paid the same as Kevin [Spacey].' It was a perfect paradigm. There are very few films or TV shows where the male, the patriarch, and the matriarch are equal. And they are in House of Cards. I was looking at statistics and Claire Underwood's character was more popular than [Frank's] for a period of time. So I capitalized on that moment. I was like, 'You better pay me or I'm going to go public.' And they did." — HuffPost, May 2016
12. Tina Fey
"Every single interviewer asked, 'Isn't this an amazing time for women in comedy?' People really wanted us to be openly grateful — 'Thank you so much!' — and we were like, 'No, it's a terrible time. If you were to really look at it, the boys are still getting more money for a lot of garbage, while the ladies are hustling and doing amazing work for less.'" — Town & Country, March 2016
13. Lena Dunham
"The way that Jenni [Konner] and I work, and I don't mean to sound Pollyannaish, is we tend to think if we're working with someone that we're close to, if we're collaborating with another woman, and we decide to be a little bit generous in a negotiation, it's not because we're weak or afraid. It's because we know that that comes back to you in another way … we never said, "Oh, I wish I wasn't generous." Money is one of the ways that you let people know that you appreciate them. When we're getting into collaborative relationships with other artists, we want them to feel appreciated. Also it's important to note that, just because you know what you're worth, doesn't mean it's always easy to ask for it. And I've learned a lot from Jenni in this department. I think that especially towards the beginning of my career, my people-pleasing instincts really got in the way." — LinkedIn, January 2016
14. Ellen Pao
"At Reddit, I was encouraged by CEO Yishan Wong's compensa­tion philosophy. He advocated for fair pay by minimizing the amount of negotiation and setting compensation by role. When he left and I stepped in as interim CEO, I made no-negotiation, scale-based pay standard for all employees. We put the onus on the company to pay fairly instead of on candidates to negotiate fair pay. We decided fair was what a strong negotiator would get — market rates at the high end based on experience and role. We believed that paying high market rates and fair compensation across the whole company was key to hiring and retaining the best talent." — The Hollywood Reporter, December 2015
15. Linda Evangelista
"We have this expression, Christy [Turlington] and I. We don't wake up for less than $10,000 a day." — Vogue, October 1990
16. Diane von Furstenberg
"The first questions you have to ask yourself are, 'Do I deserve it?' and, 'Why?' Be hard on yourself while you question yourself. If you think you deserve it, then go for it and explain the reason. Do NOT whine. No tears in the eyes, no complaints. Go with the positives and the positives only. Explain that you deserve the promotion and that with that, you will build ahead for the company. If you are absolutely sure that you deserve it, you will get it. But do NOT be a victim, be a leader. Since I have worked for myself since I was 22, I could not go and ask for a promotion, but I often had to make presentations and sell myself. Sometimes I was turned down and I always tried to turn the rejection into something positive. It is not easy, but almost always there is a better opportunity hidden behind the lost one. The lesson I took from those rejections is that I look at the glass half full and not half empty!" — The Cut, February 2013
17. Sheryl Sandberg
"I want to be clear. I'm about to give advice that I don't want to give, because I don't want these biases to exist. But the best way to get rid of these biases is to get women to negotiate well. If you are negotiating for a raise and you are a man, you can walk in and say, 'I deserve this.' That will not backfire on you. We know the data says it will backfire on a woman. So I think along with saying, 'I deserve this,' [women should explain] that, you know, 'This is important for [my] performance,' and 'This will make [me] more effective as a team member.'" — Stanford University forum (via Inc.), October 2017
18. Issa Rae
"In my career, I've tried to use negotiation to ensure I'm being paid fairly. As a freelance videographer and editor, I constantly had to set my price points, which was hard in the beginning because I honestly didn't know my worth. In addition to that, I was so eager to work that I was pretty much willing to work for any price point. As I grew more confident in my work, I began to set my prices higher. Sometimes I'd get resistance and sometimes I wouldn't get the job at all. I'd often have to convince them that I was worth the money. Something needs to change. And smarter negotiating isn't enough, because the pay gap isn't my fault or any woman's fault. And it can't just be on women to fix this problem. There is a role for employers and elected officials here, too … A lot of us were raised with the belief that it's not polite to talk about money. If we want to close the pay gap, it's time to stop being polite and start talking about equal pay." — The Root, October 2015
19. Nicki Minaj
"One thing I learned along the way in business is the necessity to be unapologetic about asking for how much money you deserve. At a very early stage in my rap career, I was making six figures for shows. If I heard there was another rapper making that, I thought, 'you know what? I get out there and demand or command a crowd. I get out there and make my fans happy. I get out there and give a real show. I want that, too.' And I pushed myself to be better with my showmanship, but I also decided, you know what? I want to be compensated well … If you know you're great at what you do, don't ever be ashamed to ask for the top dollar in your field." — Time, April 2016
20. Maria Bamford
"One thing I would do is maybe sideline people in the office and just say, 'Hey, can I tell you what I'm making?' And just have some curiosity: 'If you feel comfortable to share with me what you're making.' To see if you're in the same ballpark as other people. Not to create drama but to gather knowledge. And then maybe if you don't feel comfortable within your own company, contact somebody who does the same work you're doing at another company. So then I would go with your fantastic new number — I say there's no danger in putting what things you've achieved in your job in the past — and just … shoot for the moon, I would say. There's probably a glut of people who would do it for nothing, but people like the bird in hand. So that's the value you have. They have the person they already know. So I think you have nothing to lose to ask, 'This is what I'd like.' And then maybe they come back, and just be quiet. It's the most important thing. You say what you want and just shut up and sit with the discomfort of that. And then just see what happens." — Vulture, January 2020
21. Gloria Steinem
"The most ironic [thing] that comes to mind is that Time magazine asked me to write an essay about the early women's movement. It was a long time ago — it was maybe in the '70s. First of all, they asked me to do it because they didn't have a woman on staff. Secondly, I did it under deadline because it never occurred to me that they would pay me less than they did men writing the same essay. Time had a page in each issue in which there was a personal essay. When my agent got the check, he told me that I was getting paid less than men who wrote the same essay. So, I wrote the editor of Time and complained and he sent me a Gucci purse. I took the purse back to Gucci because I needed the money and tried to get cash for it and I couldn't." — Fusion, December 2015
22. Jennifer Lawrence
"When the Sony hack happened and I found out how much less I was being paid than the lucky people with dicks, I didn't get mad at Sony. I got mad at myself. I failed as a negotiator because I gave up early … But if I'm honest with myself, I would be lying if I didn't say there was an element of wanting to be liked that influenced my decision to close the deal without a real fight. I didn't want to seem 'difficult' or 'spoiled.' At the time, that seemed like a fine idea, until I saw the payroll on the Internet and realized every man I was working with definitely didn't worry about being 'difficult' or 'spoiled' … Jeremy Renner, Christian Bale, and Bradley Cooper all fought and succeeded in negotiating powerful deals for themselves. If anything, I'm sure they were commended for being fierce and tactical, while I was busy worrying about coming across as a brat and not getting my fair share." — Lenny Letter, October 2015
23. Oprah Winfrey
"When I read Jennifer [Lawrence]'s piece yesterday, I said, 'Wow, this sounds like 1985.' Because when I first started The Oprah Show … we syndicated, and I have all women producers, 5 women … I went in and I said, 'Everybody needs raises.' And the management at the time said, 'Why do they need raises? Why do a bunch of girls need raises? They're not married, they don't have children, they don't their own houses.' This was in 1985 in Chicago … I said if you don't give them money, then I'm going to sit down." — CBS This Morning, October 2015
24. Frances McDormand
On meeting her "equal pay for equal work" quote only once, on Transformers 3: "I worked very hard for that money. I'm very proud of my work. I'm glad I did that film, and I'm proud that I finally got paid what I was told I was worth by the industry. But that is nothing. That is a tenth of what most males my age, with my experience and my reputation as a film actor, make. We've never been paid commensurately, and that has to change … We don't need a lot of initiatives for women in film. What we need is money. We're keeping the conversation back a little bit by saying we need help. We don't need help; we need money. We need platforms, we need voices, but we don't need help." — "Women in Motion" panel at the Cannes Film Festival, May 2015
25. Beyoncé
"We need to stop buying into the myth about gender equality. It isn't a reality yet. Today, women make up half of the U.S. workforce, but the average working woman earns only 77 percent of what the average working man makes. But unless women and men both say this is unacceptable, things will not change. Men have to demand that their wives, daughters, mothers, and sisters earn more — commensurate with their qualifications and not their gender. Equality will be achieved when men and women are granted equal pay and equal respect." — The Shriver Report, January 2014