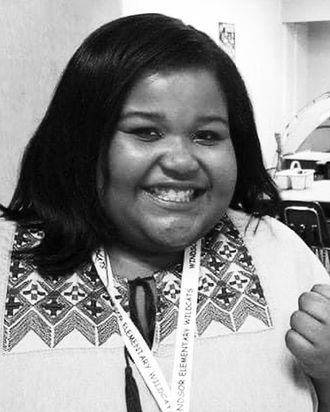 Demetria Bannister
Photo: Leevy's Funeral Home
Just a week into the school year, a 28-year-old teacher in South Carolina has died from complications due to the coronavirus, according to a news release from the Richland School District Two.
Ahead of the official start date, Demetria "Demi" Bannister — a third-grade teacher at Windsor Elementary School in Columbia — returned to her classroom on August 28 for an in-person teacher workday. On August 31, when the district resumed virtual classes, Bannister kicked off her fifth year of teaching. Before the week was over, Bannister tested positive for COVID-19. Then, just three days later, she was dead.
During her time at Windsor Elementary, Bannister led the student choir and "used her musical talents to bring a great deal of joy to the school, becoming known as 'Windsor's Songbird,'" principal Denise Quickel told WLTX. "She had one of the most beautiful voices," Rebecca Twitty, a fourth-grade teacher at Windsor Elementary School, said of Bannister. "I mean, if it was someone's birthday, her and another teacher, they would come down and serenade us a lot. She was always singing and performing."
"She was my favorite teacher," one of Bannister's former students wrote in her online guest book, which has received an outpouring of condolences from people across the country. "I wish I was still [in] elementary school to say my goodbyes."
Bannister conducted her first week of classes virtually, and it's unclear how she contracted the virus; current reporting doesn't indicate whether there have been other confirmed cases of COVID-19 in the school district. Yet her death — along with the recent deaths of at least five other teachers due to complications from the coronavirus — has intensified fears about the safety risks of reopening schools, particularly in areas where infection rates remain high. Experts have said that as schools reopen, it's inevitable that districts will see positive cases, even in areas like New York, where the infection rate has been below one percent for several weeks. And indeed, many schools that have resumed in-person classes have already reported mass outbreaks, some just days after starting classes. In South Carolina, which has reported more than 124,000 COVID-19 cases and 2,800 deaths since the start of the pandemic, the testing positivity rate hovers around 14 percent, according to health officials. The CDC and the WHO have recommended a positivity rate below 5 percent for schools to safely reopen.
Following Bannister's death, the district has been reaching out to anyone who could've come in close contact with Bannister, and is conducting a deep cleaning at the school. According to the New York Times, Bannister lived with her parents, both of whom have tested positive. Her mother is currently in the hospital.
To "honor Ms. Bannister's memory," superintendent Baron Davis asked the district to join him in "reaffirming our commitment to doing all we can to provide premier learning experiences for all students in the safest environment possible and doing our part to slow the spread of COVID-19." While Richland School District Two started the first week of school virtually, most districts in South Carolina have permitted students to attend in-person classes at least one day a week.
This post has been updated.