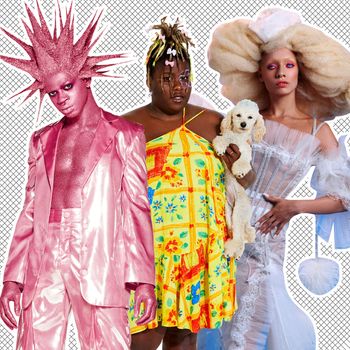 Photo: Courtesy of the Designers.
What happens when New York Fashion Week goes almost entirely digital? Website links replace long lines to get into shows, sweatpants replace street-style looks, cameras replace audiences, and our apartments replace all the afterparties. But still, the spring 2021 shows were not only the most democratic they've ever been (everyone can watch online) but some of the most creative we've seen. Four brands — Christian Cowan, Collina Strada, Wiederhoeft, and Imitation of Christ — reminded us that creativity is still thriving, while teaching us a lesson or two at the time same.
1. The Spirit of Nightlife Lives On
Christian Cowan and Lil Nas X collaborated to remind us that the colorful spirit of New York City nightlife, while physically on hiatus, is still very much alive. Instead of taking his horse to the Old Town Road, Lil Nas X is putting his hair in punk liberty spikes and taking his checker print Segway scooter to the make-believe club. The spring 2021 collection video starred a free-spirited cast of models, including Heidi Klum and Marc Jacobs in little heels, grooving to a bumping beat. The video is also a nod to the queer community, and all proceeds from the collection merch benefit the Loveland Foundation, which supports queer Black youth in Atlanta. In the end, the collection left me thinking: When it's finally time to put on an outrageous club outfit again, why not cover our entire bodies in pink glitter?
2. If You Can't Travel, Just Take 'Shrooms
Nothing quite beats traveling — eating new foods, meeting new people, trying new things. But, alas, we Americans are currently banned from going pretty much anywhere in the world. Luckily, as Collina Strada seems to know well, we have 'shrooms. Her collection film, titled "Change Is Cute," is truly a psychedelic experience. There's a lot happening: Tie-dyed hills and cornfields twist and melt while models and animated flower people gyrate in hand-painted clothing and bedazzled Hokas. But it's not just the visuals — there's a sort of spiritual argument to be had here, too. Instead of seeing the world through a lens of gloom and doom, perhaps change can actually be kind of cute?
3. Your Inner Child Needs Some Attention
For spring 2021, Wiederhoeft used fairy tales to show off his latest collection, titled "Mother Goose and All Her Silly Little Friends," which incorporated oversize bows, corsets, and lots of tulle. This, of course, is the same designer who turned us into romantics with his fairy-tale wedding gowns, so trust him to revive your slumbering childlike wonder. This definitely isn't how I remember Mother Goose, Little Bo Peep, and Miss Muffet (who sat on a tuffet), but I'll gladly accept his fashionable versions.
4. The Teens Are Definitely All Right
Indie favorite brand Imitation of Christ returned this summer with three teens at the helm. This season, creative director Tara Subkoff made a triumphant return to Fashion Week with yet another pack of teens to help. Their names are Lola Valenti Roberts, Tessa Crockett, and Violet Baudin Lackey, and they have a message: "The world will only contain what we put into it now." Staying true to its sustainable ethos, the brand partnered with The RealReal to upcycle clothing. In the video, a group of skateboarders pull off sick tricks at the skate park while wearing the collection. Who among us was this effortlessly cool and so aware of the world as a teen?