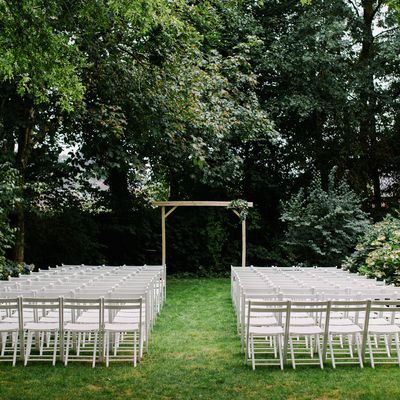 Photo: Hanneke Vollbehr/Getty Images
At least seven people have died of complications from COVID-19 after being infected from an outbreak that originated from an early August wedding reception in Maine, according to the Maine Center for Disease Control and Prevention. Currently, it appears that none of the people who died attended the reception, but instead contracted the virus after coming in contact with someone who was present at the wedding.
Maine has a low transmission rate and a 50-person limit on indoor gatherings, as well as a mask mandate at indoor public places. Nonetheless, the Maine CDC said that that 65 people attended the wedding reception on August 7 at the Big Moose Inn in Millinocket. In the weeks since the gathering, the number of confirmed cases linked to the reception has been steadily rising, with the Maine CDC currently reporting at least 175 cases, many of which are secondary and tertiary infections.
The Herald reports that many of the cases have been attributed to the spread of the virus through the York County Jail. A staffer at the jail attended the wedding, leading to an outbreak among staffers, their families, and inmates, totaling more than 70 cases. Another outbreak related to the reception occurred at a nursing home in Madison, the Maplecrest Rehabilitation and Living Center, after an employee attended the ceremony. Six out of the seven deaths linked to the wedding have occurred here.
Additionally, the Maine CDC is investigating whether the reception can be linked to an outbreak at the Calvary Baptist Church in Sanford, where ten people have fallen ill with COVID-19. According to AP News, the pastor at the church, Todd Bell, officiated the wedding.
Management at The Big Moose Inn — a 37-acre property that contains cabins, campgrounds, and a restaurant — wrote in a Facebook post in early September that the establishment had been cited for failing to comply with the state's venue capacity guidelines, and that the facility's license had been temporarily suspended. The post explained that the venue's operators "understood that there could be no more than 50 persons in our largest room," and that while they thought splitting the guests between two rooms would suffice, they "did make an error in the interpretation of that rule."
This post has been updated with new information.