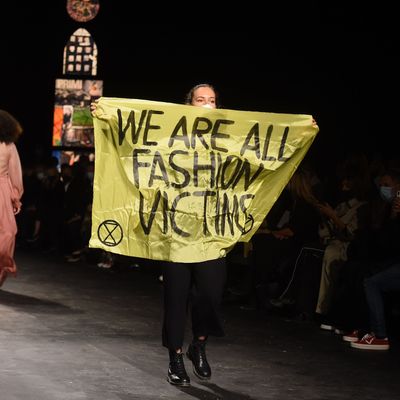 Photo: AFP via Getty Images
Dior's artistic director, Maria Grazia Chiuri, loves a good political slogan. In her spring 2017 debut, she put models in shirts emblazoned with "WE SHOULD ALL BE FEMINISTS," a quote from the Nigerian writer Chimamanda Ngozi Adichie. The following year, she opened the show with a striped graphic tee reading, "WHY HAVE THERE BEEN NO GREAT WOMEN ARTISTS?" — a question posed in a 1971 essay by art historian Linda Nochlin. So when a woman appeared on the runway at yesterday's Dior show with a banner reading "WE ARE ALL FASHION VICTIMS," it seemed pretty par for the course.
Except this time, the woman wasn't a model but a protester from the climate-activist group Extinction Rebellion who had crashed the event. Insiders were bemused. "You couldn't tell if it was part of the show or not," Sidney Toledano, chairman and CEO of Dior's parent company LVMH Fashion Group, said to Women's Wear Daily.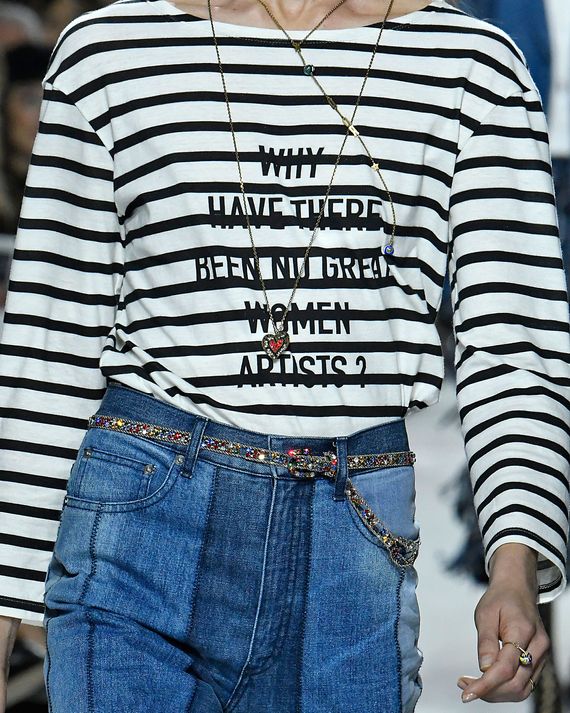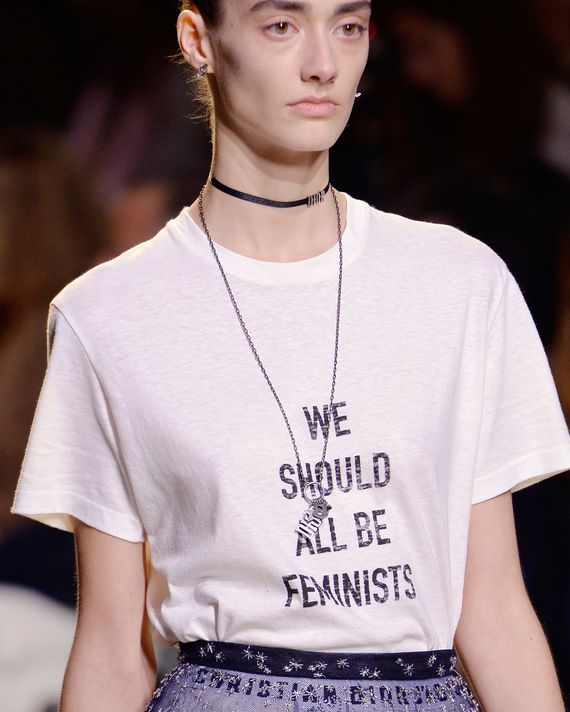 In the past, Extinction Rebellion has organized sensationalistic protests outside of fast-fashion retailers and Fashion Week events in New York and London. Signs with messages like "No fashion on a dead planet" and "RIP LFW 1983-2019" are the norm. Earlier this month, protesters stood naked with their hands glued to the windows inside an H&M store in London with placards reading "Not buying this bullshit," "Won't wear injustice," and "Rather be naked" attached to their bodies.
But it turns out to be surprisingly hard to stage a protest at a show that's already turned protesting into a brand. Even with her sets, Chiuri likes to get political. The set for the fall 2018 show was plastered in posters, feminist slogans, and tear sheets from magazines from 1968. And in fall 2020, the runway show took place under neon signs spelling out words and phrases like "Consent," "Patriarchy = CO2," "Patriarchy = Oppression," and "Patriarchy = Climate Emergency." Not everyone loves this kind of surface-level statement-making — the Cut's own fashion critic at large, Cathy Horyn, once described it as an "attempt to look topical and also sell a T-shirt for around $750." (Then again, the "WE SHOULD ALL BE FEMINISTS" shirt sold out, so somebody's spending that $750.)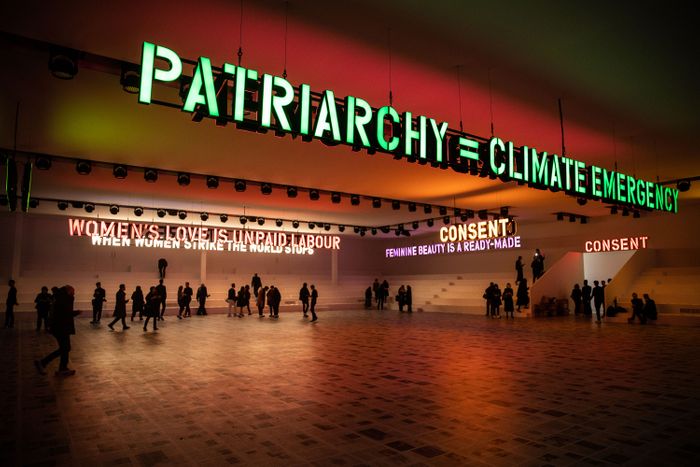 The Extinction Rebellion protester told Fashionista she was trying to make a point about how Fashion Week is simply not sustainable. Toledano wasn't convinced. "I don't think we're destroying the planet," he said. "We're committed to reducing our environmental impact by cutting our carbon dioxide emissions, tracing our raw materials, and so forth. They shouldn't be targeting us. I think there are industries that pollute much more."
Anyway, as it happens, Dior's already done a climate-change show. For spring 2020, the brand showed in a garden of trees that would later be replanted, to send a message about sustainability. You get the feeling that if Dior produced a cute striped tee that read "WE ARE ALL FASHION VICTIMS," that would sell out, too.