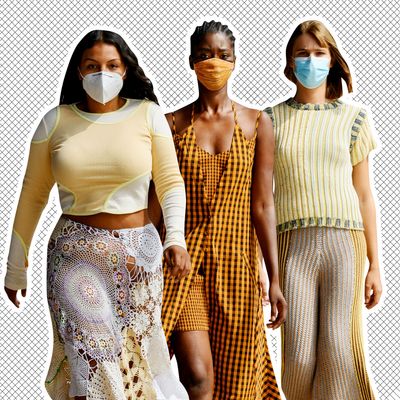 Photo: Darian DiCianno/BFA.com/Courtesy of Eckhaus Latta
Above us, the dull roar of traffic hurtling toward the bridge: that was the only soundtrack. At an unusual New York Fashion Week, it was an unusual score for what turned out to be an Eckhaus Latta unusual show. Many of the brand's fellow travelers have sat this season out, putting out a video, or a lookbook. The few that are staging shows this week are doing it with a kind of blithe wish-fulfillment: staged at homes outside the city, or a fantasy version of Tulum. Not this one. There were river views, but the kind you get from the F.D.R. Drive. "Our top priority," Zoe Latta said the day before the show, "was to prioritize the pedestrian experience of walking, the reality that we're living in right now. Not to become sort of a digitized fantasy."
There were ten guests gathered to see the show live — or at least, ten invited ones. Plenty more were there: bikers, joggers, walkers, confused or enticed, like the older woman in gray braids who shouted, "Work it, work it!" and plopped down on a bench to watch. She had, by default, a front row seat. The rest of the world watched via livestream.
The models — many of them recognizable friends of the brand, like the actress Hari Nef, the photographer Cruz Valdez, or the retail consultant Jesse Hudnutt — walked the way people walk in New York, even in the Covid era: unlighted, unscored, sensibly masked, people on their way. As much of fashion revels in its dreaminess and unreality (how many brands this week have cited escapism, fun, and freedom as what we want right now?), Latta and Mike Eckhaus rooted their show and their collection in what we (still) need: clothes to live in, and get where we're going.
Eckhaus and Latta focus so much on craft that their collections can sometimes feel like works in progress, their ideas raw-edged and ragged. To hear them tell it, in a Zoom interview before the show — Eckhaus in New York and Latta, for the first time, remaining in California, where she lives, pregnant and unable to travel — they'd pared back. COVID had been a factor, but so too had the creep of scale: After February's show, they found themselves exhausted, spent, and wondering whether they had the resources to show again. "We were flying too close to the sun," Eckhaus said. "We were just making so, so, so much product." He described it as feeling like a treadmill speeding up, creating more and bigger collections to accommodate the demands of retailers and press. COVID slammed on the breaks. They could think, again, about what they wanted to do, and what kind of clothing they wanted to make. The word in their heads was "ease."
Their collection looked stronger for the distillation. The old Eckhaus Latta color palette remained — those acrid yellows, rusty oranges and greens — but with less of the overwork that sometimes bogged down previous collections. The craft was still there, in the swing of a patchwork crochet skirt, a full granny's drawer worth of them glommed together like lichens. But there was that ease in the jeans cropped high over square-toed boots, a matching knit T-shirt and flares (an Eckhaus Latta sweatsuit, more or less, gussied up) or a doubled-over print dress that flapped in the breeze. The models, many in Eckhaus Latta masks (on sale tomorrow at their New York store), trouped unencumbered by, and then on. There was no finale return, no bow. It didn't seem much like fashion week, just a slightly more encouraging vision of our current durable reality. Which is not easy, these days. Which makes you all the more grateful for ease.