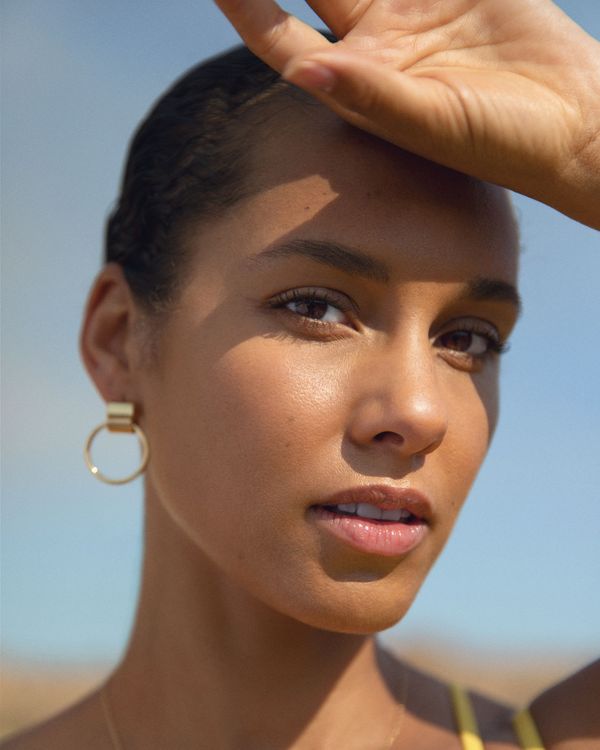 Photo: Courtesy of Keys Soulcare
Hello, beautiful masterpieces. My radiant fam! It is I, Alicia Keys. I've created something very special for you and the world, and it has finally launched today: My skin-care and lifestyle beauty brand, Keys Soulcare. [Plays a few bars of "Empire State of Mind" softly on the piano.]
Let's connect for a moment on a sacred truth. It's important to take care of your soul and to take care of that part of yourself that you can't see but you can feel. I'm talking about the biggest of the 78 organs in your body: your skin.
Hug it. Nourish it. Love yourself. Cherish yourself. Embrace your inner power and know that you are the strongest lioness of the pride. Your thoughts are seeds, and you can grow flowers or weeds. [Absentmindedly riffs on the opening chords to "Girl on Fire."] Mind, body, soul, and spirit are the four Keys to Soulcare. (Get it? Keys? Like me, Alicia Keys?)
The Soulcare line is clean, cruelty free, and dermatologist developed (because dermatologists are incredible gardens who have been watered throughout medical school). I'm a self-professed "candle fanatic" (plus my voice feels like a scented candle already), so Soulcare's first "ritual" is a special one. It's a mix of sage and oat milk, because no one's practice needs the acid reflux that comes from dairy, and a cow-milk candle sounds like it could be a little gross.
The Soulcare experience begins today (with the full editorial site to launch on Tuesday, September 29), and I'd love for you to glow and shine with me, Alicia. Because I am the celebrity with probably the most legit reason for starting a skin-care line, and my skin-care-routine videos would win me an ASMR Grammy.
[Editor's Note: This post was not actually written by Alicia Keys.]