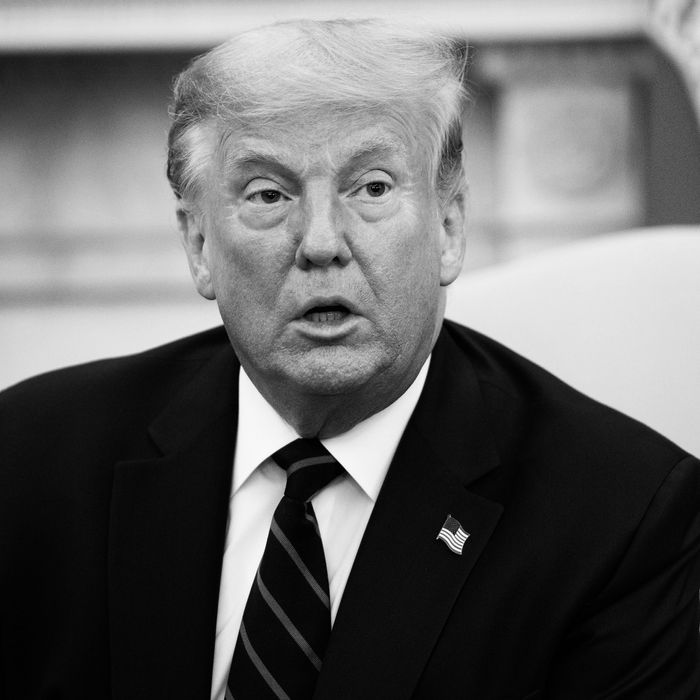 Donald Trump.
Photo: Saul Loeb/AFP via Getty Images
To date, President Donald Trump has been accused of sexual misconduct by at least 25 women, with allegations spanning multiple decades and including everything from kissing women without their consent to groping and rape. On Thursday, yet another woman came forward: former model Amy Dorris, who told the Guardian that Trump had forced his tongue down her throat and groped her at the 1997 U.S. Open, which left her feeling "violated."
At the time, Dorris, then 24, was living in Boca Raton, and her then-boyfriend — Jason Binn, the founder of several luxury magazines and a close friend of Trump's — decided to take her for a long weekend in New York City, where she first met Trump. She told the Guardian that Trump came on "very strong right away" when Binn introduced them at Trump Tower before they left for Queens to watch the tennis tournament from Trump's VIP box. At the Open, after going to the bathroom to fix her contact lenses, Dorris says she encountered Trump waiting outside. Then, after a short exchange, "he just shoved his tongue down my throat and I was pushing him off. And then that's when his grip became tighter and his hands were very gropey and all over my butt, my breasts, my back, everything. I was in his grip, and I couldn't get out of it," she said.
She said she begged him to "get away," telling him, "No, please stop," but "he didn't care." Following the incident, she was "in shock," she said, but she felt as though she "had to go back to talking to everyone and having a good time." When she and Binn met up with Trump the following day for the tournament, she says she tried to wear "conservative" clothes, though she said that didn't deter Trump from continuing to pursue her.
Alongside Dorris's allegations, the Guardian published photos of Trump and Binn taken during her trip to New York. The Guardian also contacted a handful of people close to Dorris who corroborated her claims: her mother and a friend in New York, both of whom Dorris called the day of the alleged assault to share what had happened, as well as a therapist and additional friends.
While Trump has not yet publicly responded to the allegations, his lawyers — who are not named or quoted in the Guardian — have vehemently denied them on his behalf. They reportedly questioned why, if Trump had in fact assaulted her, Dorris would have spent time with Trump in the days following. As Dorris explained to the Guardian, she and Binn were visiting from Florida, and she had "no money, nowhere to go." She added, "People spend years around people who have abused them; that's what happens when something traumatic happens, you freeze."
The laywers also insinuated that Dorris's claims, coming so close to the presidential election, might be politically motivated, which she disputed. She told the Guardian she had considered speaking out in 2016 when a number of women came forward with similar allegations against Trump, but she kept quiet out of fear of endangering her family. Since then, she had decided it was important for her to come forward to be a role model for her daughters.
"Now I feel like my girls are about to turn 13 years old, and I want them to know that you don't let anybody do anything to you that you don't want," she said. "And I'd rather be a role model. I want them to see that I didn't stay quiet, that I stood up to somebody who did something that was unacceptable."