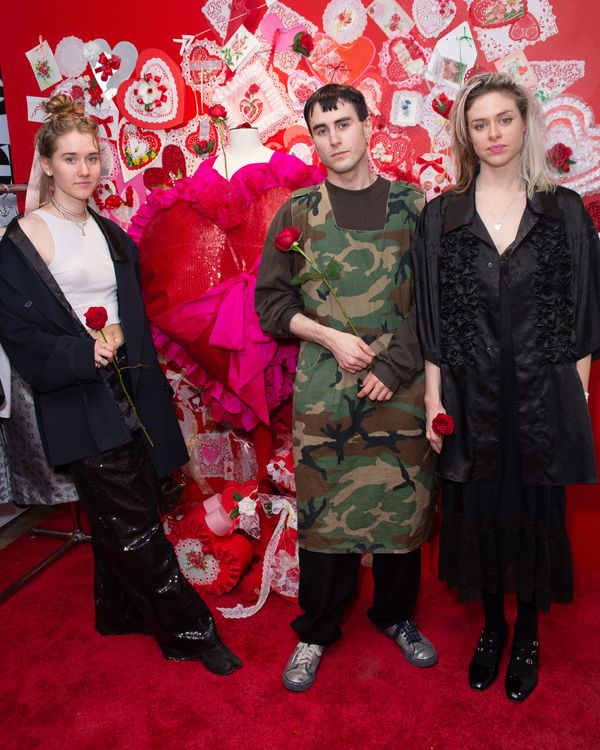 Claire Sullivan, Patric DiCaprio, and Bryn Taubensee of Vaquera at their show at Dover Street Market New York in February.
Photo: Andrew Morales
It was in January — before COVID-19 hit pandemic status, back when it was little-known and barely remarked upon — that Patric DiCaprio, Claire Sullivan, and Bryn Taubensee, the designers of Vaquera, realized they had a problem. "Things were pretty challenging for us," Sullivan said on a group Zoom interview from their Bed-Stuy studio this week. Vaquera, whose ragtag exuberance had made their shows and their collections first an underground, and then an aboveground, sensation in New York fashion, were running on empty. They got admiring reviews (Cathy Horyn gave their recent collection "top marks"), and stores put in orders, but behind the scenes, shoestring budgets and enlarging expectations were taking a toll. Vaquera used to live for its shows, highlights of the New York Fashion Week calendar; suddenly it was weighing whether it had the cash on hand to stage one at all.
Then, a white knight appeared. Dover Street Market New York offered to host the designers' February show, held for a crowded audience of standing guests around the racks at the Murray Hill store. (It was meant to be small — "some little soirée-dinner thing," Sullivan said, but "obviously, us being us, we turned it into a full-fledged show.") Now Dover Street is extending its relationship with the designers still further: As of this month, Vaquera is joining its Paris-based showroom-cum-incubator. (Other small brands under the Dover Street Market Paris umbrella include Eli Russell Linnetz, Rassvet, and Honey Fucking Dijon.) "I've always been interested in them," said Adrian Joffe, Dover Street Market International's president and husband of its reigning genius, Rei Kawakubo. Joffe praised their independence, rule-breaking, and creativity, and began pursuing them for the partnership after the February show. "We are delighted to welcome them to the family," he said.
In practice, Dover Street Market Paris will handle Vaquera's international sales, and take over roughly half of its production, and all of its distribution, but the partnership is not an acquisition, and Vaquera will remain fully independent. These functions, while less sexy than the work of putting on a runway show, are at least as important to keeping a fashion business alive. For Vaquera, they couldn't have come at a better time. "The biggest challenge of Vaquera has always been that we wear every single hat," Sullivan said. "We're finally getting the chance to just be designers."
That's a rare gift. Vaquera is sui generis — no one else sends models down the runway in chef's hats or pillow-codpieces, or covered, barely, by an enormous Tiffany bag — but the challenges it faced, running on fumes and good press, were shared by many of its fellow young brands, strapped without the resources and connections of a major backer. In 2018, I spent almost a year with Vaquera, trailing them from studio to runway and back, and came away impressed with their spirit and, frankly, nervous for their prospects. The difficulties of being an independent fashion brand are many, and that's before you add the ongoing erosion of the retail landscape, with the closure of stores like Opening Ceremony and Barneys, and the support they provided to many emerging designers. Then the havoc of the pandemic, which has caused or contributed to the end of stores and brands both great and small. (The closure or bankruptcy list is long: Sies Marjan, J.Crew, Brooks Brothers, Neiman Marcus, Jeffrey, Lord & Taylor …) The prognosis goes grim.
The pandemic has not hurt Vaquera as much as it has many others. Asked if they had had to resort to layoffs, they laughed: They have no one to fire but each other. (There is one additional employee besides the three of them: their studio manager, Laura Spence.) "We're used to having no money, as you know," DiCaprio said. But it did offer a chance to slow down and recalibrate, to ask themselves what they actually wanted to wear and to see others wear. "It's not so important that we have these crazy theatrical things, you know, that don't have substance or don't have an aspect that can be bought and sold and exist for longer than just the ten minutes that they're on the runway," DiCaprio said. Coming to acclaim early, Vaquera had essentially lived out its growing pains in public. "It was this kind of messy thing for people to see us developing," Taubensee said, and a suspicion that Vaquera wasn't, or couldn't be, a viable presence off the runway stuck to them. "There's a lot of skepticism about us," DiCaprio said. "But if one person trusts you, it's easier for other people to trust you." Now a greater proportion of reality is creeping in. For the first time in a long while, Vaquera is sitting out New York Fashion Week (whatever it turns out to be).
Even without the prod of a runway, Vaquera is nevertheless unlikely to become boring anytime soon. Unlike many commercial partners, Dover Street Market, which is owned by Comme des Garçons, won't be pushing in that direction. One of the great advantages of having a partner like Dover Street Market, DiCaprio said admiringly, is that they have "proven they know how to sell psycho clothes."