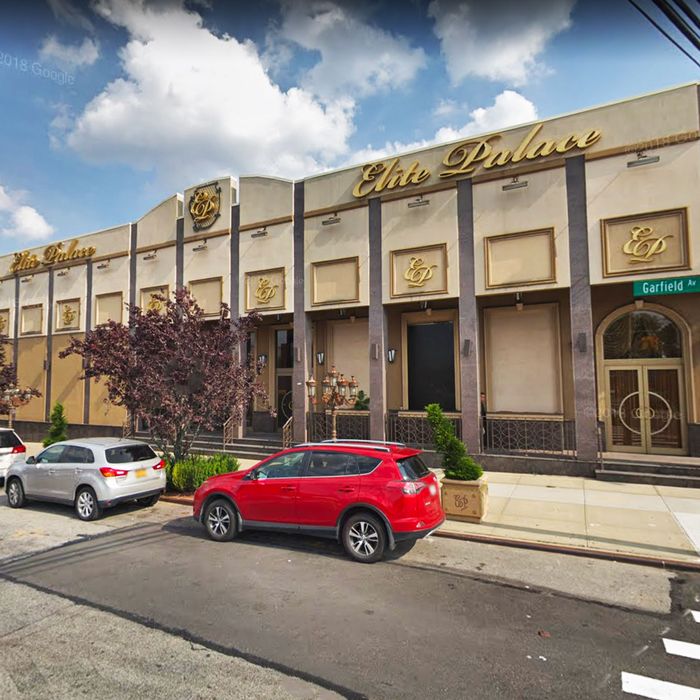 As New York City's COVID case numbers slowly creep up in some neighborhoods, police raided an indoor wedding in Woodside, Queens, where nearly 300 guests were in attendance.
The New York Daily News reports that, shortly after receiving an anonymous tip, police shut down the event at the Royal Elite Palace Caterers Friday, where officials say guests were drinking and dancing without following social-distancing protocol or wearing face masks. The sheriff's office tweeted that it had shut down the "illegal gathering" of 284 people, who were reportedly sent home.
Both the venue's manager and its owner have received several tickets for violating emergency orders and are facing possible fines. A Woodside resident named Gennaro Barros told the Daily News that the venue has been hosting indoor events throughout the summer. "There's always a party going on and they're always coming in from the back door," said Barros. "Since May they've been having parties."
Hours before the wedding bust, health officials warned that rising COVID cases in some parts of the city could result in tighter social-distancing restrictions. Health Commissioner Dave Chokshi said at a press conference on Friday, "This may be the most precarious moment that we're facing since we have emerged from lockdown … We will move as swiftly as the situation warrants. If this growth continues, it will turn into widespread transmission potentially citywide."
On Sunday city health officials said they are particularly concerned about case spikes in eight neighborhoods, which are reporting cases at 3.7 times the citywide average, but Woodside is not among them. On Monday, Governor Andrew Cuomo said that the rate of infection in ten of the state's zip codes had jumped to 15 percent, and cumulatively represent 25 percent of the state's new cases. The Wall Street Journal reports that the areas with the highest infection "are generally home to large communities of ultra-Orthodox Jewish families." Many neighborhoods that surround these hot-spot areas are also seeing more positive COVID tests.
Weddings, especially those that take place indoors, have the potential to spread the virus well beyond those who attend the event. Over the summer, a partially indoor wedding in Maine, a state with a relatively low rate of infections, led to an outbreak of the virus that was linked to the deaths of seven people, none of whom had attended the ceremony.