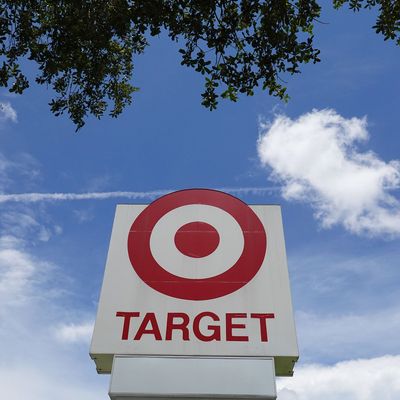 Sigh.
Photo: Joe Raedle/Getty Images
Earlier this week, a news clip of an August anti-masker rally went viral. It was beyond parody, leading me to hope that maybe this hyper-vocal subgroup had fulfilled its chaos quota for the week and would grant us a moment of peace. Silly of me, frankly, because there is always more room for dangerous pandemonium in 2020. For evidence, we turn to a Fort Lauderdale Target, where a horde of anti-maskers staged a "flash mob" in celebration of "Burn Your Mask Day," which, according to some, was yesterday. Did you know?
In footage of the spectacle, staged on Tuesday night, a small crowd parades through the store's aisles, shouting "TAKE YOUR MASK OFF" at random shoppers, while Twisted Sister's "We're Not Gonna Take It" plays in the background. There is MAGA gear, there is screaming, and there is mixed enthusiasm from members, one of whom appears to be an elementary-school-age child.
"We are tired of shopping with masks on!" a participant yells in another video posted to YouTube. One woman, her bandanna pulled down around her neck as she films her fellow customers at close range, exhorts them to "breathe, breathe," because "you're Americans" and "it's all a lie." By "it," she presumably means the research demonstrating that masks provide an effective means of containing the respiratory droplets that spread the coronavirus. Although she may also mean the pandemic as a whole. Who can say?
While I would like to tell you that the anti-maskers' efforts were in vain and Target's clientele roundly booed them out of the store, as one member of the flash mob observes, "this is the United States of America," so I cannot. At least three people appear to join in before the group is cordially ushered out the sliding doors.
For its part, Target said in a statement to HuffPost that it was "aware of the group of guests who came into the store last night" and "asked them to leave after they removed their masks and became disruptive and rude to other shoppers." Target's "priority remains the health and safety of our team and guests, and we communicate our mask requirement through signs in our stores, overhead announcements, and reminders from team members at the front of our stores," the statement continued.
Still, flash mobber Nathan Babcock deemed the event a success and reportedly plans to do more in the future.
"It's your right to do what you want, like it's my right to do what I want," Babcock said. "If you want to wear a mask and think [it] makes you safer … That's absolutely your right, 100 percent. Just don't force me to wear a mask … Because it's my right not to wear one."
Over the summer, Florida experienced a serious spike in COVID cases after it reopened prematurely and "people started socializing as if the virus didn't exist," as Miami mayor Francis Suarez put it. The state now has one of the highest coronavirus case counts in the country, with 671,193 infections total, 18,754 of which have accrued in the past seven days. So far, 12,939 people there have died.