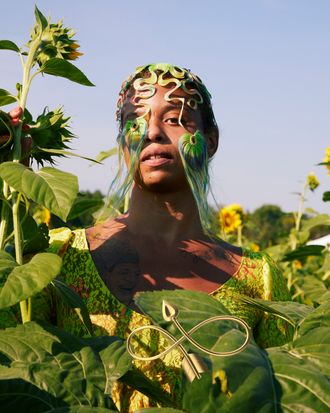 Collina Strada SS21.
Photo: Charlie Engman
If a tree falls in the forest and no one is around to hear it, does it make a sound? Unclear. But it turns out if a New York Fashion Week beauty look is created in a room and a bunch of beauty editors aren't around to watch it? Yes, it does still get Instagrammed in the end.
Thanks to social distancing requirements, New York Fashion Week's spring 2021 shows were viewed from afar and through different-size screens, but plenty of beauty looks still caught our attention. Let take a closer, zoomed-in look at six of the best — even if we didn't get the chance to see them in person.
1. Rodarte's West Coast Goths
Rodarte's crew of floral-loving goths was in New York earlier this year, but they flew back to California for spring. Fittingly, makeup artist Uzo set them up with Nars lipstick in Opulent Red, an oxblood maroon that's a tad bit cheerier than last season's eggplant moment. The rest of the look was left fresh and clean for the highly photographed hike in the hills: A soft, matte foundation for a smooth, skinlike finish, and coats of mascara for feathery lashes.
2. A Spikey, Glittery Lil Nas X for Christian Cowan
One benefit of separate, socially distanced shoots: Artists had enough time to cover most of Lil Nas X in glitter for Christian Cowan's spring 2021 collection benefiting Atlanta's Black queer community. M.A.C lead artist John Stepleton created the pink punk look by mixing white and magenta Paintsticks as a base and packing copious amounts of pink glitter on top. The impressive hair spikes Evanie Frausto molded with a cocktail of texturizing and strong-hold Bumble and Bumble products got glitter bombed, too.
3. Anna Sui's Flower Children
Nothing says "it's the season after winter and before summer!" like wearing daises on your face. To top off models' no-makeup makeup looks (a little Skin Fetish here, a little Lip Fetish there), Pat McGrath drew free-spirited spring daisies around the eyes using a mixture of her gel lip pencils, matte lipsticks, and paint. It's an excellent option for those with seasonal allergies or an aversion to Coachella flower crowns.
4. Chromat's Neon Lids and Hair Boquets
The gender-fluid cast of Chromat's short film wore face masks the correct way (completely over both the chin and nose at the same time), so the beauty look focused on the eyes and upward. Ursula Stephen, Gabbi Jeanne, and Fleurotica collaborated on bespoke hair bouquets that channeled, per the brand, "Marsha P. Johnson on the Olympic medal podium," while Fatima Thomas created neon ombré eye looks inspired by color spectrums.
5. Jason Wu's Vacationers
Fake freckles are a good way to pretend you actually went on spring break. Erin Parsons created these real-looking ones by using a brush to dot on Maybelline's budge-proof SuperStay Matte Ink liquid lip (in Espresso Enthusiast and Chai Genius), to ensure the freckles wouldn't smudge off when models put their face masks back on. The rest of the vacation-inspired look was appropriately laid-back: cult-favorite Baby Lips for hydrated smiles with subtle shine, and clear mascara to separate lashes.
6. Creature Wigs at Collina Strada
The best type of wigs are the ones that decorate your face, too. Hair and head prop artist Tomihiro Kono hand made various neon hair pieces inspired by sci-fi creatures and real-life creatures. Some models, who got the flower treatment from makeup artist Allie Smith, wore them as finishing touches; for other models, whose complexions were left liner-free, they served as full-on face outfits.