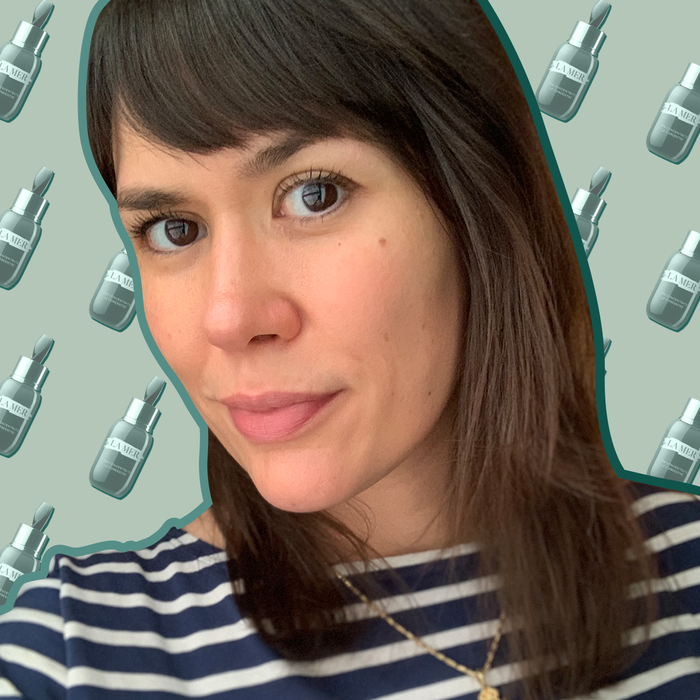 Photo Illustration: Ashlie Juarbe
Photo: Courtesy of the Talent
Skincare experts obsess over finding the perfect serum: They're the heavy-hitters of your beauty routine, after all. You can target specific concerns with power-packed ingredients designed to step right into action, whether you want "brightness" or "anti-aging" or "anti-redness," or all of the above, please. When it comes to serums, The Concentrate from La Mer has a reputation that precedes it — and its new formula comes with a potent dose of antioxidant protection and ingredients that strengthen the skin's natural barrier. Like all of the cult-favorite brand's signature products, The Concentrate contains the much-hyped Miracle Broth™, and the name alone speaks volumes. (An aerospace physicist who sought to heal burns from a lab accident developed the formula, and it took 12 years of research to create.)
To see if the Miracle Broth™ is, well, a miracle for serum formulas, we sent The Concentrate to Leeann Duggan. She's a skincare aficionado and Vox Creative's acting managing editor. With a schedule packed with digital conference calls, hours spent squinting at edits, and yes, even "cocktail walks," Duggan's always seeking extra TLC for her skin without adding a lot of fuss. She added The Concentrate to her (minimalist) skincare routine for two weeks, and here's how she found it.
On life (and work) during a pandemic:
It's weird, man! I live in Brooklyn, so my social life has rapidly converted from "where are we meeting for dinner tonight?" to "which Prospect Park entrance are we meeting at?" or "cocktail walks," which my genius friend invented. Most of our company has been working from home since March, so I have coworkers I haven't even met in person yet, and I'm currently covering the parental leave of a very hard-working coworker, so long laptop hours are real.
On evolving self-care: 
To me right now, self-care means anything that reminds me I'm a person, not a puddle of pixels. Moving my body is important, getting outdoors, seeing my friends (so those cocktail walks — most definitely self-care). I'll get a hot streak of meditation going, then forget all about it for weeks. I tell myself that's grace, not laziness.
On her nighttime routine: 
Beauty-wise, I have definitely streamlined in the past few months. I'm lucky to have a medicine cabinet full of some very nice beauty products — one of the perks of working in fashion for years and having lots of beauty-editor friends. And I used to do the whole 10-step skincare thing, but I definitely have no time or inclination for that anymore. I'm an aspiring minimalist — I love the idea of simplifying to just the essentials, and that goes double for when I'm stressed. So I'm no longer the 10-step skincare person, I'm the "let me sit in front of this questionable reality show with a good facial oil and a gua sha tool and just go to town." I'm no longer the primer, foundation, contour person — it's tinted sunscreen, some mascara, maybe a cream blush, done.
On finally getting her hands on some La Mer:
I used The Concentrate from La Mer, which I've long known as a holy-grail skincare product, but have never tried before. Actually, I've never used any La Mer products — my beauty-editor friends are generous, but I believe they're keeping all that La Mer to themselves. My first impressions were: I'm not worthy! Kidding, but actually. I mean, you pull this out of the box, and it's in this exquisite, heavy glass bottle. It just looks rich. I almost thought I'd be happy just seeing it on my counter, nevermind putting it on my skin.
On her first impressions of The Concentrate's new formula:
The first time I used it, not going to lie, I was blown away. It's this velvety formula that you scoop out on a little paddle, and the product just smooths onto the skin so nicely — actually a tiny bit goes a long way — with this lovely, light scent. And I have tried so, so much skincare, but never experienced anything quite like The Concentrate from La Mer. It's not oily or heavy at all, but it just feels perfectly soothing the moment you put it on. My skin concerns tend to be oiliness, and The Concentrate seemed to balance my skin right away, while also making it feel just bouncy, moisturized, plump — all those good-skin things.
So there's the instant "ooh, I like this" effect, and then as you use it over time it really shines. My other big skin concerns right now are cheek and hairline congestion and bumps (maskne is real), and this seemed, to me, to bring down those bumps and balance out my oil production. I also have some redness around the nose from broken capillaries — it's actually the main reason I use skin makeup — which I've seen reduced.
On skincare habits as an elder millennial:
My other skin concern is aging. I always joke with my friends about being an "old millennial," and while I think my skin looks good for my age, I realized a few years back that many women of color have totally different skin concerns. So as a Latina, I'm not getting wrinkles, but I do have to be careful with my sun protection or I'll get hyperpigmentation spots. Those are another big reason I wear makeup, and I am definitely seeing those begin to fade since using The Concentrate. That's huge for me.
On fitting La Mer fit into her routine:
It really couldn't be easier, which is what I like about it. I apply a thin layer in the morning, which I may or may not top with makeup — those good skin days feel like they're coming more often now — and then another thin layer after washing at night. In addition to the cosmetic improvements, it really has balanced out my skin's oil production, so I no longer use a mattifying toner on my T-zone or a facial oil for extra moisture. Maybe I'll feel differently as the weather changes, but right now, I'm leaning into the simplicity. The ultimate luxury to me right now is time, so if I can use one powerhouse product to replace three other steps, I'm doing it.
So is The Concentrate really miraculous?
I know we're not shopping the same ways right now, but think back to the first time you went into a fancy department store that carried something special-to-you, like a really nice silk dress or a leather jacket. Remember how you felt that softness in your hand, and you realized in that moment — "oh damn, this really is better"? I always say that's a dangerous moment, because it'll ruin you for regular clothes forever. The Concentrate is like that, but for skincare. You think "psh, it's all hype, how great could it be?" Then you try it, and go, "OK, I get it." That might be me now — ruined for regular skincare. Not getting rid of everything else on my shelf just yet, but definitely letting it collect dust while I enjoy this little miracle.
This advertising content was produced in collaboration between Vox Creative and our sponsor, without involvement from Vox Media editorial staff.