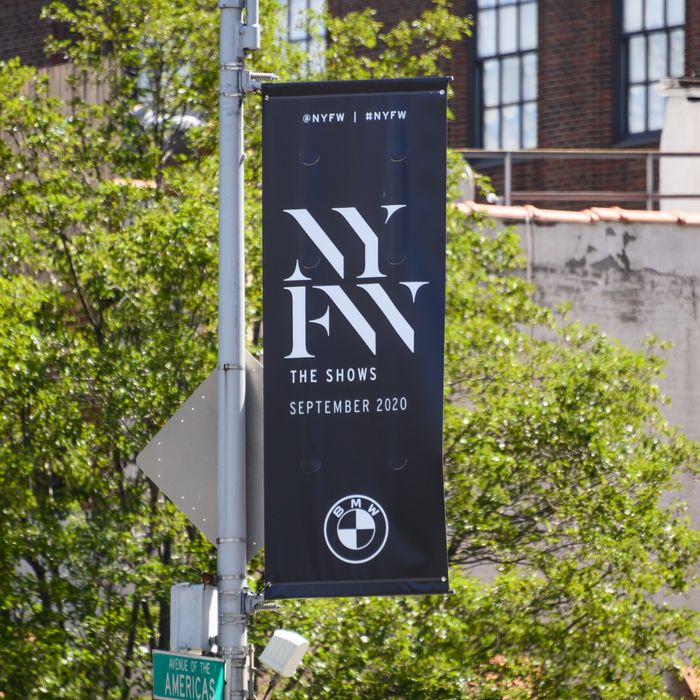 Illustration: Getty Images
New York Fashion Week is still happening this season, and there's a lot to look forward to. On Wednesday, IMG shared that the Black in Fashion Council will headline its biannual special programming with a focus on spotlighting Black talent, as well as bringing conversations about racial equity and inclusion to the forefront of the week's shows and events.
The Black in Fashion Council was created by Teen Vogue editor-in-chief Lindsay Peoples Wagner and public-relations specialist Sandrine Charles earlier this summer with the mission of representing and securing the advancement of Black people within the fashion and beauty industry. By August, they had 32 brands from every sector signed on to their pledge, including The Real Real and Depop; L'Oréal; Farfetch and Moda Operandi; Tommy Hilfiger and Calvin Klein; Condé Nast, which owns Teen Vogue; and now IMG, which produces New York Fashion Week.
The BIFC's presence at New York Fashion Week is two-pronged. First, they will work with IMG to create a Black in Fashion Discovery Showroom, which will spotlight a handful of designer talents — including Kenneth Nicholson, Theophilo, and Undra Celeste — for press and buyers at Spring Studios. The space will be up and running from September 13 to 17 and can be accessed in person by invitation and online for free at NYFW.com.
Second, Peoples Wagner and Charles will host a BIFC town hall on September 17, offering both the fashion industry and its followers a "state of the union" look at each of the BIFC focus areas, including media, beauty, and talent. This will also be accessible live on NYFW.com.
"Our focus this season was to make sure that we are a resource to Black designers," said Peoples Wagner. "A lot of designers we reached out to are lacking not only funding but also support and a sense of community, so we wanted to provide a space both physically but also virtually to discuss these things and make sure that Black designers are seen and heard and amplified."
As for IMG, its pledge to the BIFC extends far beyond September and New York Fashion Week, including other companies under its umbrella: IMG Fashion Events and Properties, IMG FOCUS., IMG Models, LENS, and The Wall Group. "Across IMG's fashion group we are thrilled by the collaborations coming to life at NYFW: The Shows and are looking forward to this continued partnership with the BIFC in support of our shared mission for supporting and championing Black voices," said Ivan Bart, president of IMG Models and Fashion.
"IMG recognizes the important and immediate need for long-term change in the fashion industry, and we are inspired by the Black in Fashion Council's mission," added Leslie Russo, EVP of fashion events and properties at IMG. She emphasized IMG's desire to use its resources during fashion week to help the BIFC "represent and amplify Black talent at every level." Adding, "We are proud to sign the Black in Fashion Council's pledge."