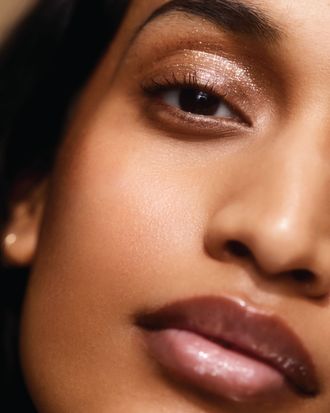 Photo: Bri Johnson/Gallery Stock
Over the past few months, skin-whitening products — facial creams that promise to lighten the user's skin tone, also known as "fairness creams" — have come under renewed fire. After Black Lives Matter protests spread worldwide in June, Priyanka Chopra and other Indian actresses were called out for posting in support of the movement despite having promoted skin-whitening products in the past. On Instagram, Padma Lakshmi criticized the brand Fair & Lovely, writing, "Is anyone else sick and tired of being told that fair=lovely?" Former Miss America Nina Davuluri began a campaign calling on beauty conglomerates to stop selling skin-whitening products.
In response to the growing backlash, Johnson & Johnson announced it would stop selling fairness products in South Asia and the Middle East. Soon after, Hindustan Unilever made the call to drop the word fair from its brand Fair & Lovely, a best-selling skin-lightening product that originated in India and is sold in several other Asian countries.
Activists and critics have been calling out beauty brands for profiting from toxic colorism for years, and many responded cynically to the Unilever announcement, dismissing it as a PR move to deflect public outrage. Here's what to know about South Asia's fraught relationship with skin-whitening creams and why activists feel there's still a long road ahead.
The demand for fair skin and whitening products is widespread.
Skin-lightening creams are extremely popular: According to a 2018 report, fairness products make up an estimated 50 percent of India's skin-care market. In other words, the amount of whitening products sold is equivalent to the total sales of face washes, moisturizers, acne fighters, serums, sunscreens, eye creams, and every other skin-care product combined.
That's because, in India, "fairness" is still viewed as a prized quality, one with almost virtuous associations. Even now, it often takes precedence over any and every other human skill or attribute. Women are discriminated against by their families and communities in ways that have a direct impact on their daily lives. It's not unheard of for girls to spend their lives indoors and out of the sun, banned from sports or other outdoor activities to avoid getting a tan. Many women have written about their experiences with colorism starting from a young age: In an essay for Bright magazine, Neha Dixit recounted how her complexion at birth caused a family rift that never healed, while the writer Bhavani Ganesh recalls buying fairness creams when she was 9 so her neighbors would think she was as beautiful as her fair sister. These are not one-off incidents but a recurring reality for dark-skinned women in India.
And still, women's complexions are often commented on and discussed openly. On the recent Netflix series Indian Matchmaking, when two marital prospects are judged for compatibility by the matchmaker, she considers their levels of education, family values, and … skin tones. Up until June, the matchmaking website Shaadi.com had a skin-tone filter that asked users to specify their skin color; it was removed because of a petition started by three North American women. A recently released Bollywood song bizarrely references Beyoncé, as the title and lyrics translate to suggest the superstar would be insecure upon seeing the movie's fair-skinned actress.
Toxic colorism has deep roots in India's history.
Foreign powers that conquered or occupied the subcontinent over the ages — the Mughals, Portuguese, French, and British — have all been light-skinned. During the British Raj, the colonists conferred privileges, jobs, and educational opportunities on paler-skinned Indians, resulting in the marginalization of darker citizens.
Added to the mix is India's problematic, centuries-old caste-based social hierarchy, according to which people of higher castes were educated and worked indoors, enabling them to remain pale, while the lower castes labored in the fields or out in the sun, resulting in a darker skin tone. So there's still the widespread perception that paler skin signifies education, wealth, and success, while darker tones are associated with a lower social status.
India's beauty industry is complicit by preying on prejudice and insecurity.
In earlier times, grandmas mixed pantry staples like chickpea flour, yogurt, and lemon juice to lighten the complexion. Even today, many Indian women are conservative with skin care and suspicious of products that aren't "natural," gravitating toward DIY home remedies or brands with natural ingredients. It's commonly believed that "chemicals" in skin-care products cause more harm than good, yet, ironically, even though many skin-lightening treatments have been shown to contain hazardous ingredients, they remain widely used and extremely popular.
The quest for fairness is a profitable industry in India. Dermatologists offer skin-brightening treatments that include peels and microdermabrasion to help even out skin tone. Lately, pills and IVs of glutathione, a melanin-suppressing antioxidant whose safety has not been thoroughly evaluated, have also become commonplace.
Local beauty salons are hotbeds of unsafe topical treatments. Women are pressured to try "anti-tan" facials, in which bleach is applied to the face. Buying foundation a few shades lighter is commonplace, and wedding-makeup artists are often hired on the condition that they will make the bride's skin look paler.
Since Fair & Lovely hit the market in the 1970s, skin-whitening creams have been huge sources of profit for companies like L'Oréal, Garnier, and Olay as well as local Indian companies. In India, many personal-care products are sold in one- or two-use pouches, enabling even poor women to spend a few rupees to purchase them. Fairness companies have massive advertising budgets, and their prime-time ads, which often perpetuate variations on the ugly-duckling-to-swan trope and feature Bollywood stars with lucrative endorsement deals, are known for being regressive and damaging (the Indian government recently considered banning them).
 Many skin-lightening creams don't work as advertised — and the ones that do are often dangerous.
For the most part, Fair & Lovely and other whitening products don't work as advertised, functioning instead as chalky sunscreens and ineffective spot treatments. According to Rhonda M. Davis, a cosmetic chemist at Alquemie Product Development Group, "This type of product is pretty much smoke and mirrors." She says a fairness cream may help diminish hyperpigmentation and lighten acne spots or dark spots. But, she says, "it's not intended to bleach the entire surface area of the skin. For those with olive, tan, or darker complexions, using products with high amounts of titanium dioxide (a physical sunscreen and colorant with an opaque white consistency) will whitewash their skin tone, resulting in a chalky complexion."
Skin-whitening products that actually do lighten the skin require high doses of hazardous ingredients like mercury and hydroquinone to suppress melanin production. Many South Asian countries regulate the amount of mercury allowed in skin care, but authorities in India, Pakistan, and Bangladesh continue to find back-alley formulations sold in local stores that far exceed the safety limits. Mercury is particularly hazardous, affecting the kidneys, skin, and nervous system.
Over the years, many brands have transitioned to using euphemisms like "brightening" and "anti-blemish" with not much change to a product's actual formula. But the messaging has been effective in brainwashing millions to believe these products will whiten their skin.
The recent changes are the first step on a long road.
In recent years, socially conscious celebrities have refused to endorse fairness products, campaigns like "Dark Is Beautiful" have been widely publicized, and high-fashion and jewelry brands in India have been championing darker women in their advertising.
Now, Fair & Lovely has been renamed Glow & Lovely — though the product remains on the market and Unilever will continue to profit from it. As such, many feel the changes don't go nearly far enough: A Washington Post op-ed referred to the announcement as "performative allyship," and among activists and critics, the reaction has been one of widespread contempt.
"We didn't ask for upgrading and polishing of discriminatory advertising. Replacing 'fair' with 'glow' is no change at all. This is not just irresponsible advertising but an attempt to justify discriminatory messaging," tweeted activist Kavitha Emmanuel, the founder of the "Dark Is Beautiful" campaign. On Instagram, actress Poorna Jagannathan called for Unilever to pull its lightening products entirely, saying, "Renaming the brand is not enough. A Scorpion, called Fluffy, still stings."
Meanwhile, Unilever's response has been disappointing. Responding to international journalists recently, a company spokesperson told Forbes, "We also need to respect the fact that all over the world there are different views of what beauty is." Unilever has employed this defense in the past as well, arguing that a fair complexion is an Asian standard of beauty despite millions of women and men arguing otherwise. It's a tactic to try to shut down legitimate questions and criticism — the implication being that international journalists might offend local sentiments by questioning the beauty standards of people of color — while the company continues selling one of the industry's most problematic products. It all makes us South Asian women realize how much further we still have to go.